Last Minute Halloween Marketing Ideas for Small Businesses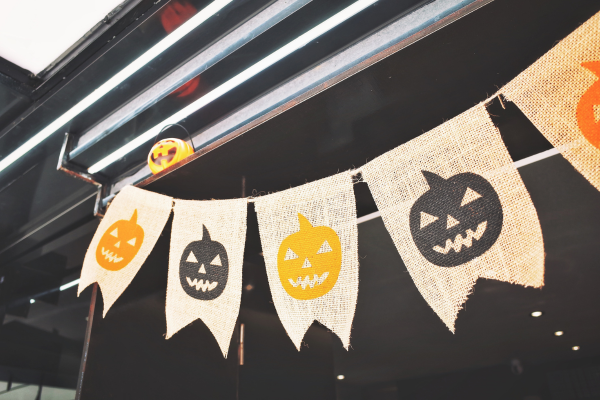 Celebrations like Halloween are a fantastic way for small businesses to show off their brand personality and join in on the fun festivities with their customers. But chances are that if you're reading this, your Halloween prep might be starting a bit late.
The question is—how late are we talking? A week? A day? The amount of time before October 31st may dictate the extent of your marketing efforts. We've put together some last-minute ideas that can help your small business get in the spirit of the season, even if you are running low on time.
CREATE HALLOWEEN-THEMED CONTENT ON SOCIAL MEDIA
Leading up to Halloween, you can sprinkle in some branded messaging into your social media posts, such as a possible Halloween deal you have going on, using fun, on-theme wording (i.e., "a spooky low deal"). Although this may seem like a more straightforward marketing tip, it is not one to be overlooked, as Halloween content can be an excellent catalyst for greater follower engagement because of its timely and playful nature.
Orange and black are often the common colours in Halloween designs. However, if you prefer to stick with a branded approach, try using your brand font or find a unique way to incorporate your brand colours and/or logo into the design while still making it obvious the post is about Halloween. This can ensure that you are not only maintaining your brand's voice in the caption but your visual identity is also being upheld, which can further promote brand recognition. And be sure to use appropriate hashtags on your post(s), as it can expand your content and reach the right audience.
You and your team can also dress up, making for great posts on your social platforms. If someone has an awesome costume, snap a picture or take a video and publish it to your account(s), such as your Instagram Story—it's a great way to engage with followers without the content living on your feed that could disrupt a theme or pattern of existing posts. Sharing a "behind-the-scenes" glimpse of your Halloween celebrations can help your followers get to know you and your team better, humanizing your brand.
OFFER A CUSTOMER INCENTIVE FOR DRESSING UP
Costumes can be such a fun part of Halloween. Encourage your customers to come into your store dressed up either by offering a discount or a small incentive. Doing so can increase the chances they will share pictures of themselves at your store—especially if you already have some themed décor up.
When customers create their own content (aka user-generated content), it offers several advantages. For instance, 79% of people say this type of content impacts their purchasing decisions. Your customers' followers, whom you might not have been able to reach before, can view this user-generated content about your business and possibly convert into a customer because of it; the content created by their followers adds to your business's appeal and trustworthiness. Plus, reposting your customers' content on your accounts (with permission, of course) is a great way to help humanize your marketing approach, which can also help promote trust among current customers.
PREPARE CANDY GOODY BAGS WITH A BRANDED LABEL
For many, Halloween is synonymous with candy, so leaning into this can be a great way to celebrate with your customers. You could fill several small goody bags with candy and/or small items from your store and add a logo sticker to the front of each bag. This can be a unique way to prioritize branding as you celebrate Halloween and foster relationships with the customers who come into your store. These seemingly small touches can add to a customer's experience, increasing their chances of returning.
You can also use these goody bags and/or branded labels if your store will remain open to trick-or-treaters. The kids will see the candy, while the adults can remember your logo!
The UPS Store provides several printing services that you can turn to for your marketing efforts. Contact your local store and our team members can assist from there.
OPT FOR PRINT MARKETING
If you have some time before the 31st, design a poster or flyer highlighting a Halloween special, for example, and post it around your community or within/outside your store. Since it's only for Halloween, your design doesn't have to be too elaborate and time-consuming if you don't want it to be. However, increasing your visibility around your community, especially for a celebration like Halloween, is a great way to capture the attention of those passing by.
Check out The UPS Store's online printing services for an efficient way to print the materials you need for Halloween.
WRITE A BLOG POST ON A HALLOWEEN-THEMED TOPIC
This will depend on your small business, but if you have already been keeping up with a blog, writing an article related to Halloween can be an ideal way to highlight your products/services while keeping with the theme. Blogging doesn't have to take up a lot of time and can result in several benefits for your website. For example, including popular keywords within the article can be a great way to leverage SEO practices, increasing the chances for greater traffic to your website.
Writing a themed article for your blog can also be included in your social posts leading up to and on Halloween as a way to drive traffic to your website.
SEND OUT A HALLOWEEN NEWSLETTER
If your small business already sends out an email newsletter, don't forget to keep it going during the Halloween season!  Try incorporating Halloween graphics and wording to give your newsletter a festive feel. It shouldn't take more than a couple of hours and can be an excellent way to get into the "spooky spirit" while showcasing Halloween deals, if applicable, in addition to your products/services. Email marketing offers several benefits for small businesses, and Halloween can be a great way to mix celebrating the day with promoting your business to customers.
MEETING YOUR SMALL BUSINESS NEEDS AT THE UPS STORE
We are here to assist you in taking your small business to the next level. With a range of services available, we encourage you to reach out to The UPS Store in a community near you to find out how our expert team can help.