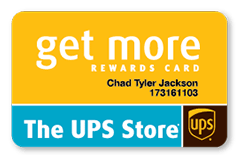 Take advantage of in-store savings with your GET MORE Card
Being a small business owner can often pose challenges when it comes to ensuring you have all the resources you need to succeed. The UPS Store® is here to help, with solutions for your small business needs, right in your neighbourhood. And with your Get More loyalty card, you'll enjoy some savings too!
Sign Up Here
Printing
The Documents You'll Need in Case of a Disaster
We all hope that natural disasters won't strike our communities, but with climate change increasing the frequency of floods, wildfires, and other weather-related emergencies, it's essential to be prepared for the unexpected. When a disaster hits, most people's main concern is getting themselves and their family to safety. But once the threat of harm has passed, having critical financial, medical, and household contact information on hand is essential during the recovery process. Unfortunately, for many people it takes a disaster to remind them of the importance of having copies of vital documents safely stored somewhere other than in their homes......
Read Article