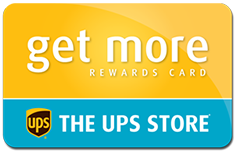 Take advantage of in-store savings with your GET MORE Card
Being a small business owner can often pose challenges when it comes to ensuring you have all the resources you need to succeed. The UPS Store® is here to help, with solutions for your small business needs, right in your neighbourhood. And with your Get More loyalty card, you'll enjoy some savings too!
Sign Up Here
How to Jumpstart Sales in the New Year
With the new year right around the corner, now can be an ideal time to start planning how your small business can generate more sales after the holiday rush. While every small business is different, and some sales-boosting tactics might work for some and not others, there are some universal strategies that your small business can incorporate that can not only increase brand visibility, but also strengthen and widen your reach, attract more of your target audience, and jump start your sales. Create timely promotional material Every time January 1st rolls around, the idea of a fresh start pops into many of our minds. As a small business, recognizing this and taking it as an opportunity to meet your customers' needs and interests can be a great way to generate attention to your products and/or services, and produce more sales......
Read Article