Postcards & Invitations
Let us handle all your printing needs.
The UPS Store offers full service printing on a variety of print jobs including postcard and invitation printing
Need to tell your customers about a new business venture, big sale or promotional event? The UPS Store offers high quality postcard printing to help you market your product or occasion. We can help you create custom postcards and save-the-date cards in full-colour, with glossy or matte paper stock, single-sided or double-sided designs and various sizes. We can help you bring your postcard design and layout to life.
If you're announcing an important event or hosting a launch party or grand opening, you might consider sending a custom invitation to your customers to let them know. Or maybe you need to send personalized corporate Christmas or holiday cards to all your staff and clients? The UPS Store offers invitation printing and we can even handle the folding.
Visit your local The UPS Store to start planning your print run today! Or enjoy the convenience of ordering and printing your business postcards and invitations online with The UPS Store Online Printing.
Most The UPS Store locations offer online printing and some may even have their own in-house graphic designer to assist with the design process. Simply contact your nearest store to find out which postcard, invitation and save-the-date card printing services are available.
Find a Location
Find a Location: Enter Address, City, Province or Postal Code:
Postcards Printing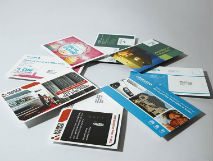 Postcards allow you to announce your move or a grand opening. Postcard printing services include:
Full-colour
Double-sided
Various sizes
Assortment of papers
Invitations Printing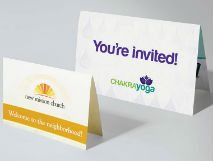 Need invitations or announcements for your big event? The UPS Store can print them for you. Our services include:
Full-colour
Folding
Various sizes
Assortment of papers