How To Increase Your Business' Visibility in Your Community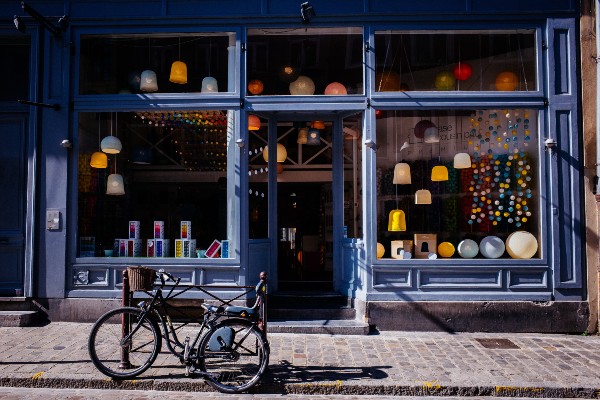 Whether your business is big or small, finding ways to boost recognition in the community you are in is incredibly important. Doing so can not only build a loyal customer base but also allows you to tap into the immense value in cultivating a local audience. There has been exponential growth over the years in local Google searches containing keywords like "near me," while "shop local" messaging grew in popularity during the pandemic, which indicates that people want to engage with businesses in their community. But businesses must take the necessary steps to be recognized in the first place.
Narrowing down your focus to a more specific group, such as people who live or work within a 5km radius around your store, through localized efforts (i.e., traditional print, word-of-mouth marketing, etc.), paired with increasing the visibility of your online presence, will help you see growth and greater recognition. Here are some ways you can remain top of mind when an individual in your community needs the products and/or services you provide.
Improve your Google Ranking
Google is the world's most popular search engine, taking up over 92% of the search market share. This is why it is important to focus localization efforts by first establishing how your business ranks on the search platform. As previously mentioned, local searches have seen a steady increase over time, and if your business isn't ranked on the first page of Google's search results when prospective customers are searching for your goods and/or services in your neighbourhood, there needs to be a greater focus on search engine optimization (SEO) on your website.
Businesses that rank first on the Google search results page have an average click-through-rate (CTR) of 31.7%, and users are ten times more likely to click on the result in the number one spot than a business in the number ten spot. Beyond the first page, CTRs drop dramatically, as searchers are not typically keen on continuing their search, especially if they found what they were looking for on the first page.
If individuals in your community are looking for specific products or services "near them," you want your website and information to appear close to the top of the first page of search results. However, with several businesses competing for this title, it can be difficult to do so. That's where SEO can help.
While there are several reasons why SEO can help small businesses, appealing to prospective local consumers is high on the list. However, with over 200 different ranking factors that Google uses to determine where your business' website will fall on their results page, it can be difficult to navigate. Improving your website's speed, optimizing your website for a mobile device, updating your Google Business Profile, including copy on your website that talks about your specific community, and adding things like meta descriptions and alt text to images are just some of the ways you can help improve your SEO and draw more traffic to your website, which can help improve your Google ranking.
Invest in Print Marketing
Living in a digital content-heavy world, businesses may overlook some of the more traditional forms of marketing. While reaching an audience online is important, finding ways to reach a local audience with physical marketing materials is arguably just as important, and print marketing can help you get there.
To get recognized in the community, people need to first know your business exists. Whether it be through your storefront sign, flyers, banners, posters, direct mail, or business cards that get circulated, you need tangible ways for prospective customers in your community to first acknowledge your business, which can then lead to recognition when they see your branding around town. After some time, even noticing certain colours or a specific design associated with your business can trigger a current or prospective customer to recognize your business. This can help you better establish a brand identity and create more trustworthiness for your business, which customers desire when engaging with a brand.
Stick to Consistent Branding
Think of some of the top brands in the country – what do they all have in common? You can probably recognize them when you see their logo or hear their slogan. Businesses that continuously switch designs are going to have a harder time staying top of mind with customers, which may hurt your chances for brand recognition and repeat business.
Whether it is your website or the stationery you use in business correspondence, your branding needs to remain consistent across all mediums. This means things like your brand colours, fonts, and your logo should be the same everywhere you promote your business. That way, prospective customers can easily remember your business and its offerings when they come across a piece of your branding.
Run Geo-Targeted Digital Ads
Geotargeting is a great digital advertising strategy if you want to target a specific audience, particularly if the ad's content has location-specific messaging. When running an ad on Google or a social media platform like Facebook, specify the location or geographic radius that you want your ad to appear in. That way, your ads will only appear to people who live in or have recently been in your business' neighbourhood.
Whether it be through Google or social platforms like Facebook, Instagram, or Twitter, employing hyper-local targeting is a great way to reach the specific audience you want. Specify a radius around your brick-and-mortar store so that your ads are shown to prospective customers in your community; you can then layer in other targeting parameters (age, gender, interests, etc.).
Gather Reviews from Existing Local Customers
Positive reviews from people in your community can often provide the jumping-off point your business needs to gain more recognition from others near you. Since 94% of consumers say reading a positive review increases their likelihood of patronizing a business, and 79% of consumers say they trust online reviews as much as personal recommendations, it can be incredibly important to have reviews associated with your business that prospective customers can easily see when they search for your products or services.
Small Business Solutions with The UPS Store
If you are a small business that needs help getting recognized in your community, contact The UPS Store, your go-to destination for small business solutions. Find a location near you.