5 Tips for Perfectly Branded Stationery that Generates Success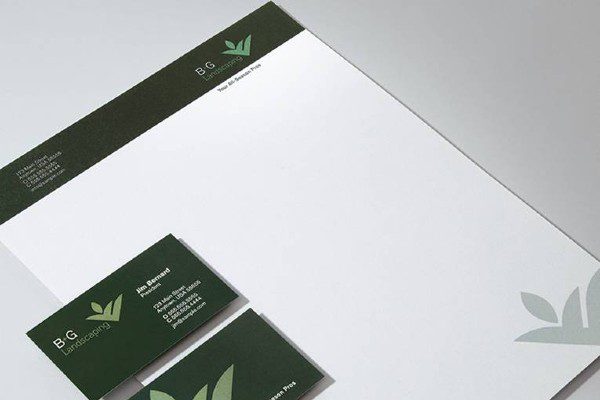 Branding is a critical component for any business – large or small. Not only can it enhance a brand's image, but it adds a layer of trust and recognition that customers seek. Stationery is an important element of branding that can help your small business stand out, while also allowing for extra promotion to prospective customers. Stationary can include envelopes, notepads, business cards, letterhead, labels, and more.
With an array of possibilities that you can craft for your business, there are some things to keep in mind before launching into branded material. Your small businesses should consider these five elements that can help make your branded stationery the best it can be and generate the most growth and customer satisfaction.
Keep it Consistent
An important element of branding is consistency, as this is what helps to fuel positive perceptions consumers make about a business. A cohesive branding experience allows for customers to feel assured that they will receive a consistent experience when engaging with your business, which helps create loyalty.
When creating branded stationery, one of your main business goals should be enforcing brand recognition, which thrives on consistency. When a brand is consistent with its images and messaging, it has been shown to increase revenue by 33%. Additionally, research on brand visibility found that brands that are consistently presented are three to four times more likely to have excellent brand visibility – another element that is important, especially for small businesses that need to stand out in their industry.
Maintaining consistent branded stationery can include designing a company logo and sticking with it on all your materials/products (no minor tweaks here and there without updating everything). No matter what stationery you decide to purchase for your business, the branded elements need to match, including what is presented online. As more consumers rely on eCommerce to purchase their items, your in-store experience (if applicable) should extend online, and vice versa. This means that if you have specific brand colours, fonts, or images, they should reflect on every platform your business uses.
Pay Attention to the Details
It takes a matter of seconds for someone to make a first impression. For small businesses, these first couple of seconds matter as they can set the trajectory of a customer experience, sometimes permanently. If using branded stationery is the first time someone comes in contact with your brand, for instance with an envelope or a business card, their first impression of your design should be a positive one. If your design looks underwhelming, too basic, pixelated, or it lacks effort, this translates directly to your business and their perception. Ensuring that your branded stationery reflects your business while also being visually appealing is essential.
Think of the font, colours, images, and any other design elements before deciding on stationery. One design might look great as a letterhead, but not as well on a pen. This attention to detail is what will help your business stand out.
Show Your Brand's Personality
Research shows that it takes approximately five to seven impressions before people remember a brand. This is why it is important to ensure you are emphasizing who you are and what you offer as a business in every customer interaction. Through branded stationery, you can emphasize your brand image, which in turn allows you to develop your brand story and build relationships with your customers that can last possibly a lifetime.
Part of highlighting your business' personality can be shown through your brand colour(s), and selecting certain colours is a larger undertaking than you might think. In fact, studies have found that product colour alone can influence customer purchasing decisions by 60 to 80%. As well, using a signature colour can boost brand recognition by 80%. If you want to express you are a fun and lighthearted brand, stay away from darker colours that may not illustrate the story you want customers to know.
Avoid Similarities to Other Brands
The point of branding is to step into your own and create an image that stands out from the rest. However, we are exposed to brands and advertisements on a daily basis and oftentimes, without realizing it, we can associate certain colours or design elements with brands. Right now, you can probably think of your favourite brand and its associated colours. Colour psychology in marketing is something that carries a lot of weight when deciding on branded material.
Maybe you already have company colours that you have decided on. If that's the case, think of how they translate to stationery – would they work well on envelopes, notebooks, business cards, etc.? Do they look very similar to another business (possibly larger in size) that prospective customers might get confused over? It is important to consider these elements before deciding on stationery that customers will see.
Purchase Stationery You and Your Customers Will Use
This may seem like a given, but when starting a business or even when developing a brand image, some businesses may feel like it's important to purchase every piece of branded material they can. Although consistency is necessary, it's important to first understand the needs of your customers and your needs as a business. Selecting the right stationery that you will use while also considering what your customers might enjoy will help ensure you don't waste money on unneeded items. It's important to take into consideration what your budget is and the items that you will actually use.
At The UPS Store, we can help you create the perfect branded stationery your business can use to help fuel success. Get started by visiting a location near you, or check out our convenient Online Printing portal with an array of stationery items you can choose from.