Holiday Card Messages to Send to Your Customers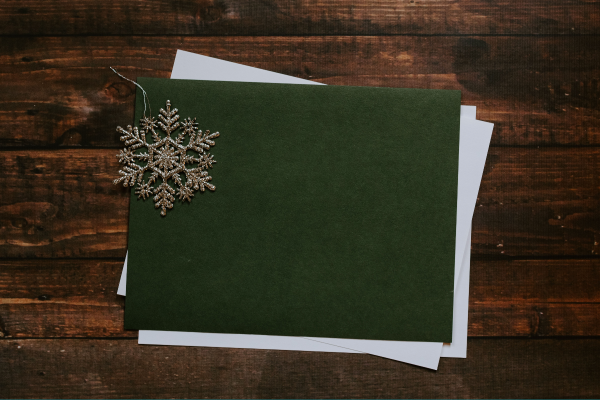 Finding ways to build upon your client/customer relationships as a small business owner can be important for a strong relationship all year long. With the holidays around the corner, sending a personalized memento, such as a holiday card, can be a great way to show you care and that you value their patronage. But the question many small businesses may have is – what should you write on the card?
As you begin planning what to send, we have compiled some holiday card message ideas that you can tweak to fit your business. If you are ready to take the next step and order your personalized holiday cards, be sure to check out our design and printing services or order online with our Online Printing from The UPS Store.
Don't center around one holiday
When sending out holiday cards, it is often best to avoid holiday-specific themes and messages, especially if you are not sure what holiday your customers celebrate. With holidays like Christmas, Hannukah, and Kwanza all occurring in the same month, sending out a generalized holiday card earlier in December is a good way to ensure you are wishing your client well during the festive season, while not excluding anyone.
Starting with a "Happy Holidays" and going from there is a great option. Even focusing more on the new year can be an additional option. Whichever you choose to focus your holiday card message on is up to you, but remaining as inclusive as possible in your opening greeting, and then allowing for a more personal message, if desired, can be an effective move.
Keep things simple
Remember, the dimensions of holiday cards are likely small. To avoid using small text that can be hard to read or cause overcrowding on the card, you can keep the message on the shorter side. This may be a good option if you are sending many cards out and the idea of personalizing each one is too overwhelming.
If you are considering keeping your holiday cards to your clients more general or you are looking to start off your card simpler, some common messages that can be fine-tuned to your business include:
Season's Greetings from [company name]!
Happy Holidays! We look forward to helping you prosper in 2023!
Here's to the New Year! Wishing you a wonderful holiday season.
Wishing you a joyous holiday season and a prosperous New Year.
Have a wonderful holiday season and a joyful New Year from the very merry team at [company name]!
Happy Holidays! Thank you for your support and we look forward to working with you in the New Year.
Wishing you a Happy Holiday and a Happy New Year!
Happy Holidays from all of us at [company name]
Happy Holidays to you and yours! Thank you for being a valued customer. The team here at [company name] can't wait to serve you in the New Year!
If you decide on a simple message, you may want to play up the design aspect of the card to add more personalization and align it to your business. While neutral holiday colours and themes can work well (i.e., a winter-themed design) adding a photo of your team can help it appear welcoming and lighthearted, which is what you should want your client to feel when opening your card.
Show your personality
When a client receives your holiday card, it is going to instantly spark a thought for them that will make your business become top of mind, similar to any other form of marketing. Whether it be an ad, business card, flyer, or even a tweet, the content that your business produces should represent who you are, your story, values, and personality, all wrapped up into a neat package. In this case, a holiday card should still demonstrate who your business is and reflect the branded attributes that you may add to other forms of marketing, such as your logo, slogan, colours, etc. After all, while a holiday card might not seem like much, it is still a form of print marketing – it might even end up displayed on your customer's desk, mantle, or coffee table!
Every time your client (or someone else) looks at it, you want it to trigger an accurate, positive impression of your business. And while design can play a role, your messaging is also important. For example, if your business is more serious in nature, maybe now is not the best time to change up your brand's style and tone, especially since it wouldn't match your communications with them for the rest of the year. While a holiday card should be lighthearted, there are still ways to align with how your business is usually.
On the flip side, if your business usually has a sense of humour and your messaging is more fun, shine a spotlight on that in your holiday card! This is your chance to send a direct message to your client that you know they will read (or at least hope they will), so use that to your advantage. Some ideas can include:
Seasonal puns (i.e., "We value your business like "snow" other!")
Make a joke about your business
Mention a funny instance your client can chuckle at
Express your gratitude and use specific examples from the year
Keep in mind that your holiday card shouldn't look like a portable billboard with logos splattered everywhere. Showing personality doesn't necessarily mean going heavy on the branding, but aligning your message with something that fits your business is key. For example, if you speak with a client often, your messaging can be more conversational and personal. It's about finding ways to sprinkle in your business's personality without raising any eyebrows.
Add a personal touch
In addition to an opening greeting, you may want to take it a step further and personalize your message to your client. While this may take some extra time and effort, it will likely get noticed. Of course, sending a holiday card in itself demonstrates your business is taking that extra effort to show you care. However, adding a personal message to your customer expressing your appreciation for them specifically adds an extra layer to the card.
You can begin the card with the name of your client if you are sending it to a specific individual or you can address it to their entire team. The card's sign-off can include the name of your business, the business owner's name, the names of the team that the client works with most throughout the year or all the above. The goal here is to be personal, and while it is important to keep messaging personal to the client, it is equally important to be personal yourself, which you can do with your sign-off.
A great way to add a personal touch is to sign the card yourself or have your team add their signatures (best for smaller teams). Even if your message is printed on the card, it can help demonstrate extra effort and make it seem less mass printed.
Think long term
Of course, this is a holiday card with a primary focus on wishing your client well for this time of year. However, it can be important to keep in mind that this is someone you want to continue business with. In that case, your holiday card message can mention your plans for the new year and how much your business values their support. Adding in a note about looking ahead can be just enough of a push to demonstrate to your client that you have plans to continue with them, but be sure to avoid any language or a tone that seems "sales-y". This is a holiday card, not a landing page.
Holiday Cards with The UPS Store
Crafting the perfect message doesn't have to take up a lot of time. Collaborating with your team and discovering what you want your holiday card to portray (i.e., a nice holiday gesture or more personal) is an important step. As your prepare, check out our custom printing services at a location near you and our Online Print portal for easy holiday printing.