How to Make and Send Creative Holiday Cards To Your Customers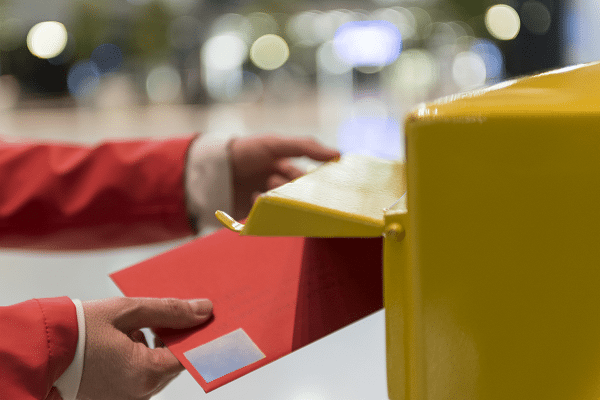 Seasonal greeting cards are a tradition that dates back almost 175 years, with Englishman Sir Henry Cole producing the first commercial batch in 1843. These days, millions of holiday cards are sent around the world each year. And while most are sent between families, friends and loved ones, many businesses also use them to pass along a year-end thank you to valued customers, vendors and investors. This warm holiday hello also helps keep your business fresh and relevant in the mind of all those people, some of whom may not have interacted with you for several months.
Much like a great business card, holiday greeting cards should hit the right notes when it comes to design, messaging and branding, while also incorporating creative elements that help it stand out from the crowd.
If you're a small business owner who's planning on sending holiday cards for the first time, or wondering how to make this year's cards better than before, here are a few pieces of advice worth following.
Ditch the digital message
Technology has revolutionized the way we communicate, and it's cheap and easy to create and send digital holiday greetings. This is one instance, however, where the impact of a physical card is well worth the extra time and effort. While an electronic message may be overlooked and discarded, your printed holiday card is more likely to make a meaningful connection with its recipient.
Pay attention to fonts and colour choices
Your holiday cards should project a positive image of your business, so choose carefully when selecting fonts, colours, images, messaging and paper.
If you'd like to create your own cards but don't know where to start, consider using a template. Some basic designs also come with matching envelopes, which can make your card look more professional. Keep the dimensions in mind, too. That oversized card with a flashy photo may attract a lot of attention, but it will cost plenty to put them all in the mail.
Choose a font that is clean and easy to read. If you already have a professionally-designed company logo and letterhead, you may wish to use the same font for consistency's sake. More than one font is OK, but don't use too many. Two or three is probably best to avoid a card that looks cluttered and confusing.
Don't feel obliged to go with the classic Christmas colour scheme of red and green, especially if they aren't the colours of your business. A card in your company's colours will help reinforce the brand, but any palette that looks good is perfectly acceptable. Some cards look more striking when colour choices are kept to a minimum.
Before printing, pay attention to paper choices. Some stock is better for cards that have photos, others have high-gloss finishes to add a little extra shine. You don't need to break the bank and buy top-quality paper, but you also don't want cheap cards that feel flimsy and can't stand up on their own.
Always include a personalized note
Yes, you're busy running your small business. And yes, the holiday season is already hectic enough. But the whole point of sending these cards is to reinforce the meaningful bonds between your business and each recipient. And those bonds aren't going to be strengthened by a card without personal touches. Make time to write the name of each recipient inside their card, along with a brief message. If the card is for someone you know well, you may wish to write a message that is more heartfelt. If your relationship with the recipient isn't so familiar, keep the message basic but cordial, something along the lines of 'Dear Blank, Thank you for supporting us. We look forward to working with you in the New Year.'
Consider giving a gift on behalf of your business
This is the season of giving and goodwill towards all, so why not give to someone less fortunate? Pick the charity of your choice, whether it's a children's toy drive, international aid organization, or a local homeless shelter. The selection can be personal, or pertain to your business. For instance, a food bank or soup kitchen is a good choice for a food-related business such as a bakery or catering company. Make a donation in the name of your business and its customers, then send out cards telling people about the gift you've made in their name.
Resist the temptation to sneak in a sales pitch
Your cards should be a sincere expression of thanks to those who have established relationships with your business. What they shouldn't be is an underhanded attempt at marketing. Now is not the time to tell people about holiday sales and discounts, or new products and services you intend to launch in the coming year. Count on the fact that including your business name and logo will be enough to keep your company in the minds of customers.
Steer clear of religious messaging and racy humour
There will likely be dozens of people on your mailing list, if not hundreds. And not all of them are celebrating the same way this holiday season. To avoid making a cultural faux pas or causing offence, it's best to stick with generic images and messaging that avoids mentioning a specific holiday or set of beliefs. Likewise, humourous cards aren't always all they're cracked up to be – just because you find something uproariously funny is no guarantee that everyone else will. It's safer to play it straight.
A New (Year's) twist on holiday cards
Here's a twist on holiday cards that some small businesses might find a good fit: sending out New Year's greetings instead. This idea is a good one if you're late to the game and don't have time to send your cards before Christmas. While we don't all celebrate the same seasonal festival, we all start the New Year on the same day. Separate yourself from rival senders with cards that wish your recipients the best for the year ahead.
Visit The UPS Store near you. We can help you design and print the custom holiday cards that best represents you and your business.