Trade Show Prep Checklist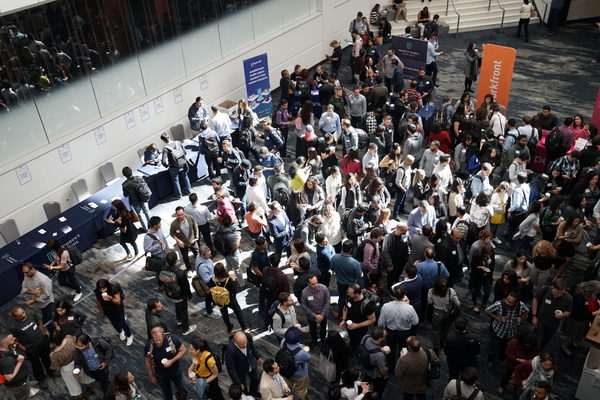 Trade shows are a great opportunity for small business owners to showcase their products and services, network and build connections with other business professionals, increase brand visibility, boost sales and leads, and uncover the latest leading trends in their industry. However, there are many moving parts to a trade show that attendees need to consider. Planning is crucial, as you want to be able to present your business in the best light in front of prospective customers and your industry peers.
If you have some events lined up during trade show season, now is a great time to successfully plan each step of the process.
Here is a checklist of some of the top steps you should take before attending a trade show. Be sure to also check out our Small Business Solutions for all your go-to small business needs, at a location near you.
Initial steps
Budget for trade show costs: The costs involved in a trade show will vary, but it is important to consider some of the initial fees prior to design and marketing, such as entrance fees, the cost associated with your booth per sq. ft., if certain locations of the trade show cost more for a booth than others, what the show services costs are (i.e., electricity, clean up, internet access, etc.), travel and hotel costs, and so on. Creating a budget for these initial costs can assist you later down the road when other costs pop up.
Choose your booth early: Highly desired locations go quick, so make sure you choose the location of your booth early. That way, you can have some options when finding an area with the most traffic.
Complete and send your trade show contract: You will come across some form of a contract (possibly multiple) before becoming an exhibitor at a trade show – be sure to carefully fill it out and send it back as soon as you can. This could include an exhibit booth contract, Terms and Conditions, certain policy contracts, etc. Also, be sure to carefully review the contract(s) as this will likely include essential information associated with the trade show and/or your booth. Abiding by the trade show regulations is crucial.
Consider lodging & transportation: Some trade shows can last a couple of days or are far away from home. If this is the case, you will need to plan for how you will get there and where you will stay during the trade show. If a trade show requires you to fly, booking a ticket far in advance will usually be less expensive than waiting until the last minute. As well, hotels can book up quickly, especially those located around the trade show, so book early!
Assemble your trade show team: Who will be attending the trade show? Will multiple team members be required? Do you want a sales representative at the event? Be sure to determine who your trade show team is and carefully plan out everyone's roles for the day. Holding pre-trade show meetings will get everyone on the same page and make the booth run much smoother.
 Prepping for your trade show booth and display
Plan out your trade show materials: Before you get to the design and production side of your trade show booth, it is always a good idea to plan out how you envision your booth to look. Will you have posters and banners displaying details about your business? What type of imagery will surround your booth (i.e., retractable banners with stands, flyers, signs, illuminated displays, etc.)? Do you want to provide brochures or business cards to those who go to your booth and when you network with others? What about generating QR codes to act as quick links to your website? Consider the types of materials you want to show and provide.
Design your booth material to match your brand: Maintaining your brand's identity is key during a trade show, especially since you will be presenting your business and the products/services you provide to the public. This is where creating branded visual elements that illustrate your logo or brand colours, for example, can help. A trade show can be high-paced and busy, so you want to promote your business as best as possible; opt for designs with more imagery that you can notice from across the room, and stay on brand by choosing colours that correspond with your business.
Print your material: Now that you have determined which materials you'll need, it's time to print them. You will want to make sure everything fits your booth and that you will have enough items, such as flyers/business cards/brochures, to go around. If it is a large trade show, opt for a bit more branded material – you never know if the next person you see could be a new supplier or customer, so you want to have enough material available. Any extras can always go back into your brick-and-mortar store.
Consider other booth items: Other than branded material, think about what your booth may need, such as tables, chairs, display screens, interactive games, etc. The longer attendees stay at your booth, the greater chance you have to tell them about your business.
Ship products and materials ahead of time: Shipping items ahead of the trade show to ensure they arrive on time and in one piece is critical. Once you have all of your materials ready for your booth, select the right shipping service for you, calculate shipping costs, and collect packing materials to keep your items safe during transit. This can save time and stress as you and your team make your way over to the show.
 Setting up for the day of the trade show
Document the process on social media: Prepping for a trade show can be great content to add to your social media accounts in both video and written form. For instance, a time lapse video of your booth coming together can be great for social media platforms, while a blog post about your trade show journey could be great for your website. Creating engagement and buzz about your booth on social media can be both a great promotion during the trade show, and can help you reach audiences interested in the industry you are in who aren't attending. During the trade show, post content and include any hashtags associated with the show to connect with other attendees.
Supply free promotional items: When attendees arrive at your booth, you may want to give away free promotional items that display your logo. This can be a great way to promote your business, while also remaining top of mind whenever the individual uses your item, such as a ballpoint pen, mug, or desk calendar. Be sure to display these items clearly in your booth so that attendees can access them easily.
Consider where your traffic is: Think about the flow of the trade show and position your materials in an area that can grab their attention and draw them closer to your booth. Putting messaging at a lower level will not be as helpful or noticeable when attendees are on the move, so keep branded materials at eye level.
Trade show planning with The UPS Store
Planning before a trade show takes time and effort but is extremely important. By organizing early, you can gain a better understanding of how your business will attract attendees, leaving you worry-free to enjoy the trade show on the day. To help in the planning process, be sure to stop by at a The UPS Store near you for printing and shipping services or check out our online printing services.