What Type of Signage Material Is Best for Your Small Business?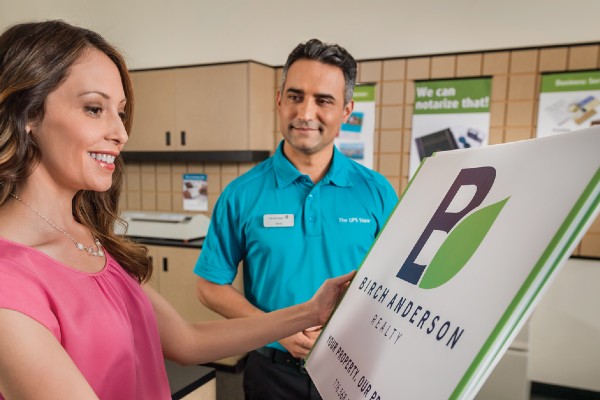 Whether it is your grand opening, a big event or you are looking for a refresh to your retail window, signage offers small businesses an excellent opportunity to help push a message out to the public and pull potential customers in. Navigating which type of sign product will work best for what you are trying to accomplish may take some consideration, especially since there are numerous options to choose from. To help with the selection process, we've outlined several signage materials you may wish to consider utilizing.
Foam Core
When something is displayed on foam core means this sign is light and portable, as it uses similar material found in Styrofoam. Foam core prints add an extra layer of dimension as compared to a standard paper poster.  With a sturdy foam board backing, mounted posters on this product are ideal for directional signage, presentations, retail signage and events. The outside is finished with a matte paper which gives an elevated look to your message. This can be a very economical way to showcase your graphic without a frame. Foam core signs do not resist denting and could easily be punctured. It is also not waterproof, so best used indoors.
Coroplast
Coroplast is the trademarked name for corrugated plastic sheeting. Waterproof and long-lasting, thanks to its plastic coating, you can safely display this sign outdoors to draw in the public. Coroplast has a shinier finish than foam core. Yard signs commonly use coroplast material as it is weather resistant and relatively inexpensive, making it a great option when you need larger numbers of signs.
PVC
Polyvinyl chloride (PVC) signs are rigid, durable, lightweight, and water-resistant – great for outdoor use. This type of sign has a matte appearance, making it have a smoother finish, and can display your high-quality, single- or double-sided, full-colour custom design. Because of the material, it is not subject to as many possible dents, which can help maintain its quality when displayed outdoors.
Vinyl Banners
Banners are portable and reusable, which means not only can you transport them to different areas with high traffic, special events, and trade shows, but you can use them again and again– something that many small business owners, who do not want to continuously purchase branded materials, can appreciate. Because of the plastics used in creating the vinyl material it is durable against the elements and time. As it is not a rigid material, a banner will either need to be affixed to a stand or grommeted to be attached by rope or cord. Much like a fabric, a banner can be hemmed for a more finished look.
Paper Posters
Posters are great visual aids that can help small business owners spread brand awareness wherever they are placed. They are particularly beneficial for retail spaces when used in windows to speak to walk or drive-by traffic about events happening in store. Posters are typically printed on paper, and that paper can be either matte or glossy stock. They can be printed almost any size you may need and are pretty economical to print as compared to other products. Typically posters are single use items.
Discover more signage options at The UPS Store
Implementing signage as part of your advertising strategy is a customizable and affordable way to spread awareness about the products and/or services your small business offers. All of the sign options listed above are available for custom print at The UPS Store. Be sure to contact a store near you to find out more about our professional printing services or get started with our Online Printing portal, where you can browse, create or upload a design of your choice and select from our range of products to help meet your business needs. Or, get started with visit at a  location near you.