5 Tips to Grow Social Media Engagement in 2022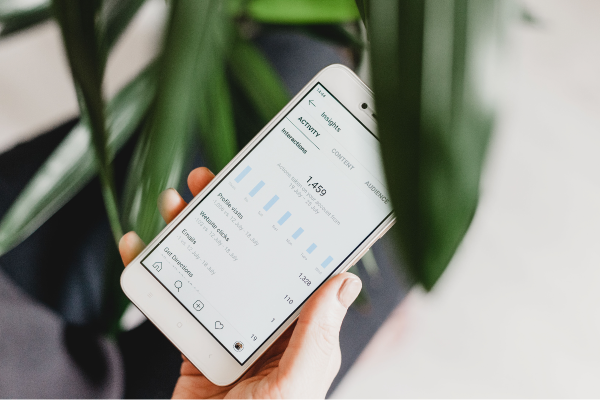 In the sea of tweets, Instagram posts, Facebook comments, Pinterest boards and swipe-ups, it is common to feel overwhelmed at the thought of navigating the ever-changing, often uncertain social media waters. For small business owners trying to maintain and grow a social media presence and connect with the public while juggling a multitude of other tasks may feel unattainable.
If this sounds familiar, or you already have a digital presence but are not sure how to help create meaningful engagement with the content you are posting, know that it is attainable, and it does not always require a great deal of experience in social media marketing to achieve.
If you have a solid understanding of your audience and their needs, and sharing details about your business comes naturally, you are already in a great spot. It's about taking your existing content strategy and elevating it so that you can increase engagement levels (the measurement of likes, comments, and shares that you receive on your posts) and build a greater, more meaningful digital community that can translate into more customers and sales.
Before we get into our tips, we recommend that you first have an understanding of your current engagement rate. How often do users share your content? React to a Facebook post? Do some types of posts receive more likes than others? Determining how your audience is engaging with the content you are posting now, such as by exploring your analytics pages, can help provide you with a starting point.
1. Try out video content (including going LIVE)
Uploading videos is often a great way to fit in more content and details than a typical picture can, which makes it much more engaging to watch and worthwhile for you to post. Across most of the top social media platforms, video content has been shown to rate higher in engagement, which only makes algorithms want to push out videos even more. This is why you'll likely see a video post after every couple of photos on platforms like Instagram.
With the rise in popularity of TikTok, which has helped transform how we create, watch and share video content on social media, several of the top social media platforms have begun to follow suit and push more videos to their users, which has resulted in many businesses wanting to create more video content as a result.
For some insight, videos on Instagram generate the most engagement on average compared to image posts and carousels (a series of images in one post), while tweets that include a video receive 10x more engagement than those without a video on Twitter. Live videos also do well, as Facebook says those types of videos receive 6x the interaction and engagement.
If your head is currently spinning from trying to think of video ideas, remember that they do not have to be professionally filmed, Oscar-worthy pieces of content. Something as simple as a short, behind-the-scenes look at your business or Q&As about your products can keep the interest of curious current and potential customers. These types of videos can be shot with a very laid-back, vlog type of style, which can make it much more personal and less "sales pushy," which users can appreciate and want to engage with. It can also help show how you run your business and highlight your work culture so that those watching can have a better idea of what is going on when they enter your location(s).
Again, videos and live streams should be much more authentic – save the sales language for advertisements. Users appreciate vulnerability and posting videos can help showcase that to a greater extent. Also, keep in mind video length – consumers consider short-form content to be 2.5x more engaging than long-form.
2. Find the platforms your audience is on and stick with them
You can't be everywhere all at once. Having an account on every social media platform can be exhausting to keep up with, and after a while, you might notice that you naturally post and respond less on some, which then makes it look like you're less active when in reality, you're posting and trying to engage with users on all of the other platforms. As a result, your user engagement levels can go down.
Instead, find the social media platforms your audience frequents most and focus your energy on those. Understanding who your audience is and who you want to target can be one of the best initial steps to take before crafting a social media strategy. Creating audience personas and determining the psychographic and behavioural details of your audience can provide greater insight when choosing platforms that work best for your business.  Also, take a look at which platforms your competitors have focused their resources on.
Each platform will offer you a variety of features, and it's about considering how those features fit into your business. As a small business owner, you want to utilize your time efficiently, and platforms that offer a variety of options to reach your audience will likely be your best option.
Once you choose a few platforms that you think you can easily manage, you do not need to create a new post for each platform. Cross-posting can help you save time and help you reach different types of audiences. For example, a video you post on TikTok may reach an entirely different audience than on Twitter, and that's ok! It can create various types of engagement, which can help your overall engagement grow. Sticking to a few platforms and posting the same content throughout (with minor edits to meet character limits and comply with music rights, of course) can help you effectively get your message across without "overdoing" it.
Remember, the social media platforms you choose should be where your target audience spends the most time. Remaining consistent across platforms with cross-posts can help maintain your brand image and voice no matter the platform they're on.
3. Post consistently & respond often
Now that you have decided which platforms to post on, try to post consistently and engage with users (who will hopefully convert to customers) as much as you can. Of course, staying on top of your notifications is not always realistic for a small business owner with a jam-packed day, but designating some time to do so can go a long way. You can set up email alerts when there is activity, messages, or comments on your Facebook, Instagram and Twitter posts.
Remaining consistent with your posting schedule can lead to greater opportunities for regular engagement from your customers and other users who come across your content. But how often is enough? According to 74% of consumers, brands should post one to two times a day. However, with factors like each platform's specific algorithm, what content gets pushed more, and when users are online, it is best to look into each platform's analytics to see which time of day your fans are online most.
Keep in mind that posting more content does not equate to more engagement – it's about finding that ideal amount that you as a small business owner can maintain that will be most ideal. Online content scheduling tools can help, as you can schedule your posts ahead of time during a time of the day when you find your audience is most engaged.
When users do engage with your content, be sure to respond in an appropriate amount of time. This means checking your DMs, responding to comments on your posts, liking tagged posts, etc. Showing your audience that you are authentic and want to connect can lead to the same with your content. For example, if you always respond to your Instagram comments, it might make others feel more inclined to reply to your posts.
4. Repurpose existing, high-performing content
Do you have existing content that performed well when you first posted it? What about content on your website, such as blog posts and reports? These are full of valuable pieces of information that can help enrich your social media and provide users with more information about your business. For example, if you have an interesting blog post that you think users can find helpful, cut it down to a short caption and share the link. You could also turn it into an infographic, a carousel post on Instagram, or even make a short video on the topic, with a call to action to read more about the subject on your blog..
Repurposing existing content can help during those creative slumps, while also helping you promote and reinforce your messaging, especially to new users who come across your account. Finding different ways to present some of the same topics can help showcase your business in new ways, which can lead to great engagement as it opens the door to a larger audience who likes to engage with some forms of content over others. Additionally, it can help you increase your organic traffic at a higher rate and boost your search engine optimization (SEO) since you are repurposing content that includes keywords that potential customers are looking up.
5. Repost user-generated content & positive reviews from customers
If users are positively posting about your small business, reshare it on your account! Not only does it show appreciation to that customer, but it shows others that people are visiting your business and enjoying it. This could look like resharing an image someone tagged you in on your Instagram Story or creating an entire post about it (with their permission). Users are 2.4x more likely to consider user-generated content authentic than branded content, which can be extremely important when trying to grow your engagement on social media.
The same goes for reviews. If you receive an outstanding review about your business, ask the customer for permission to share it on your social media, as it can help potential customers gain better insight into your business. With 79% of consumers saying they trust online reviews as much as the recommendations they receive from friends and family, sharing this type of content on your social media can help lead to great conversion rates. It can also help entice others to post reviews about your business, making this a win-win situation.
Small Business Solutions with The UPS Store
If you are ready to expand your small business, The UPS Store is here to help. Visit a location near you to jump-start the process and uncover more small business solutions.