Tips for Prepping for a Long Distance Move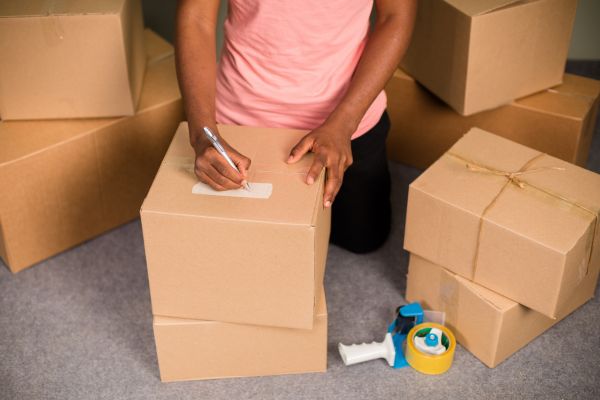 We are in peak moving season. If you are considering relocating a distance away or are already in the process, we've got tips that can help you prepare for this exciting new chapter.
PURCHASE STURDY MOVING CONTAINERS
Keeping your items safe and intact will lessen future headaches later on when you're unpacking, and that starts with sturdy moving supplies. It's safe to say you probably don't want your personal items in a box that's is likely to bend or tear, so take this time to seek out new moving containers (i.e., cardboard boxes) that can withstand the move. Secure boxes will give you peace of mind, especially if you are moving quite a distance away and are unsure how your items will fare in transit.
How do you define a "sturdy" box? Consider a corrugated box with high quality single-wall, double-wall, or triple-wall sides. The number of walls correspond with the number of fiberboard layers; a single-wall corrugated box will have a single flute covered with a liner, and the more layers of flutes, the sturdier the box. If you're moving heavier items, such as small household appliances, a double-wall corrugated box can be a great option, as it will offer more strength.
Stop by The UPS Store in your neighbourhood to see how our team can help. We carry move-strong boxes in various sizes and can make custom moving boxes for odd-sized items.
PURCHASE ENOUGH MOVING SUPPLIES
It's the night before moving day, and you realize you've just used your last box—talk about stressful! This doesn't have to be the case for you, but it will take some strategic thinking to determine just how many boxes and protective packing material you'll need to pack all of your items.
We've put together an estimate to help illustrate just how much you may need. Of course, the exact amount will depend on your situation, but if you buy excess, you can always give some to a friend or save it for the future.
If you're moving into a 3 bedroom, 2 bath home, we estimate you'll need:
12 small boxes (16″ x 12″ x 12″)
16 medium boxes (18″ x 18″ x 16″)
6 large boxes (18″ x 18″ x 24″)
4 extra-large box (24″ x 18″ x 24″)
3 wardrobe box (24″ x 21″ x 46″)
1 dish pack (18″ x 18″ x 28″)
108 ft. of bubble wrap
165 yards of moved-rate packing tape
3 tape dispensers
3 permanent markers
You may need more or less depending on the size of your current location, so be prepared to adjust this list accordingly.
PROTECT FRAGILE ITEMS
Whether you are moving 10 minutes away or 10 hours away, it is important to protect your fragile items from transit. In the hustle and bustle of moving day, storing fragile items properly can save you from the hassle of dealing with broken pieces—the last thing you want to take care of when you move into your new home!
As you collect your moving supplies, you may want to opt for packaging peanuts and/or bubble wrap that can cushion your items as you move. Using cushioning material like newsprint or brown kraft paper will not absorb any shock from bumps or bounces along the way.  If you're moving breakables, be sure not to overload each box, and ensure that the packaging material fills the empty space so your item(s) won't move as much.
GROUP ITEMS BY SIMILARITY
A great way to start prepping for your move is to create a written list with groups of items that correspond with each other. For instance, a group labelled "office supplies" may have items like a file folders, organizers, or stationery written underneath it. When you've covered everything that will be moving with you, begin physically organizing your items accordingly. You can start by labelling your boxes with each group you've listed, which can save you time when you are unpacking in your new home.
As you move your everyday items, don't forget about your personal and confidential records and identification, such as your passport, birth certificate, insurance information, etc. These items may have been in a special place at your old home but will need a new space in your new one. By grouping these together, you'll be able to keep track of them better.
NEED TO SHIP YOUR ITEMS?
If you are making a big, long-distance move, you may need to ship some of your items. If this is the case for you, plan out which items you need to ship and the timelines and costs associated with shipping them. Trusting a reliable shipping service is important, and we at The UPS Store can help. We offer packaging and shipping services to save you time and help ensure your items arrive at your destination.