How to Pack and Ship Framed Art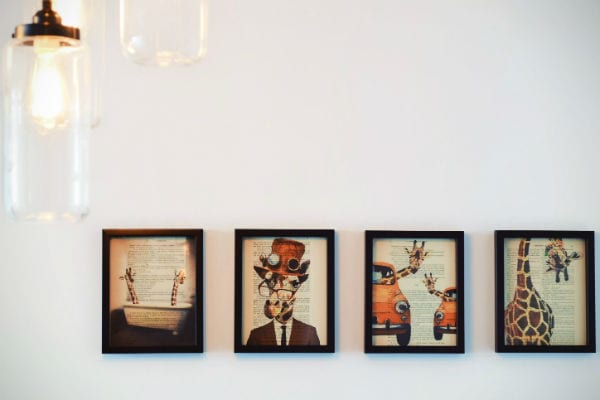 Framed art can be damaged in transit if not properly packaged. We recommend the double box method for artwork, and removing the glass from the artwork and pack it separately whenever possible. Ship any item valued at more than $250 via air, and if the item exceeds 36″ x 36″, have it crated. (See step-by-step instructions below.)
If it is not possible to remove the glass and pack it separately, you will need to take extra precautions when packaging the item. Cover the glass glass protection tape if shipped in the frame. (Do not use glass protection tape on non-glare glass as it may damage the surface.) To avoid damage, do not let the  artwork contact the paper, hardboard or corrugated cardboard. Double cushion and double box the item for extra protection.
You will need:
Glass or surface protection tape (glassmask)
Foam Corners
Bubble Wrap
Styrofoam packaging peanuts
3″ Packing Tape
Scissors
Two boxes (44 ECT or greater)
Step 1:
Lay glass protection tape onto glass and trim to size. The glass protection tape is used to ensure that, if the glass breaks in transit, that the shards don't migrate through the box and helps limit potential damage.
Step 2:
Use bubble wrap to cover the entire frame. Flatten to eliminate bubbles. Make sure that the bubbles are facing inward. Seal with 3" packing tape. Ensure that the tape extends all the way to the corners and edges are flat against the glass. Make sure it is not attached to the frame and that you use enough bubble to have at least 1" overlap.
Step 3:
Protect the corners with foam.
Step 4: 
Prepare your box by filling the bottom with Styrofoam peanuts.
Step 5: 
When you have a minimum of 2″ of Styrofoam peanuts at the bottom of the box, insert your picture in the box and continue to fill it with peanuts. Seal the box.
Step 6:
Place the first box into the second one. Seal the second box and secure all the seams of the box with 3" packing tape.
Step 7:
Make sure your package is ready for transit by picking it up and lightly shaking it, squeezing it and inspecting it for any unsealed seams or corners.
If all this seems overwhelming, visit The UPS Store in your neighbourhood and let us pack and ship your artwork for you. Ask about our Pack & Ship Guarantee!