How To Promote Your Small Business in the Fall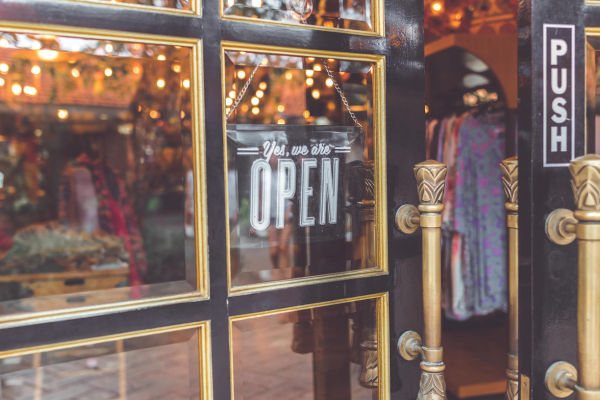 With fall approaching, small business owners can make the most of the season by devising a plan to promote their stores and attract new customers before the busy and competitive holiday season. Take advantage of refreshed print marketing, which can grab customers' attention outdoors and inside your business, and enhanced digital marketing, which can reach your audience online.
Although each small business may need customized marketing material, fall is a good time to make slight changes or additions to your promotion strategy. Here are some effective ways to promote your store this season.
Create Fall-Specific Promotions or Contests
Fall is often considered the busy back-to-school season, when consumers return to more consistent schedules after summer vacations and distractions. Creating a buzz around your business during this time via giveaways can be a great way to recapture the public's attention and remind them of your products/services. This will look different for each business, but planning to offer discounts on certain products/services, promoting limited-time sales, or running a fall-themed contest or giveaway can help garner greater attention to your small business and help you form relationships that can last beyond the season.
Display Lawn Signs Around Town
Looking to boost local foot traffic to your store before the snow arrives? Lawn signs can be a great, cost-effective way to get the attention of community members, especially when strategically placed in busy parts of town. Just think of the visibility during Halloween!
Customize your lawn signs with your brand's colours, fonts, and specific messaging (such as what makes you different from the competition) to enhance brand recognition while ensuring consistency. If you have a fall promotion or season-specific products/services, add that to your design! Just be sure to keep the messaging simple and add a clear call-to-act so those viewing the lawn sign know to either visit your website or call your store.
This season can bring some cool, windy days, so lawn signs need to be able to withstand the changing environment. To help keep your lawn signs in-tact, try printing on weather-resistant material, such as coroplast (aka corrugated plastic sheeting) or Polyvinyl chloride (PVC), which are much more durable compared to foam material and can be water-resistant, adding to its longevity.
Post Flyers, Posters, and Banners
With more outdoor fall festivals and themed events during this season, leaning into print marketing can be a great way to promote your business. Creating flyers, posters, and banners can be excellent mediums to communicate a message to the public, and there is a bit more room to add text, graphics, URLs and/or QR codes to capture attention and convert the public into customers.
While flyers are small enough to be added to communal message boards, poles in high-traffic areas, or handed out during festivals, posters and banners can be much more large-scale, making them ideal for adding within or outside your store. Adding fall-specific promotional material to your flyers, posters, and/or banners can be a great way to focus a customer's attention on a specific product or service you offer and generate excitement around a seasonal item. Strategically placing these materials around your store can add to the customer experience and act as great incentives to make a purchase. Since these will be added to your store, try maintaining your familiar colours, patterns, and/or fonts to keep things on brand.
Like lawn signs, weather-resistant printing can be necessary when creating your flyers, posters, and banners, especially if you want to reuse these materials all fall or longer. The UPS Store can assist you with your printing needs, no matter the season. Find a location near you to see our printing options.
Adjust Your Social Media Strategy
Maintaining a social presence can be important for your small business year-round. However, in the fall months, there is a greater opportunity to produce organic content that is season-specific. This will look different depending on your business but using your social platforms as the launchpad to display fall promotional material, share images (i.e., if you have themed decorations, designs, or displays outside of your storefront, etc.) and incorporate language that includes fall buzzwords, can be excellent, cost-efficient ways to promote your business this season. Digital advertising tends to get very expensive and competitive leading up to Black Friday and remains so until Christmas, so consider running ads in September and October before costs increase on platforms like Facebook, Instagram, TikTok, etc.
Take Part in Community Festivals
If you have any upcoming events in your community or nearby neighbourhoods, such as fall or Halloween-themed festivals, consider taking part. Participating not only promotes your business but also enables you to meet other business owners and explore opportunities for collaboration. Additionally, it's a great way to showcase your branded material, like posters, banners, and flyers, to potential customers. It's also a great way to foster customer relationships by being an active part of your community.
Get Fall-Ready with The UPS Store
If you are considering implementing a fall strategy, let The UPS Store help. Our Small Business Solutions offer small business owners services to boost printed material and shipping capabilities. Be sure to check out a store near you to get started with your fall-specific material, or head over to our Online Printing portal to see what branded material you can easily create.