Great Apps for Small Business Owners in 2022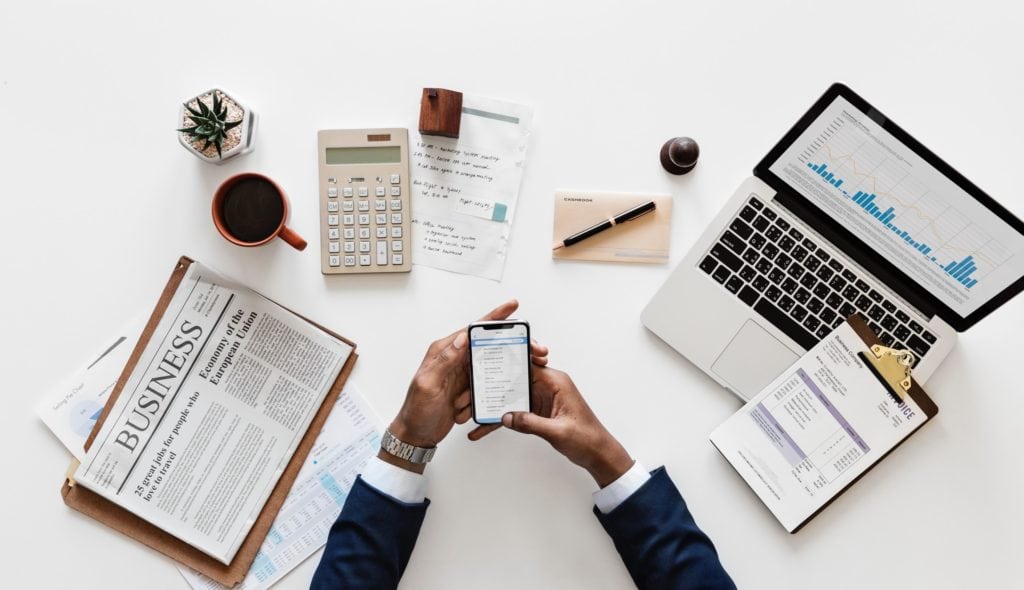 Finding apps that help your small business prosper is not an easy task. Most small business owners have faced that dreadful "download and delete" experience, which happens when you think you found a worthwhile app, only to realize it doesn't offer what you need.
With so many options out there, it can be difficult to determine which apps are going to offer both convenience and efficiency, while not breaking the bank with hefty subscriptions.
At the end of 2017, we published Five Must-Have Apps for Small Business Owners, but we thought it was time to dip back into the sea of apps to help you expand your digital toolkit. Below are some of our top picks, ranging from apps that help you schedule your social media to streamline your accounting.
Monday.com
Monday.com is a work operating system (Work OS), which is a cloud-based software platform where you and your employees can plan, organize, and track tasks, assignments, and anything else on your to-do list. If you and your team find it helpful to have your tasks visible in front of you, this interface will be extremely appealing. Check out their demo here.
With options such as what the priority of the task is, the timeline, the due date, and the completion status (which your team can change from working on it, stuck, and done) this app can be helpful when several employees are required to work on a task or if you need to stay on top of deadlines.
Monday.com is available for download via the App Store and Google Play. (The free version allows up to two team members.)
Sprout Social
As a small business owner, strengthening your engagement on social media can be extremely beneficial, as you can communicate with your customers more, reach out to the public, and share information about your products/services. However, finding the time to post can be difficult, especially if you are someone who wears several hats to run your business. With Sprout Social, you can plan posts ahead of time with their easy scheduling feature. This allows you to post to all of your social media accounts with ease, and with the calendar display, you can see exactly how many times you are posting throughout the month.
Sprout Social also allows you to stay on top of your comments and notifications, and you can respond to your Facebook, Instagram, Twitter and LinkedIn comments directly in the app. You can also access social listening tools to help you gain a better understanding of your competitors and what is currently popular in your industry. The app also gives you analytics on your social posts – allowing you to determine if your social strategy working or if you need to try new trends. All this information can be immensely helpful as you strategize long-term.
Sprout Social is available on the App Store and Google Play. (Requires a subscription)
QuickBooks Accounting
As you can tell by the name, this is an accounting app, and while this is not always the most "entertaining" part of running a small business, it is necessary. With QuickBooks, you can use your mobile device to track expenses, send invoices on the spot, access up-to-date insights, take pictures of your receipts so they are ready for tax time, and more – they have made accounting as painless as possible.
You can also sync your data across your devices, which can be extremely helpful if you are often on the go. This can be particularly useful if you require invoicing, as you can create estimates and finalize invoices all from your phone. The app also offers the option to accept payments.
You can access QuickBooks Accounting on the App Store and Google Play. (Requires a subscription)
Canada Business App
There are many factors involved when running a small business in Canada, and receiving accurate information about your business, especially when it comes to Government-regulated information, is key. The Canada Business App allows you to discover Government programs and services that relate directly to your industry. It is extremely customizable, so you don't have to scroll through information/resources that are not applicable to you.
Some of the resources you can access through this app include information on permits and licenses, how to finance your business, COVID-19 support, and new Government programs. Having this key information easily accessible on your mobile device is something that can be a great resource for a small business owner. As well, the app can send you personalized notifications, which helps make accessing programs and services even simpler.
The Canada Business App is available on the App Store and Google Play. (Free)
Constant Contact
Sending emails to your clients has never been easier thanks to apps like Constant Contact. Email marketing is an extremely effective way to engage with your customers, while also helping to increase website traffic for your business – it's a win-win situation.
Using the Constant Contact platform, you can easily create marketing campaigns, design stunning emails that match your small business' creativity, send emails to your customer lists, and track your campaign performance. You can get analytics to track who's opened your emails, clicked the links, unsubscribed, and more.
The Constant Contact app is available on the App Store and Google Play.
Slack
If you are in need of a better way to communicate with your employees, Slack can be helpful. Slack allows you to create separate channels for dedicated conversations (i.e., a certain project, a specific team, Q&A, etc.) and there is also an option to message employees privately. The option to share documents and images is also available to users, which can make sharing key information about your business with employees extremely simple and effective. As emails can often get lost in the inbox, Slack can be a great alternative to messaging your team.
The Slack app is available on the App Store and Google Play. (Free)
Finding the right app for your small business may take some research, but incorporating time-saving tools can help make your day-to-day responsibilities a lot easier to navigate. For other small business solutions, be sure to check out how The UPS Store can help.