How to Spring Clean Your Work Life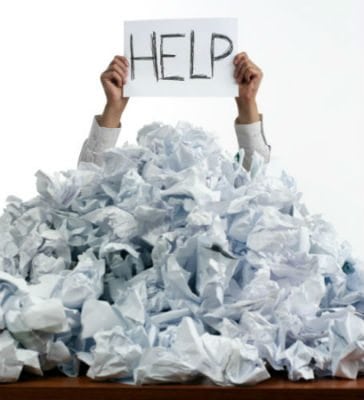 Now is the perfect time to spring clean your life. Not only do we celebrate both National Organize Week and Records and Information Month in April, it's also when we begin gearing up for a new season. And what better way to do that than by re-evaluating how you work? Increase your productivity, take stock of your work-life balance, and organize your office space with these tips.
Declutter your desk
Do you waste a lot of time looking for files and contact information? A clean office can reduce your stress, increase your productivity, and help you stay organized. Ask yourself if you need all of the documents on your desk, or if some can be filed away. If your to-do lists and reminders are scattered about on sticky notes, consider setting up a digital calendar instead.
Sort and file or shred
Before deciding what do to with your files, sort them into piles based on categories (i.e. bills, financial statements, general correspondence, etc.). Next, file away any documents you don't need to access on a regular basis, and digitally archive as many files as you can to reduce paperwork and save space. If there are hard copies of files you no longer need to keep, dispose of them with a secure, offsite shredding service such as The UPS Store's to ensure any sensitive documents are fully destroyed. Next, set a schedule for file maintenance and create a monthly reminder in your calendar.
Back up and organize your files
Whether your documents are archived digitally or in filing cabinets, be sure to create a proper filing system and folder structure that ensures you know where everything is and enables you to find any document quickly. Back up your digital archive to an external hard drive or cloud service for an additional level of security.
Use productivity apps
There are a variety of free apps that allow you to organize your files and increase your productivity.  Dropbox allows you to easily create, store and share documents, Mint organizes your financial documents and categorizes your spending to ensure you stick to a budget, CoBook unifies your address books and contact information, and Keep is a note-taking app from Google that allows you to create notes, lists and voice reminders.
Replenish your office supplies
Spring is a great time to take inventory of your office supplies and stock up on anything you may need for the coming season. It also offers an opportunity to re-evaluate your business cards and marketing materials and update as needed. The UPS Store can help you create high quality, professionally printed marketing collateral such as flyers, postcards, direct mail letters and more to inform your customers about your business.
Brush up on your industry knowledge
Take some time to research your industry and competition online and refresh your knowledge of new developments, tools and trends. Follow and engage with trade publications and thought leaders in your field on social media. Schedule a few minutes every day in your calendar to ensure you stay up to speed with what's happening in your industry.
Rejuvenate your goals
Spring is also a great time to refresh your business goals and objectives.  Look back at recent wins and determine if any successful strategies can be replicated. Also, create a manageable set of news goals for the coming months (i.e. I will increase my cold calls to 10 per week; I will attend three trade shows this summer; etc.).
The UPS Store can help you spring clean your work life. Bring your files into the location nearest you and we can help your save them to an electronic format, or shred any sensitive documents you no longer need. Learn more here.