Back to Business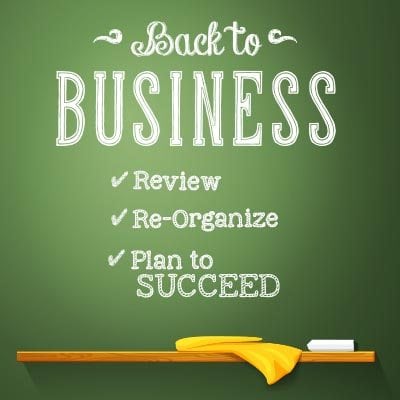 For many,  August is the month preparing for the back-to-school season as the lazy days of summer come to a close. For small businesses, August is very much a month of refocus as well.  "Ugh! But I'm still in summer mode," you say?  Well, The UPS Store has some great tips to help you kick your small business back into high gear:
Review:  Take a few hours to get back up-to-speed on news, trends and changes in your industry.  Then, spend a few minutes each day to see what your competitors are doing.  What  technologies and services are available that will help your small business grow and operate more efficiently? What networking opportunities are available in the next few months? The most successful business people are always studying their current business environment.  You should, too.
Re-Organize:  Remember those first days of September, when you would return to school outfitted with a new backpack, fresh packs of lined paper and a freshly-filled pencil case? Just like the kids, a fresh start is very motivating.  Unclutter that desk.  Replenish your office supplies, business cards and marketing materials.  File, file, file.  And voila!  You'll have an organized and efficient office space. Watch your mood, inspiration and determination soar!
Plan to Succeed:  We've all heard that setting objectives helps us to define the plan necessary for our success.  Now is the time to set some realistic goals for your small business over this work/school year.  What are your objectives over the next quarter?
The purpose of objective-setting is to clearly plan out how you want to build your business and then map out how you will go about achieving those objectives.
Will you aim to secure 3 new sales per month?
Will you promise yourself you will make 20 cold calls a week?
Will you commit to attending local networking events?
And remember, setting the goals is the easy part.  Be sure to check-in with your goals often to make sure you are on track.
So welcome back from summer.  Welcome back to business!