Tips to Properly Label Your Shipments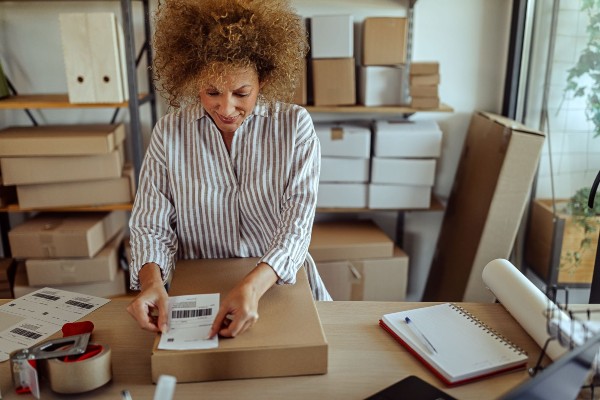 A shipping label is one of the smallest components of a package, and yet, one of the most important. Essentially a shipping label is your package's passport, as it contains all of the information that is necessary to help it travel to where it needs to go. This article will take you through some of our top tips when labelling packages to help you avoid any delivery issues when sending items off.
1. Full and Accurate Recipient Information
When sending a personal card to someone, you might not necessarily think twice when writing their name and address on the envelope. However, when creating a shipping label for your business, you want to be sure of the information that appears on the label. Labelling errors can cause your package to be delayed or returned as undeliverable.
Recipient's Name. Ideally the package will list the recipient's full legal name as it would be represented on government-issued identification. There may be times when your selected courier redirects the package to an alternate delivery location to be held for pick up by the recipient. The recipient will need to provide valid identification to retrieve the package, and that identification will need to match what appears on the label.
Recipient's Address. As with any standard address, you must include the recipient's full address including street number, street name and suite or unit number. As was noted above, if a package is redirected to be held for pick up by the recipient, proper identification will need to be present before the package will be released. The address will need to match that which appears on the shipping label. Tip: If your recipient is using a PO Box number for delivery, know that couriers will be unable to complete the delivery, with limited exceptions. An actual physical address, or a mailing address such as those available at The UPS Store as an example, is required for that package to be delivered.
2. Proper placement of label
A shipping label needs to be placed securely on the package to help ensure seamless delivery. The shipping label should be placed on the top of the shipping container and be carefully smoothed out to remove any bubbles or unsecured corners. Attaching the label flat against one side of the package allows for the barcode to properly scan throughout the shipping process. Avoid placing the label on a seam as doing so makes it easier for the label to unattach from the package or become damaged. Avoid wrapping a label around a corner as it may result in an unsuccessful scan or a torn label. Tip: If the package you are shipping contains fragile items or has a "This Way Up" stamp or label, be sure to secure the shipping label on the correct side to avoid the package being turned over during processing.
3. Make sure there's only one label on the package and that it's brand new
If you reuse any packing material, such as the box, it is important to remove any remnants of an old shipping label. Each label will also have a new, unique barcode exclusively to that shipment, which is why it is important to only have that one label clearly and securely placed on the package when shipping. Not removing previous labels can result in an incorrect scan at shipping facilities and cause the package to be returned. Tip: The Packing Experts at The UPS Store do not recommend repurposing cardboard boxes when shipping as they may have lost their strength or integrity when last used.
We also recommend encasing the slip in a plastic pouch to protect it from the elements when affixing the pouch to the packages. If you do not have a pouch, use clear plastic shipping tape over the entire label area. Just as you would use strong, durable packing tape to keep items secure and inside their container, consider using same for your shipping label if your label isn't already gummed.
4. Include a packing slip in your package as a back up
While this does not necessarily have to do with the outside label of a package, we recommend always including a packing slip inside your package. A packing slip can include key pieces of information like your business's information, the order date and number, a detailed list of the items within the package, contact information, return information, and so on. That way, if your package is damaged in transit, and your label is detached or rendered illegible, there is still information travelling with the package that can help it complete its journey.
Small business solutions with The UPS Store
If you are looking for local and domestic shipping services, and international shipping options, The UPS Store offers several small business solutions, including a wide range of packaging supplies and services to help streamline the process. Be sure to contact a location near you to get started.