Tips for Levelling Up Presentations In your Small Business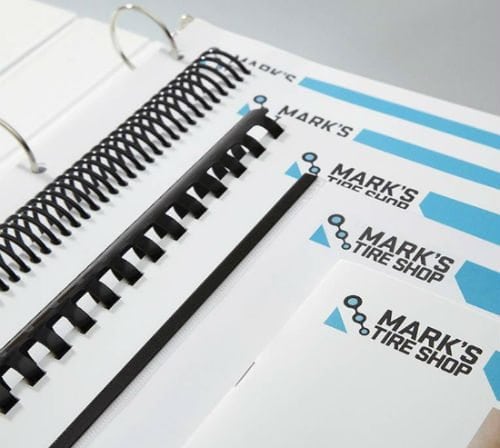 Presentations are a great medium to display your insights to your clients, investors, partners and other key players in your small business. However, presentations should combine an equal mix of design and strategy to ensure they are both engaging and memorable. After all, no one wants to sit through a yawn-worthy presentation; there are ways to take even the most granular information and turn it into something visually appealing and easier to grasp.
Some may think "flashy" or design-forward presentations are only meant for large corporations, but small business owners can take their presentations to the next level with some small design changes. If you are planning your next presentation, consider these tips.
Stick To Your Branded Guidelines
Maintaining the colours, fonts and designs associated with your small business in your presentations can be a great way to display information in a professional, put-together way. Rather than worrying about what colours go together or design features you should add, sticking to the elements of your brand creates a sense of consistency that can allow for greater recognition and recall.
One way to go about this is by looking at your logo. Are there distinguishing colours, features or fonts? If so, add them to your presentation! However, keeping things simple on each slide is best to avoid overwhelming the audience with too much colour and design elements. And speaking of your logo, adding it throughout your slide deck or presentation booklet (possibly in a corner) can add a branded feel to your presentation. After adding these elements, you can create a template that you can continuously use in each presentation to save you time.
If, for some reason, your presentation does require additional colours or your logo has very few differentiating qualities, several online tools can assist in colour selection. For instance, Adobe Color is a tool you can use to discover various complementary colours based on your original branded colours. Simply add the hex colour code of your brand and go from there.
Provide Supplemental Materials
If you deliver a presentation using a slide deck, it is typically best practice to keep text minimal so you can present the information yourself rather than have your audience read it off the screen. Adding what you're saying out loud to each slide may shift the focus away from you, increasing the chances of distraction.
However, if your presentation has key details that are necessary for your viewers to know and have, provide supplemental take home materials. For example, printing booklets or brochures that include further details about your presentation can a tangible take away.
Business cards are also good supplemental pieces that can coincide nicely with your presentation. If you are presenting in front of potential investors or key industry partners, or simply someone that you are meeting for the first time, providing them with your business card can be a great way to end the presentation, as it can act as a call-to-action of sorts if you want the individual(s) to follow-up with you at a later date.
A Picture Is Worth a Thousand Words
It's a saying for a reason! Adding photos to your presentation is a great way to fill the space when discussing your business. To take it a step further, add photos of your team or the interior/exterior of your store to help showcase your business to a greater extent. Doing so can be particularly beneficial if you are presenting a slide deck in front of those who are not yet familiar with your business.
55% of people say that a great story is what captures their attention during a presentation, while 33% say visual stimulation plays a key role in maintaining engagement. Having photos in your presentation can be the additional piece you need to take your presentation to the next level and make it more personal and engaging.
Add Binding to Your Presentation Booklet
If you deliver a presentation booklet to someone, rather than presenting a slide deck, there are several ways to add a professional feel to it without breaking the bank. One way is to add binding to it to appear more put together and "official" rather than printed pieces of paper. Whether it is a coil, saddle stitched, or Cerlox bound binding, adding some sturdiness can make a great first impression. It also allows you to add a professional cover that aligns with your brand identity.
Add Posters and Banners
Bringing in posters or banners that you can add either beside you or on a wall nearby can add an extra element to your presentations. For example, placing a roll-up banner in a stand beside you as you speak can give your presentation an entirely new look and feel, and can portray a professional element as you speak. The banner can include your brand colours, logo and other key pieces of info that showcase your business. Best of all, you can reuse these materials for other presentations or trade shows.
Level Up Your Presentations With The UPS Store
If you are looking to deliver optimized presentations for your small business, The UPS Store can help with our Small Business Solutions. Our graphic design, document finishing, and printing services, including our online print portal, are great resources to help you produce quality presentations. Find a The UPS Store location in your neighbourhood today!