A Small Business Owner's Guide to Taking Vacations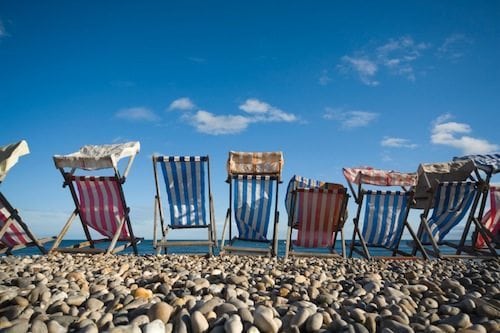 As summer swings into high gear, it's the perfect time to plan a vacation. But many small business owners often feel like they can't get away and relax because they're too preoccupied with what's going on back at work. Constant phone calls, e-mails and other office irritants can take the fun out of a holiday in a hurry.
The good news? With a bit of careful planning, you can create the perfect stress-free escape. Better still, you might even profit from it in the long run, because burn-out is the last thing any small business owner needs. Vacation time offers an important opportunity to take a mental break, connect with family and friends, and recharge the batteries before getting back to the daily grind. Do it right, and you're likely to return with an improved desire to go after your goals.
Follow these tips before packing your bags to achieve vacation bliss.
Check in with your clients:
Keeping clients happy is one of the chief concerns of any small business owner. Give them some warning before you take time off, remind them again right before you leave, and let them know who to talk to in case they need something urgent arises while you're gone. Reassure them that just because you're not in the office, their projects won't be put on hold and deadlines won't be in jeopardy.
Don't be afraid to delegate:
Whenever possible, try to start prepping relevant employees about a month or more before you go away, then ramp up the shift in responsibilities in the final week before your departure. This keeps lines of communication strong and empowers your employees, which will ultimately benefit your business. If something is particularly sensitive or important, leave detailed instructions on how to deal with different scenarios. With any luck, you might even come up with the solution in advance.
Seek out a slow time:
If there's a point in your year when work tends to slow down, that may be your best time to plan a vacation. That might mean you have to rule out some months when work is too demanding – accountants probably shouldn't take vacation around tax time, for example. But if there's a logical spot for a break, try to take advantage of it. Be creative. You might to be too busy in winter to go skiing in the Rockies, but there's great snow on the slopes of the Andes in July and August.
Get deliveries at your destination:
Expecting important deliveries to your office while you'll be away? You can arrange to have it all forwarded to where you'll be staying. Want to see the latest samples of a new product, or need to get your hands on delicate documents? Mail forwarding services bring what's important to you, even when you're not in the office.
Give yourself permission to think about work:
Yes, you're supposed to be getting away from it all. But it can be helpful and reassuring to check in at the office occasionally. As for quick briefings on what's happened at work, and updates about what's scheduled next. Try to limit your work to one or two short calls or emails per day. Also, use your distance from the office to take a look at the bigger picture. The fresh perspective could provide inspiration for a new product or help solve a problem you've been struggling with.
Ease yourself back in:
Your rested, relaxed state won't last long if you dive straight into a busy schedule as soon as you return. If possible, try to keep your calendar clear for the first day or two that you're back. That way, you'll be free to catch up on whatever you missed and handle any urgent issues that may have come up during your absence.
At The UPS Store, we can forward your mail to you, anywhere you are. Visit the location nearest you to learn more.