Planning & Communication are the Keys to a Restful Vacation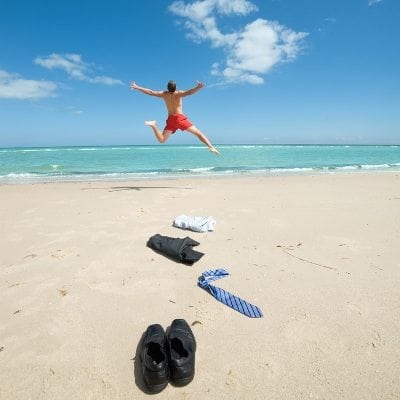 As a small business owner, you likely have a great hat collection. There is the sales hat; the marketing hat; the administrative hat; the accounting hat; the customer service hat. You may even find yourself wearing more than one hat at a time.  Often times, it may seem like there is literally no one that you can delegate to when you're trying to get away from it all.
That said, it's important to maintain a healthy work-life balance. Mental health experts agree that it is important to get away at regular intervals to recharge the batteries and shed some of that small business stress. Vacations are also a great time to step away from your day to day and look at the bigger picture of your life and business, from a more creative, relaxed perspective. The Canadian Mental Health Association suggests that one should "Leave work for an hour, a day or a week for non-work reasons and tell the whole team what you're doing. Go for lunch with a friend, take your kids/pets to the park, or take a vacation somewhere you've always wanted to go. Balance isn't an easy thing to teach. Your best approach is to model healthy behaviours."
Here are some tips from your friends at The UPS Store:
To ensure that you make time to get away, mark your planned breaks (whether they are an hour or a week) in your calendar just like all of your other appointments, and don't break that appointment!
Advance planning can help you truly relax on those longer vacations.  Plan your getaways  based on your sales cycle and pick times of the year that are typically slower or when many of your own customers or clients will be away.
If you're only looking to take a short break, plan them around long weekends and civic holidays. Tackling a day on each end of the weekend will feel like a really good break.
Take into account your cashflow and inventory levels to ensure your business won't run short of either while you're off soaking up the sun.
Communicating with your customers well in advance of your planned vacation also makes sense. That way you can anticipate their needs and they won't be surprised when they get a "vacation alert" bounceback from your email.
Speaking of emails, it's hard not to look at them while you're away and there's really no right or wrong protocol. In my experience, many people would rather deal with issues as they pop-up rather than confront hundreds of inquiries when they return. Again, let your customers know that you "will have limited access to email but will be checking periodically." Schedule when you will access your emails, and stick to that schedule, for example at 12 noon and 5pm everyday.
Lastly, remember you can rely on your friends The UPS Store to help! With over 360 locations in Canada and over 4400 in the US, it's very likely we are where you are, whether you're on vacation or not.