Is a Coworking Space Right for Your Small Business Employees?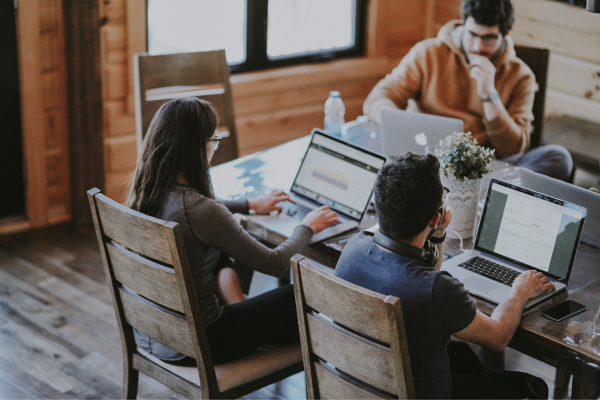 As a small business owner, ensuring your employees are supported so they can work efficiently and produce quality work is key, and the environment in which they're working can play a role. Coworking spaces have become a viable option for businesses who either work remotely or are looking to add more in-person collaboration and communication among employees without opting for a traditional office space.
Below, we have outlined the current state of the traditional office environment (or lack thereof), some of the reasons why a coworking space might be right for your small business, and what it can offer that an office environment might not.
Remote vs. hybrid workers
The change in the working landscape over the last few years has been significant, as the pandemic caused many businesses to swap their office space for a remote work process. In the four years since the pandemic began, things are changing once again. An August 2023 survey by Statistics Canada reported that 13.6% of Canadians work exclusively from home, while 10.3% (2.1 million) of Canadians now work in a hybrid role, more than a year prior.
A hybrid model, in which employees combine working remotely with working in an office setting, is on the rise, with 85% of workers who would prefer a hybrid or fully remote position. Flexibility appears to be the common denominator many employees seek and benefit from. In fact, a flexible working environment is something that may be increasingly expected of businesses to remain appealing to current and prospective employees.
The opportunity to offer this hybrid model to employees requires small business owners to have a space where their employees can go to work. However, it is important to consider the employees who are currently remote, as it can play a role in how small business owners consider moving forward with their work environment. A recent survey that has tracked employees working from home since 2020 has discovered that as of 2022, 78% of survey respondents preferred working from home than at their regular workplace, an approximately 15% increase from 2020. An additional survey found that of the Canadians who prefer working from home, half would look for a new job if their office made it mandatory to go back to the office full-time.
Although a significant number of Canadian remote employees prefer staying remote to being in the office, a hybrid model that allows for the option to work remotely can be a great choice if you want to encourage collaboration, especially since it has been reported that a significant number would prefer to work remotely at least two to three days a week—making a hybrid model an appealing approach. That's where coworking spaces can come in.
What is a coworking space?
The answer begins in the name—coworking. This type of working environment allows employees to work together; rather than communicating digitally, this space allows for in-person interactions, much like a traditional office environment. However, a coworking space is not in an office building that the employer purchased or rented just for their employees. Rather, a coworking space already exists and welcomes employees from various businesses to work among each other.
Freelancers are commonly the target audience for coworking spaces, as these spaces can provide an office setting and amenities they might not typically have access to otherwise. However, more businesses are considering opting for this type of environment, and the number of coworking spaces is expected to be on a steady incline, with almost 42,000 expected worldwide by the end of 2024, with upwards of five million peopleworking in this type of space expected in the same year.
Of course, not all coworking spaces will accommodate all of your employees, especially if you select one in a popular area. However, if you have a smaller group of employees or a handful that are interested in mixing up their working environment, have agreed to opt for a hybrid working model, or would prefer working collaboratively on a certain project that would benefit from being together in-person, a coworking space might be just the thing.
Schedule office time when needed
One of the benefits of a coworking space is that it's there when you need it. Rather than spending an exorbitant amount to retain office space, which is something not often in the budget of a small business owner, a coworking space can come at a much lower cost. You are also not tied into a long-term lease like a traditional office; some long-term options are available, but coworking spaces tend to lean more on short-term bookings.
If you're thinking about implementing a hybrid working model, a coworking space can provide a solution for employees looking to move away from being entirely remote and prefer to work in an office environment for a few days each week. This can also be especially beneficial if hybrid work is not something you're considering long-term or you have the type of business that doesn't require a full office space with all of your employees working at once. Additionally, a coworking space can accommodate employees who may want the flexibility to choose when they work entirely remotely or not, making flexibility one of the appealing factors of a coworking space.
Choose the working space that fits your employees best
There may be several coworking spaces near you and/or your employees if your team is geographically spread out. With that comes different working spaces or "types" or coworking spaces to choose from. Some offer an open environment where there are large tables to work at, while others can provide closed-off offices within their facility that can accommodate teams looking to communicate more and have some privacy. The choice comes down to your business needs. With so many options, you choose one that fits you and your employees' needs at a given moment.
A dedicated working space
Although working remotely can come with its benefits, the line between work life and home life is often blurred. A coworking space can be a great choice for employees looking to define that line a bit more and have a space to go to that is dedicated just to working. Since there is flexibility as to when to book a coworking space, you can determine with your employees when they'd like to work remotely vs when they want to work together in person and go from there.
A designated working space can also allow for social connection among your employees, which may be lacking if working remotely. Having this space to go to and work with colleagues may help with teamwork and boost camaraderie.
Access to amenities to get started immediately
If you are just starting your small business and are looking to save on your finances, a coworking space can offer you the resources you need to start working with your employees immediately. Of course, you can save on chairs and tables, but many coworking spaces also offer WIFI and machinery like printers/scanners, allowing you to save on these items as well. Depending on the coworking space, the facility can have extra amenities, such as cafés, kitchens, studios, fitness facilities, and more. This type of access may be more than you could offer your employees otherwise, making for an engaging, modern space for you and your employees to enjoy.
Downsides to consider
There can be some obstacles to a coworking space that should factor into your decision. First, is the potential for noise that comes with a large group of people in one space. If you choose a popular coworking space, be prepared that this is a shared space with many people using it. Plus, the opportunity to choose a space within the facility might be slim if you're using it during a busy time of day. Another downside is privacy. Although some coworking spaces offer closed-off areas and phone booths, you'll most likely find open-concept spaces, making privacy not necessarily a given when you're working among others.
Moving forward with a coworking space
Taking tours of coworking spaces near you and your team can be a great place to start. Keep communication lines open with your employees to assess their needs when deciding if a coworking space is right for all of you.
If you decide to move forward, The UPS Store can assist you with your small business needs. If opting out of a traditional office space, our mailbox services can be a great way for you to have an actual street address, which adds a professional image for your small business. You can also receive packages and mail in one secure space, making receiving items less risky and more efficient. We also offer printing services if a coworking space doesn't provide a printer or you want to print high-quality items, such as business cards, flyers, posters, etc.
Visit The UPS Store in a neighbourhood near you to see how our team can help your small business prosper.