How to Ship a Wedding Dress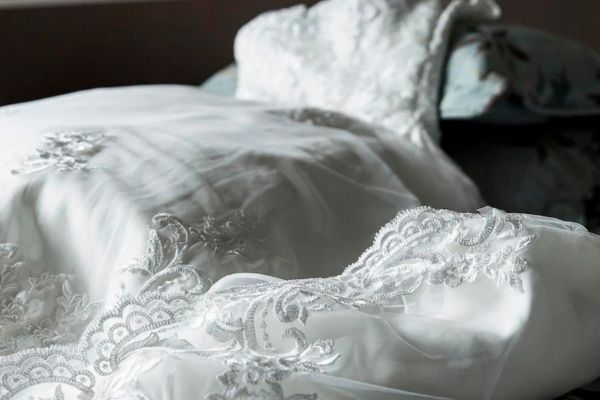 Whether you are a bride-to-be looking to ship your wedding dress to your venue or sending it off for alterations, or you no long need it and are passing down this special garment to a distant recipient, shipping a wedding dress can require careful consideration to ensure its safe arrival.
Below are some ways to ensure your wedding dress remains intact upon arrival. For all of your shipping needs, stop by The UPS Store near you, and our team can assist you with packaging and shipping services.
Determine the Box Size
This may sound like a given, but it can be easy to underestimate just how big of a dress you have and how much room is required to safely ship it. That said, finding a box that is not too big is just as important, as you don't want meticulous beading or delicate details to rub against the box or cause creasing and wrinkling while in transit. Find the Goldilocks of boxes—one that's just right.
Pick a High-Quality Box
Once you've determined the box size you need, choosing the right type of box that will withstand shipping is important. The last thing you need is a tear in the box, causing damage to the dress.
Corrugated boxes are typically stronger than standard cardboard and come in single, double, and triple-wall variations. For heavier items, which your dress may be, a double-wall corrugated box can be the best option.
A sturdy box is essential, so skip the old, damaged box that is easily destructible and opt for a new shipping container that can accommodate safe and secure shipping.
Prep your Wedding Dress for Shipping
Preparing your dress for shipping can help maintain its quality and look. First, before shipping your dress, we recommend hanging it up in a cool, dry place that does not have direct sunlight. This can help reduce fabric decay and prevent elements like humidity from impacting the dress's appearance.
Once ready, fold the dress–start by folding the arms of the dress inward and then fold the skirt and train. Place acid-free tissue paper between each fold. This can help avoid snags where the materials meet.
When done folding, make one final fold so it will fit it in the box. Carefully fold the top of the dress (the bodice) over the skirt to align it with the hem. Again, add acid-free tissue paper to these layers. If your dress has a train, fold each side toward the center and roll, which will avoid damaging this part of the dress.
Remember, your typical gift-wrapping tissue paper could damage your dress or even stain It. That is why acid-free tissue paper is often the way to go.
Use a Garment Bag
Once the dress is folded, put it in a clear garment bag, which offers another layer of protection from the box. Try opting for a breathable plastic, which allows airflow while shielding the dress from any possible mishaps. You can also go for one made from natural materials like cotton, which the dress can be stored in after the shipment. Keep in mind that traditional plastic bags may cause moisture to build up within, which could damage your dress if used for long term storage. However, plastic is fine for shipping. Your dress won't be in transit for an extended period, so, in most cases, it won't be exposed to any long-term plastic concerns like humidity.
Once you have the garment bag, carefully lay your dress in it and ensure it is folded neatly. When zipping up the bag, look for any stray fabric that could be in the way of the zipper before adding it to your box.
Insert Packing Materials
Now that your dress is in the box, check for any areas that could use padding. Remember, you don't want your dress sliding around in transit, so materials like bubble wrap or air pillows can keep your dress in its place. However, avoid adding extra pressure to the dress that could cause damage.
Use Tape to Secure
Seal the box closed using as much tape as necessary. Similar to the box, your tape should be sturdy to help make sure the package doesn't open during transit. Packing tape can be a great choice compared to masking or household tape commonly used for gift wrapping.
When taping the box, try to evenly apply the tape over the box's seams and ensure an even amount of pressure without it being too tight, causing damage. Avoid wrapping the box too tightly with tape, as this can cause it to squeeze and potentially lead to damage.
Add Shipping Label
When adding your shipping label or any other important addition to your box, avoid placing it on the box's seams, as this is not as secure as other areas of the box. Just be sure that when you place the label, it is in a highly visible place. Double-check all details on the label to avoid any errors or delays. It is also important to ensure there are no previous labels on the box that could cause confusion during shipping.
Write On the Box
Using a bleed-proof marker, write "WEDDING DRESS" on the front of your box. This can let others know to handle the box with even greater care.
Select Who Will Receive Your Wedding Dress
Now that your dress is ready to ship, we recommend assigning a trusted person to receive it, and opting for a required signature on delivery as an extra layer of protection. Plus, you will know who has it, when they received it, and that it is authentic. In most cases, you can also track your shipment, so stay on top of that as your dress is in transit to give your other party a heads-up that it is on the way.
Choose Express Shipping
Although not everyone can select this option, if you can—do it. Express shipping options can help reduce the amount of time your dress is in transit, reducing delays and limiting the time your dress stays in the box.
Ship With The UPS Store
We can't wait to play a role in your special day! Find out how The UPS Store can help ship your wedding dress or fulfil any other shipping needs by visiting location in your neighbourhood.