How To Choose the Right Packaging Fillers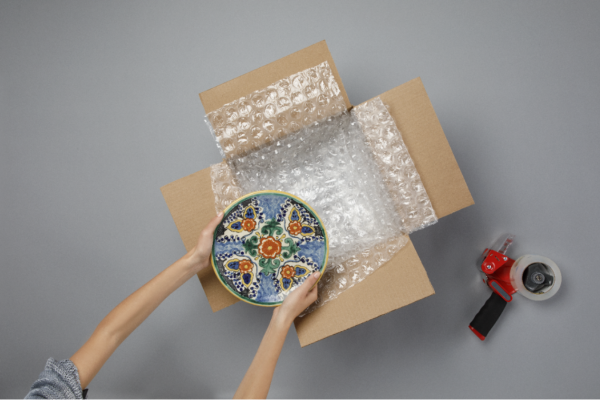 Whether you are a small business owner who ships products to customers, or you are looking to personally send items to someone, there are several ways to help protect your items while they are in transit, including selecting the appropriate packaging fillers. In this article we will be reviewing some common packaging fillers used for smaller shipments that wouldn't require custom cartons, crating, shrink-wrapping or palletizing.
What Are Packaging Fillers?
While there are multiple types of packaging fillers, their main goal is to provide protection to the item(s) within a shipping container, such as a corrugated box. To achieve this, the filler is placed in the empty space around the item(s) within the shipping container to help protect the contents inside from sliding, rattling, and moving during transit that could cause damage or scuffs. While it can be used to protect fragile items, packaging filler also helps protect the shipping container from the item(s), especially if there are any sharp points that could cause some damage.
Keep in mind that packaging filler is not necessarily the same as protective material, such as bubble wrap. Yes, you are protecting the item(s) you are shipping, but packaging filler is an extra layer of protection that takes up the space in the shipping container, rather than it being wrapped around the item(s).
But what type of packaging filler is right for the item(s) you ship? Below we have outlined several options to consider, along with some pros and cons to help you make your decision. For all of your shipping needs, be sure to visit a local The UPS Store near you for assistance with packing, shipping, and more.
Packaging Tools of the Trade
There are numerous tools and packing supplies utilized in packaging jobs. The following is a short list to help guide you to your packaging needs.
Packing Peanuts
This is a very common packaging filler and is often top of mind by consumers looking to fill empty space within a smaller shipping container. Peanuts are designed to provide shock-absorbing protection to the contents of a package and will settle during transit, which is why it is important to always slightly overfill the box and compress into the box using the top flaps when using this product as filler.
Peanuts come in various types, although the types you are likely most familiar with are made from polystyrene (aka Styrofoam). The UPS Store® recommends that only photo-degradable peanuts be utilized.
Peanuts are lightweight, and generally inexpensive, which allows for shipping costs to remain as low as possible. The downside of using packaging peanuts is that they can be messy for the customer receiving the package, especially when removing the item(s). Storing packing peanuts may also be considered a downside, as they can be quite bulky in larger quantities.
Air Pillows
Aptly named, air pillows act as a barrier between the shipping container and the item(s) by using air that is sealed in a clear plastic bag. They can easily take up void space and are great for items that could be dented or scratched in transit. As of late, The UPS Store locations in Canada have been moving away from peanuts, to air cushioning pillows.
A pro of using air pillows is that storage is much more optimal compared to other packaging fillers, as they come deflated and can be stored in a way that takes up less space. They are also very customizable in the way they fit within the shipping container – you can use more or less air depending on the item(s). Plus, they are lighter than some other fillers, which helps keep shipping costs as low as possible.
A con of using air pillows is they are not always best for heavier items that could cause them to pop during transit. As well, similar to packing peanuts, they are not necessarily the most visually appealing within a package, which could minimize the overall look of items when shipping to customers. The bigger concern may be the cost of the machine needed to fill the air pillows.
Bubble Wrap
Bubble Cushioning, or bubble wrap, is used to protect fragile items from damage due to migration and shock. Bubble Cushioning should always be used with the bubble facing the item to be wrapped. The only exception to this rule is where the item to be packed has sharp edges which could puncture the bubbles and negate the protection being provided.
Bubble wrap is commonly used to wrap items in, but it can also be used in the space around the items to add a cushioned layer between it and the box. This type of material comes in various sizes, most commonly seen with small plastic bubbles, but can also come in larger bubbles that easily take up more room.
A pro of using bubble wrap is that it is highly effective in protecting items during shipment, even with fragile or larger items, making it extremely versatile. It can also be very inexpensive. A con to using this material is that it is not environmentally friendly. As well, the storing of it can be cumbersome, as it often arrives in large rolls.
Boxes with Partitions and Custom Inserts
If you've ever seen packaging for beauty products, such as for makeup products or fragrances, or for electronics, you will often find the product is situated within the box next to sturdy, generally Styrofoam inserts to help keep it in place.
Expanded Polystyrene, Bead Board or Foam Plank (also known as Bead Board) is not used to cushion the contents of a package, but to provide improved protection against puncture, and compression. Items such as television sets, china, computer monitors, and artwork framed in glass should be placed in corrugated cartons fully lined in Bead Board.
Packing and Shipping with The UPS Store
When selecting the ideal packaging for your items, it's important to consider what you are shipping. Some fillers that are ideal for lighter and smaller items will not provide the same protection for items that are larger or could cause more damage to the shipping container while in transit. The goal is to choose packaging filler that protects your item snugly and prevents it from moving or shifting in transit.
For assistance with packing and shipping, be sure to visit the Certified Packing Experts at The UPS Store near you.