How to Adjust Your Marketing to Promote Your Business' Reopening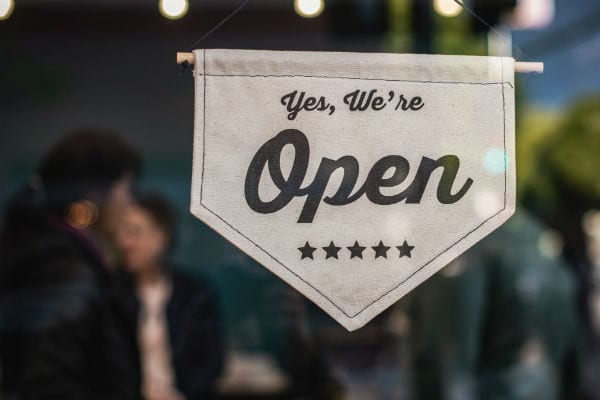 As more and more small businesses are beginning to reopen, it's important to adjust your marketing and communications strategy to reflect your business' revised status. The COVID-19 pandemic has created a unique and never-before experienced situation for most businesses, making it necessary to keep your customers informed about reopening plans.
Throw Out Your Previous Marketing Initiatives
Chances are, any previous marketing or advertising campaigns you were using before the pandemic are irrelevant now – or they will need extensive adjustments. Instead of simply re-activating your previous marketing activities (social media, direct mail, signage, newsletters, flyers, advertising, etc.), take the time to make the necessary changes to reflect on the current state of the world. Your messaging needs to shift from typical promotional copy to content that conveys the steps you are taking to keep your business safe for customers and staff. Your focus should be on regaining the trust of your customers and ensuring they feel comfortable coming to your business. Be explicit about the changes you have made to your establishment, the safety protocols you're enforcing, and how your business will be operating during "the new normal" (employees using PPE, 6 feet of distance, hand sanitizing stations, etc.).
Adjust Your Platforms
Consumer behavior has shifted dramatically during the pandemic. Total time spent on the internet has surged by almost 70%, and time on social media networks such as Instagram, Facebook, Youtube and TikTok has skyrocketed. Meanwhile, 45% of Canadian consumers surveyed say they are making online purchases for things they would normally buy in-store.
If you weren't very active on digital channels prior to COVID-19, now is the time to make it a priority for your small business. Make sure your website is updated and mobile friendly, ensure your Google My Business listing has the correct information and hours, update all your active social media handles, and put a greater focus on ecommerce. Now more than ever, consumers expect to be able to easily connect with your brand online and shop for your good and service from the comfort of their home, if possible.
Reconfigure Your Budget
Next, adjust your budget and focus your advertising efforts where your customers are spending their time. For example, during the pandemic Instagram usage has surged, with the average user now spending over 30 minutes a day on the app, making it an attractive advertising space. Review your recent engagement metrics on each platform and redistribute your advertising dollars accordingly.
Consider a Reopening Promotion
Reopening after months of inactivity? Make a splash with a promotion! Entice customers back to your business by promoting a post-lockdown offer. Whether it's store-wide discounts, email subscriber exclusives, or markdowns on specific items, it might be the incentive consumers who are hesitant about returning need to get them through your doors.
Start preparing now and help your business remain visible and resilient upon reopening. For information on all the ways The UPS Store can help you reopen, click here.