How The UPS Store Has Helped Customers During COVID-19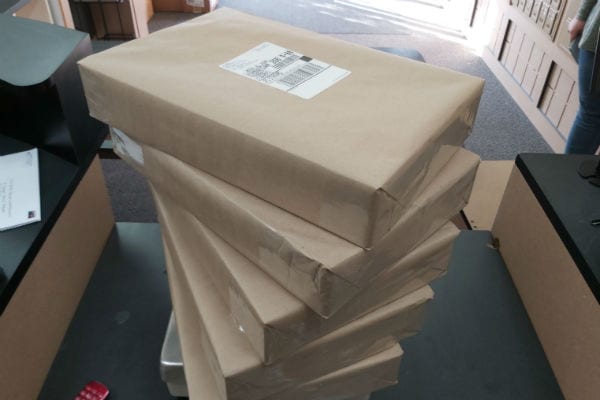 The UPS Store's franchisees and sales associates have continued to provide service to their communities during the pandemic. Our customers have relied upon us to access their critical mail and courier deliveries and have continued to place their trust in The UPS Store for the distribution of their merchandise throughout Canada and across the globe.
We've been happy to be here for our customer when they've needed us most. Here are just a few examples of how The UPS Store has helped during these unprecedented times.
Medical Supplies
Franchisees in various parts of the country have been instrumental in the transportation of much needed medical supplies to destinations across the globe.
Enabling Working from Home
One of our stores recently worked with the Royal Bank of Canada, who needed to ship laptops to advisors' homes as they would no longer be able to work out of their branches. Their laptop vendor was only able to ship skids of laptops, not break them up and ship individually. The UPS Store 111 in Burlington stepped in to ship over 250 IBM ThinkPad laptop computers to RBC employees, enabling them to work from home.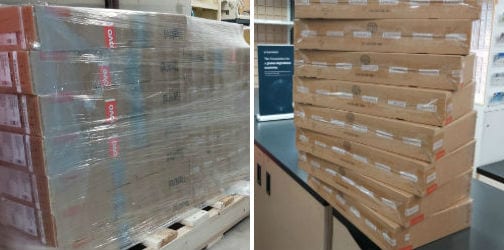 Wine Deliveries
What's more essential that a great bottle of wine? Franchisees located in Canada's wine regions in Niagara and the interior of British Columbia have played a significant role helping wineries distribute orders to their customers.
Plexiglass
Seeking to provide enhanced protection for employees and customers at branches located throughout the United States, the Bank of America looked to Canada for help. US manufactures of acrylic shields have been overrun with high demand, and could not fulfill their order, so a Toronto-based supplier was chosen. The supplier had the manufacturing capability but needed help with distribution, including shipping and the preparation of the necessary customs documentation. Numerous attempts were made to identify someone who could help, when the phone was answered by Amit Patel from The UPS Store 524 in Oakville, ON. Meeting the required service timeline was critical in order to deliver each order in accordance with the commitment made to the Bank of America. This made for some very long days. Amit and Sales Associate Hardik Patel arrived at the store as early as 5:00 am some days and didn't leave until 10:00 pm until the order was shipped.
These are just some of the ways The UPS Store has continued to serve our customers during uncertain times. As businesses begin to reopen, we'll continue to be here to help with all their shipping, printing, packing, faxing, shredding and mail receiving needs.