How Do I Ship Luggage Ahead of My Trip?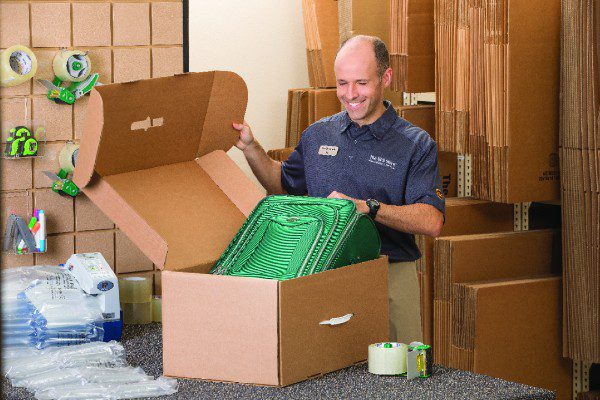 Shipping luggage ahead of your trip can be a great option to consider, especially if you are planning on bringing more than you can carry. Doing so comes with different considerations, some of which have been outlined here to help your journey (or your luggage's journey) be as smooth as possible.
Preparing Your Luggage To Ship Internationally
If you are shipping luggage that contains items for use on your trip, those are considered your personal effects. If you are shipping personal effects across a border, there are some things you should keep in mind.
Planning on Meeting Your Luggage At Your End Destination? If so, and if your luggage crosses international borders, you become the recipient and the shipper. In this situation, you would need to first cross the border into your destination before your luggage does in order to successfully receive it. However, this does not apply when shipping luggage domestically within Canada.
Customs Forms and Declarations. Additional customs forms would need to be prepared outlining the items included within your luggage.
Receiver's Identification. Not shipping to yourself, but to another recipient? Depending on where your luggage is being shipped to, you may need a copy of your recipient's government issued identification.
Payment of Duties and/or Fees. Be aware that duties and other fees may be incurred as your luggage crosses the border. These costs will depend in part on the value and/or gross weight of your item(s).
Should I Ship My Luggage As Is Or Package It First?
While your luggage might be the right container for your personal effects to travel in, is it the best container-type for shipping with a courier? The answer is no. Instead, the experts at The UPS Store strongly encourage packing your luggage inside appropriately-sized corrugate box(es). Why?
Avoid additional fees. Did you know there are additional handling fees applied by most couriers for non-standard sized packages? Using a corrugate box will help eliminate additional fees.
Availability of Additional Coverage with The Pack & Ship Guarantee. While most shipments are successful, there are times when "ship happens." If your items are packed by the Certified Packing Experts at The UPS Store, and shipped through UPS on the store's account, your shipment will be eligible for coverage for both loss and damage should the worst occur. If not in a corrugated box and if damaged in transit, the luggage itself would be considered a shipping container and shipping containers are not eligible for coverage (though the customer may be able to get coverage for the contents).
Better Labelling Options For Delivery. Using corrugated boxes also helps prevent the label from becoming unattached, which is important in eliminating any delay from your shipment.
Why a Corrugated Box Over A Cardboard Box?
To begin, what makes a corrugated box differ from a regular cardboard box are the layers of added fiberboard that help make the box stronger and better protect the items within. There are three types to choose from: single-wall, double-wall, and triple-wall.
Single-wall is the most frequently used type of corrugated box, made from a single flute (which are those S-shaped arches you may see between the cardboard) with a liner covering each side of the flute. Double-wall and triple-wall corrugated boxes contain more layers of flutes, which makes them sturdier. If items in your luggage are heavy and/or require more protection, we recommend opting for double-wall corrugated boxes, and for very heavy items, we suggest triple-wall corrugated boxes. This will help to ensure your items arrive safely to your destination, as an increase in flute layers lead to a stronger box overall.
Other Shipping Tips To Remember
To ensure a worry-free experience, it is important to remember these shipping tips:
Separate batteries from battery-operated items for safe shipping.
Like any other shipment, be aware of items that are prohibited from shipping across borders. This can include hazardous materials, firearms, etc.
Don't include items you use every day, such as your daily medications, in case there are delays in the delivery of your luggage.
Shipping your luggage ahead of your trip doesn't have to be yet another arduous thing to add to your travel prep. The UPS Store can help you pack and ship your luggage to your destination of choice. They are also able to guide you on the appropriate paperwork your shipment may require. Contact your neighbourhood location today for more information.