Prepare Your Holiday Packages for Pickup and On-Time Delivery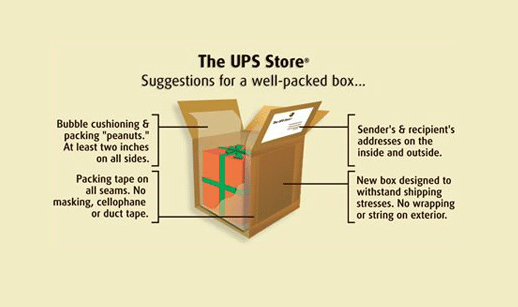 ­It's not yet time for present unwrapping and cookie snacking, but the holidays are on their way – and that means that for those of us in the shipping business it's peak season! This holiday season is expected to be the busiest in UPS history. In December alone, UPS anticipates delivering 585 million packages. Whether you are using UPS or another courier such as DHL, Canpar or others, here are some tips and hints from your friends at The UPS Store to help your package get there in time for the holidays
Beware of Packaging Perils
Are you a do-it-yourselfer when it comes to packaging? You can help to ensure that your package arrives safely and on time with these packaging guidelines.
Always use a new, rigid box with flaps intact
Remove any labels, hazardous materials indicators, and other previous shipment markings on the box that are no longer applicable
Wrap all items within the package separately using adequate cushioning material
Use strong tape designed for shipping to seal your package
Do not use string or paper over-wrap. This can get caught in the various machinery or conveyor belts as it gets sorted for its end destination
Use a single address label that has clear, complete delivery and return information
Place a duplicate address label inside the package, just in case the outside label is lost or unreadable
Packaging for Those Few Extra Pounds
If you are shipping heavier items, typically over 70 lbs. (31.5 kgs), it is important to evaluate your packaging materials to ensure that they are adequate for heavier package contents. Use new boxes that are at their full strength and that have not been compromised by humidity or the wear and tear of previous use. Boxes should be strongly constructed, preferably with seams that are stitched or stapled, not merely glued. Often you will see weight limits printed on the bottom flaps of most boxes.
Seal your box with heavy-duty tape (preferably reinforced), by applying three strips to both the top and bottom of the box, so that the middle seam and the two edge seams are sealed. Use only dense cushioning material to protect your heavy package contents. Expanded Polystyrene Peanuts and crumpled paper won't protect your shipment effectively because both materials crush and shift under heavy loads.
Visit The UPS Store in your neighbourhood to learn more and ensure your gifts arrive safely and on in time.