5 Ways to Get Organized in the New Year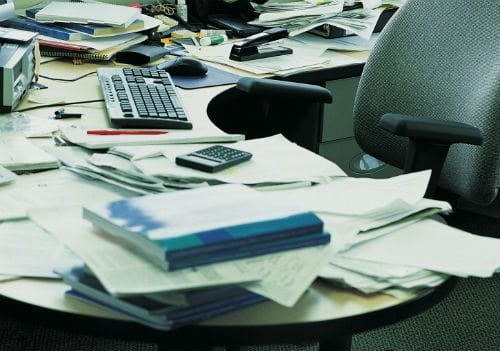 Did you know that January is National Get Organized month? The New Year is a great time for making personal and professional resolutions, and getting organized is an essential component in helping you achieve new goals and resolutions for your small business.
Starting the new year with a clean slate sets you up to be more productive and efficient in the coming months. Being organized also reduces stress, saves you time and keeps you on track. Here are five ways to clear the clutter and organize your small business:
Re-Evaluate Your Systems
We all have systems in place to help us stay organized and get things done. How effective are yours? Are you frequently crossing things off your to-do list, or are certain tasks never completed? Is everything in your workspace easy to find, or do you spend a lot of time searching for files and documents? Do you keep track of appointments and tasks with sticky notes or do you use an online calendar with automated reminders? Determine where your organizational pain points are and tweak your system to increase efficiencies.
Archive Last Year's Documents
Part of clearing up your clutter involves filing away the documents you no longer need to access regularly. If you really want to de-clutter your life, consider digitally archiving documents instead of keeping paper copies. Bring your files into The UPS Store near you and we can help your save them to an electronic format. Once your documents are archived, create a proper filing system and folder structure that allows you to find things quickly.
Shred Documents You No Longer Need
Once you've filed away or digitally archived the documents you need to keep, it's time to clean house. How should you dispose of sensitive materials such as payroll information, employee information, legal information, and large volumes of unwanted documents? You will want to be sure that there are no security breaches in your chosen method of disposal, and you will want to do it efficiently. Keep in mind that standard home office shredders do not have the capacity to shred substantial amounts of paper efficiently, and only average about 10 documents at a time (not to mention all paper clips, binder clips, rubber bands, etc. that must be removed before shredding). Consider using a secure, offsite shredding service to ensure your documents are fully and quickly destroyed. Participating The UPS Store locations offer document shredding and a locked bin option for you to dispose of your personal and business documents safely and securely.
Update Your Contacts
Being a small business owner is all about networking, and it doesn't take long to collect piles of business cards and contact information. Ensure you keep track of all of your contacts by transferring their information into a physical or digital address book. Each entry should contain their complete contact information and title, as well as any other details that are pertinent to your business (e.g. – notes on past projects you've done for them, their assistant's name, shared connections, etc.).
Consider a Business Mailbox
Do you run a home-based small business? Consider separating your personal and business addresses both for organizational and security purposes by renting a mailbox for your business. Doing so offers you more than just a secure place to receive your mail and packages while you go about the business of your day; your "new" address can also give your business the appearance of a true street address, making it easy for your customers to stay in touch without requiring you to expose your home address. For example, when listing your business on Google for the purposes of business searches, would you prefer to have your home address appear or another offsite address? Also, if you travel often and for long periods of time, you can have your mail forwarded to wherever you are. The UPS Store has a variety of mailbox services available, depending on your business needs.