What You Need to Know About Business Credit Cards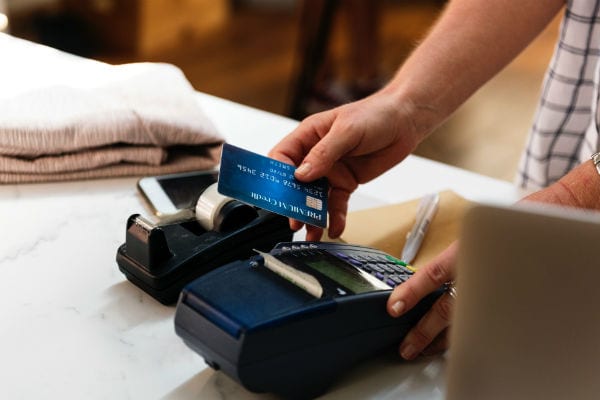 Do you and the staff at your small business use business credit cards for work-related purchases and expenses? Or are you besieged by offers for business credit card products, but unsure which one is right for you?
Many small business owners enjoy the benefits of using business credit cards. Besides being a simple way to separate business costs from personal spending while tracking overall outlay, they provide revolving credit for those small to medium-sized expenses that crop up every now and then, say new equipment or office repairs. Pay the card off promptly, and your business will build a healthy credit score that can help secure loans and other financing in the future.
Business credit cards can also be a convenient way for employees to pay their bills when travelling or entertaining clients. Add in welcome bonuses and rewards programs, including cash back offers or travel points plans, and business credit cards start to look pretty appealing.
Still, like personal credit cards or any other kind of financing, business credit cards aren't without their costs and risks. Interest rates can be higher than on personal cards, and buyer protections aren't always as extensive. Annual fees and interest charges can eat into the savings you generate from points programs. Finally, controlling your spending and keeping tabs of all credit card charges is essential to protecting the overall financial health of your small business.
If you're considering applying for a business credit card, or aren't sure whether the card you're using is doing all it could for you, here are a few things to consider.
Avoid carrying a balance
As a general rule, don't use your business credit card for purchases you can't afford to pay off when the bill comes due and the interest kicks in. You're likely to get a better interest rate with a loan or a line of credit than you will by carrying a balance on your card while only making the minimum monthly payment. Any money you pay the credit card company in interest fees simply erodes the savings you're supposed to be getting by earning cash back bonuses or building up loyalty points. Plus, if you end up with credit problems because of a bad business credit card experience, it could negatively impact your personal credit score, too.
Accountability is absolutely essential
Nothing is more important than ensuring that your business credit cards are only ever used appropriately. Before you hand out cards to staff members, no matter how senior, make sure you have a rigorous system in place to check and approve all spending. Set clear rules about who gets a card so there's no jealousy among employees who aren't considered worthy. Finally, set up email or text alerts to notify you (or your accounting department) of any unusual or unapproved spending. When monthly statements arrive, make sure each and every purchase is scrutinized and authorized.
Look for a rewards system that suits your spending
Many business credit cards are tailored for travellers, and offer special cash back rates on flights, car rentals, gas, hotels, and food. Other cards are better suited for office-based employees, with bonus rates applied to spending on supplies, internet bills and cell phone costs. If you're constantly on the go for work, a travel card is clearly best for you – consider looking for one that also includes travel insurance coverage or lounge access and upgraded service from airlines and car rental agencies.
Consider rewarding employees with points and perks
If your small business racks up plenty of points through credit card spending, one way to redeem them is by rewarding a deserving employee with a trip somewhere. The travel can be purely for personal reasons, or combined with a conference or learning event in another city. Some cards provide different perks, such as access to entertainment or merchandise, another great way to thank your staff for a job well done.
Set some limits
Before the first batch of new credit cards arrives at your small business, you should establish clearly defined limits on spending. Some cards even let you set fixed individual limits on each employee, or limits on different types of spending, such as daily maximums on gasoline and hotels.
Don't skimp on security
Make sure you and any employees who carry business credit cards are briefed on appropriate security measures. Take steps to ensure account numbers and codes are kept private. Counsel all card holders at your workplace to use extreme caution when entering credit card details online, checking for proper encryption and other security measures while steering clear of suspect sites that could be vulnerable to hackers.
Always read the fine print
Make sure you completely understand all the details of a credit card offer before you apply. For instance, some cash back bonuses only kick in after you've spent a certain amount, while others require you to reach a spending threshold within a fixed time before you qualify. Cash back rates occasionally vary between items, meaning the lofty rate you see advertised may only apply to gasoline or hotels, and not everyday spending. Some cards offer extended interest-free periods that allow you to pay your balance off over approximately two months instead of one. Be wary of cards whose interest rate fluctuates, and find out whether your payment behaviour will impact the rate you receive.