7 Steps to Avoiding Online Auction Shipping Failures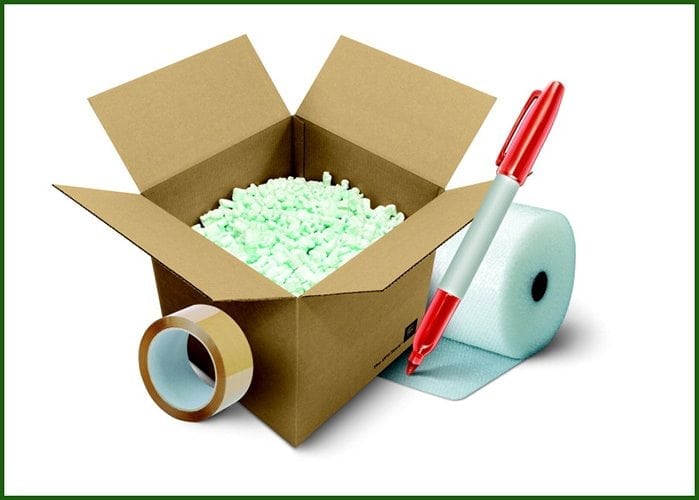 So, you've decided to sell your merchandise on Amazon or eBay or Etsy. Congratulations and welcome to the Internet! However, there is one thing you need to make sure you do. You have to package the ordered items carefully before you ship them off, because you need to make sure your business does not fall into the trap of cutting packaging costs to save money. Broken items mean bad reviews, and bad reviews mean you'll lose a lot of money before your business even gets off the ground. eBay even tells customers to check the reviews of each seller they want to buy from so that they know how reliable you are with your packing and with your reimbursement if anything happens to their package in spite of the seller's efforts. Therefore, you must make sure you know exactly what kind of packaging you want to use to make sure your package arrives safely. So, what are the things you need to consider when picking your packaging?
1. Pick the right shipping supplies
Before you know how to pack or what to use, you'll need to know where you can get shipping supplies. If you don't already have cardboard boxes lying around, you can seek out any major shipping or service in your area. Free branded packaging supplies are typically made available by courier companies who provide overnight shipping services, such as envelopes, tubes, and boxes. If you are looking to take advantage of lower cost shipping options, you will need to provide your own packaging materials.
The types of packaging available are varied and plentiful, but your use of them will depend on what kind of item you're shipping. For example, if you sell valuable first edition books online, do not use bubble envelopes or folders to ship them – these are envelopes lined with bubble wrap. The reason for this is that they don't offer enough protection to the item, especially at the corners, where they can be easily crushed, or if the book is heavy. Books should be sealed in plastic before being shipped in boxes to the customer. You should also make sure that every item you ship contains a Box Certificate or a "Shipping Seal of Approval". This is a seal found at the bottom of every shipping container that has been approved by the shipping or postal company. The seal details the weight limitations, maximum capacity and the crush test of that box. You should not exceed those limitations when packing, or else the box will be damaged.
Look for green packaging products, like recyclable and biodegradable carbon-neutral packaging, so your customers don't have to worry about increasing the amount of trash in their homes. It also demonstrates to them how much you, as an online seller, care about the environment. This can be yet another selling point to add to your business profile.
2. Pick the right packaging material that stands up to the test
Taking the time to ensure that you have the right materials to use for safe shipping can be an important variable in your reputation as an online seller. There will be a lot of bad reviews if the item is broken by the time it arrives at your customer's house, and this is something you definitely want to avoid.
Newspaper is often used as a packaging material, either to wrap items in or to use instead of packing peanuts or puffy boxes. However, newspaper is not recommended for use when packing fragile items as it lacks a key component of effective packaging, memory. Memory refers to the ability of a cushioning material to absorb shock and return back to its original shape ready for more. Newspaper tens to crumble and is not effective at protecting fragile items from damage caused by shock.  Bubble wrap and Styrofoam peanuts are the better options for packing materials and can easily be found at shipping centres or big-box retailers.
Another consideration is staining. If the item is something that can become stained or damaged by newspaper ink, consider an alternative such as  kraft paper to protect the edges of books, instead. You can wrap your item in a piece of kraft paper, which will protect the book so that the corners will not get bent in transport. Kraft paper can be indented or poly coated, both of which will protect fragile items. It is also lightweight, which will help save on shipping costs, and biodegradable, which you can advertise on your profile page.
Proper filling of packages is also key. Too much or too little can be detrimental to a successful delivery.  On the one hand, overfilling them with packing materials – puffy boxes, packing peanuts, bubble wrap or other – will cause the sides to bulge. If you have to force the packing material back into the container to seal it or if there is obvious pressure inside the box, then you have used a bit too much! On the other hand, in adequate cushioning can expose your items to breakage within transit. A good rule of thumb is ensure that there is no less than 2" of shock absorbing cushioning material surrounding all sides of the merchandise.
3. FREEZING TEMPERATURE ALERT: The enemy of every fragile package
Your client may not know this, but if they are buying china, glass or anything fragile from you, they need to be aware of the temperature upon receiving the package. If the temperature is below zero when the package is being delivered, they should not open the package right away – they need to wait until the package gets to room temperature before opening it. Warm hands after icy winds could shatter the item in question and you will be the one receiving the bad review for "sub-standard merchandise". You should, therefore, make sure there are warnings on your item page, in the confirmation email you send to your customer and on the box in large letters.
4. Wrap your items properly
You don't need to use shrink-wrap plastic to wrap your items –stretch film will work just as well, especially if you want to reduce costs. If you're packing multiple small items, and especially if you're using white packing peanuts or clear bubble wrap, you can find colored stretch film to make sure that no items are missed when your customers unpack the package. If you are shipping multiple breakables, like a set of drinking glasses, it might be worthwhile to take the boxes from the packaging supplier home and insert strips of cardboard to separate the bubble-wrapped items. If those breakables are plates, make sure there is a piece of cardboard between each plate too. You should have strips of cardboard on hand in the event that you will continue to ship breakable items.
5. Make sure you've picked the right box type
You should be using corrugated boxes as well. The word "corrugated" refers to the pleated sheet between two flat linerboards that make up cardboard boxes today. Always use a new, corrugated box for shipping. Used ones weaken and can break apart during shipping. Corrugated boxes should be taped properly using the "H-tape method." The box should be sealed along the openings at the top and bottom, and then the two perpendicular sides of each opening. Secure each seam of your box with two inches of packing tape and avoid using masking or cellophane tape, which isn't strong enough. Depending on the fragility of the item, you should also double box items when you can, since double boxing fragile items helps to protect them. After you pack the item ordered in one box, you put packaging material in the second, bigger box, place the box on top of the material and then surround the smaller box – in effect, "floating" the box. You should make sure that when you do this, the product does not jostle inside the first box or in the second. Even if it does jostle, carriers do not stamp it as "Fragile" unless you tell them so. In fact, use of fragile markings do nothing to protect the contents of a package in any distribution of major couriers or postal services, which makes proper packaging even more of a necessity.
6. Save money with these options!
• Pick the best shipping company and service level to suit your business needs
If your business doesn't ship items out frequently – you have a couple of options available to you. Certainly using a local postal service is a cost-efficient option. Granted, they're not exceptionally fast unless you're willing to pay extra, but they'll still have international options that won't break the bank. On the other hand, major shipping services such as UPS will also be able to offer various levels of local, domestic and international service options that can meet your timelines and your budget.  The major players are also connected to retail locations, such as The UPS Store, that offer  full service solutions from packaging supplies and service to delivery solutions for most package sizes.
• Recycle or buy in bulk
If you receive a shipment that has arrived with the full service of packaging, packing materials and wrap, consider recycling some of those materials for future use. Packaging peanuts for example can be reused in future shipments. Some shipping retailers will even accept these for recycling. Otherwise, big box-style shopping is your friend when you run a business. Buy in bulk!
7. Do it right the first time – you won't get another chance!
No  matter how you  package your item or what company you use for delivery, the fact is, your package is just one of hundreds handled by employees everyday. There is always a chance that your package will be mishandled, so you need to wrap and package your items properly the first time to ensure that regardless of what happens to it along the way, your item will arrive at it's destination safe and sound. So, good luck to you and happy wrapping!
Steffen Ploeger is a bilingual internet marketer who has a passion for Amazon, eBay, and finding the best flight deals online. Steffen can be contacted via Twitter @SteffenPloeger