Winner's Spotlight: DOG Bones Bakery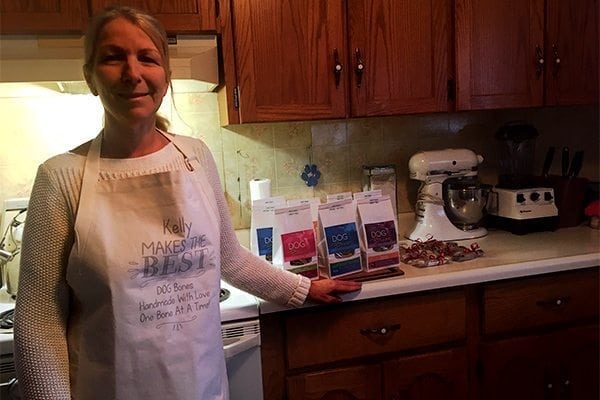 We are pleased to announce that the winner of The UPS Store and Thinking Capital's small business contest is DOG Bones Bakery in Rockwood, Ontario. The contest invited small business owners to enter for a chance to win a grand prize of $5,000 to help expand and achieve their next business goal.
We talked to the winner, DOG Bones Bakery owner Kelly McEachern, to find out more about her exciting business and what she plans to do with her winnings.
What made you start DOG Bones Bakery?
My dog, Ben, was diagnosed with severe food allergies and was put on a special hypo-allergenic diet. At the time, around Christmas 1998,  there were not many dog treat options that Ben could eat so I baked my first batch of baked goods that he could safely enjoy as a treat.
I've had a passion for baking since I was a little girl and I just love interacting with customers and their pets, so I knew this would be the perfect business opportunity for me.
How did you get the business to grow?
At first, I was selling my homemade dog treats at the Elora Farmers Market every Sunday. They quickly became a high demand item, and the owner of a pet shop in Elora asked if they could start selling them in their store.
Through word of mouth, I was able to start selling more of these treats simply through referrals from satisfied customers. I started a website to market my gluten-free, whole wheat, organic and natural products and began taking online orders.
Another step I took to further my business was personal visits with customers who had previously expressed interest in my products to allow them to sample different treats for their dog. I felt I was able to earn their trust this way and build credibility.
How do you continue to deliver a great customer experience?
Not only do I continue to take orders through my website, I also take them from my Etsy page.  Once I receive an order, I bake the product in the morning and deliver the treats that afternoon. I do not freeze any of my products so they remain fresh at all times. I also offer special packaging to customers with personalized messaging such as "Get Well Soon", "Happy Birthday" or "Happy Holidays."
My favourite thing about my job is to interact with customers as opposed to just dropping off the treats and not knowing if they thoroughly enjoyed it.
Can you tell us more about the products themselves?
All the treats are specifically local, organic and natural from the Earth. I took advantage of the healthy eating, gluten free trend that has since been adopted by many consumers.
My most popular flavours are peanut butter and carob chips, bacon and cheddar, oatmeal and apple, and pumpkin. I've sold tens of thousands of biscuits since opening my business. As well, I've already had 133 sales this fall and I am forecasting a ton of sales coming in before Christmas.
What was the source of your business' first financing?
I looked to my husband for financing when I first started up. Luckily, the start-up costs were not too high as I bake from home and my main expense was mostly equipment, specifically the dehydrator machine.
How did you hear about our contest?
I entered the contest through The UPS Store email blast, though I had also seen contest promoted on their social media channels like Facebook and Twitter. I signed up as a Get More card customer through a flyer and I currently get all my boxes and do all my shipping through The UPS Store.
What are you going to do with the $5,000?
The first thing I want to do is purchase another dehydrator machine so I can bake more treats at once. I also plan on revamping my entire website as my Google rankings aren't as high as they once were. I would like to see it back on page one.
I also plan on building up my presence on Facebook, LinkedIn and Instagram. My main issue is that I am pressed for time and I need to find the right resources to help me be more efficient in my day-to-day tasks.
Do you have plans to expand?
My dream is to open a full dog bakery, one that continues promoting the local feel and selling all natural, organic products. But, my first step is to hire additional staff, find a bigger facility to bake larger orders. Plus, I would like to do more with my Etsy account and promote more products.
What is your advice for small business owners who are looking to expand their business?
Believe in your dream from the start and keep going until you reach the finish line. You will come across many obstacles but always remind yourself why you did it in the first place: your passion for the business.
I spent years with a full-time job in accounting until deciding to pursue my big dream of building a small business. I also believe it's important to take the time to understand what product you are selling before selling it to the big chain stores or going into business yourself. Money is irrelevant if you don't spend time doing what you love.