What You Need To Start A Home Business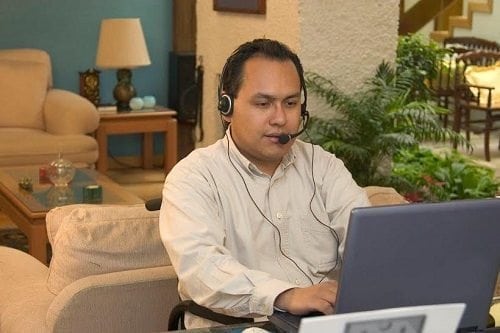 So, you've got an amazing idea for a home business, a well thought out plan, and maybe even some leads for your first sale. You're ready to roll, right? Not so fast. It turns out before you launch your new business, there are a few more things to sort out.
Of course, not every home business owner will require exactly the same equipment and preparation before getting started. Still, it doesn't hurt to be prepared, so take a look through our list and see whether there's anything you need to help your budding home business become a hit.
A comfortable, professional office
Yes, running a home business means occasionally being able to lounge on the couch with your laptop while actually getting work done. Still, that's not where you'll be working all week long, so it's good to have an area you can truly call your 'office.' In order to claim the home office tax deduction, Revenue Canada requires you to establish a work space is where you mainly (more than 50% of the time) do your work, and the workspace must be used only to earn your employment income.
If space permits, try to set up somewhere free from distractions – just as you don't want family members wandering through your workspace, you don't want your bedroom (or kitchen) to become a place where all you think about is business, either.
Ideally, your home office will be a space where you can confidently welcome clients and contacts, even if it's just via videoconference. They won't want to see your messy, cluttered desk, or hear your dog barking in the background. It should be a climate-controlled, well-lit environment equipped with an ergonomic desk and chair. If you want the boost the feel-good factor, be sure to add a few potted plants.
Equipment
Even with all that great furniture, your home office won't be complete until it's outfitted with the hardware and gadgets you need to make your business boom. Some small business owners can get by with just a computer (be it a desktop, laptop or tablet-style machine), a phone (landline, cellular, or both) and a high-speed internet connection, typically with a wireless router (to enable those trips to the couch).
While not all home business owners require machines to scan, print, fax or shred documents, many find it useful to have a sizable external hard drive for saving important files, as well as a fire-safe box for vital paper records. It's also wise to invest in a surge protector and possibly even a backup generator or uninterruptible power source, keeping you in business even if the lights go out.
An eye-catching, dynamic website
Your gateway to a world of waiting customers and, in some cases, your virtual store itself, will be your website, so it's got to look good. Keep the design simple and uncluttered, with easy navigation and prominent links for your products and contact details. Try to anticipate customer queries and handle them on an FAQ page. Most importantly, don't let the site become stale – change up the home page every so often, even if it's just with new images or links to relevant content, and you'll keep people coming back.
Smart, supportive software
Whether you work alone or with colleagues, the right software is essential for your home business – it's like having extra staff around to help take care of important tasks.
Your needs will vary depending on the type of business you operate, but you'll likely need a virus protection program, tax and accounting software, and something to help you design that must-see website. Other software ideas worth considering are an email marketing program to spread the word about your business and its offerings, and customer relations software to track and support the lifeblood of your business, your clients. If you need help with scheduling and organization, you might benefit from a project and time management program.
Expert advice
Launching and operating a home business takes a lot of work, including a hefty amount of problem-solving. Some tasks, however, are best left to the experts. As much as possible, you'll want to seek out reliable resources for complicated, time-consuming concerns, such as legal issues and insurance. If you don't want to use tax and bookkeeping software, you'll also have to hire a good accountant. Finally, if you need help incorporating your home business, filing a trademark application, or registering your company name, you can get all the assistance you need from the UPS Store's Incorporation Guide (http://theupsstore.corporation.ca/docen/home.asp).