Three ways to help SMEs grow and encourage local merchants with their digital presence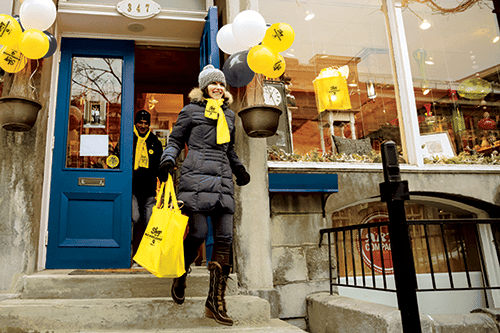 By Yellow Pages
Over the last three years, there has been significant growth in online purchasing in Canada. In 2014, internet sales represented 5.2% of total retail sales in Canada, compared to 3.9% in 2012[1]. Moreover, a GE Capital study conducted in 2013 showed that 81% of consumers search online before making in-store purchases. More than ever, technology is transforming the ways SME owners attract consumers and having a digital presence is now essential. Indeed, businesses that are not online diminish their chances of reaching their customers!
There are many ways to increase your visibility on the Web. Here are three ways to support businesses that are committed to making the shift:
A relevant online presence
Creating a website is a step in the right direction, but it is very important to pay attention to its content. Opting for relevant online content, such as images or videos, will incite local shoppers to choose your business over another. Indeed, four out of five consumers say that viewing an online video enhances their perception of a business.
Small businesses also have to ensure to update their basic information (e.g., business hours and phone number) and appear in the top positions on search engines. Sure enough, most consumers choose one of the first three results generated by online searches, hence the importance of being at the top of the page. Adopting a Search Engine Optimization strategy (SEO) boosts SMEs' online visibility when potential buyers search the Web.
Web sites and mobile applications
According to a Yellow Pages survey, nearly three quarters of Canadian SMEs have a Web site, but 67% do not have a mobile version.  Indeed, every month, one out of four people uses either a merchant's mobile app or their mobile Web site, whether it is to search for information on products or services, to find a store that sells those products, or even to choose the best route to get there. Mobile apps allow businesses to target and easily reach such consumers and send them a message during the crucial purchase process.
A mobile app such as YP, specializes in local searches, and allows owners to enter information about their business and advertise specific sales or weekly specials. For consumers, it doubles as a troubleshooting tool when they find themselves in a less familiar part of town.
Furthermore, the shopping app, YP Shopwise, lists the best deals stores offer in order to inform users based on geolocation. Its users can also do product-specific searches.
Shop The Neighbourhood, a YP initiative
There is a variety of initiatives in which SMEs can get involved to encourage consumers to buy locally, such as Yellow Pages' Shop The Neighbourhood. The free event was organized in 2013 to celebrate small businesses and raise consumer awareness of the social and economic importance of local commerce. The campaign provided for participating businesses the opportunity to advertise a localized promotion at no charge on the Yellow Pages digital platforms. For many businesses, this marked among their first opportunities to experiment with digital marketing.
This year's Shop The Neighbourhood is confirmed for November 28, 2015, and it is once again FREE to all retailers that would like to participate.  Shop The Neighbourhood will offer exclusive specials (at local businesses) and remain accessible via YP.ca and the YP Shopwise app during the entire month of November.
For more information, or to get your neighbourhood business or association involved, visit www.shoptheneighbourhood.ca .
Join the movement in social media:  #shopthehood
[1] According to an Emarketer study.