The Hows and Whys of Boosting a Post on Facebook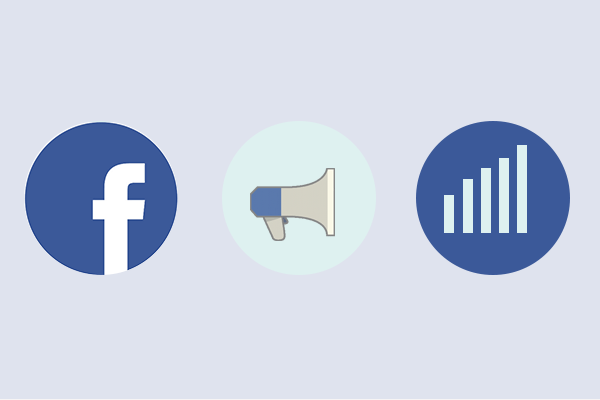 Facebook is a great way to connect with existing and potential customers, but it's quickly becoming difficult to reach them without spending some ad dollars. The social network only shows a fraction of what you post on your business' Facebook page to your fans, but offers you options to pay to have your content reach a wider audience.
To compliment your organic approach on Facebook, consider spending some targeted dollars on Facebook ads.  Not all of the fans of your page see everything that you post, but by "boosting" your post (also known as "promoting" your post), you can ensure that your message goes to all of your fans' newsfeeds – and even to Facebook users who aren't currently a fan of your page.
Here are some advantages to boosting your posts:
Facebook ads enable you to reach thousands or millions of people with just a few clicks
Targets specific audiences based on interests, behavior and demographics and can even find people who match your customer database
Leverages social influence from friends
Suits a variety of budgets
Getting Started:
Boosting a post will get more engagement on a post that's on your Facebook page. It can appear in the Newsfeed on desktop or mobile. It can be created from your Facebook page by clicking "Boost Post" under the desired post. Tip: this step can only be taken if you already have a following of customers on your page. 
Selecting Your Audience:
After you select "Boost Post," you'll be asked to select your audience. You can select 'People who like your page,' 'People who like your page and their friends,' or select an audience based on a Facebook users' location, age, gender and interests. TIP: Be sure to limit your audience so that the ad is only showing in the city where your store is located, and to the age group of your desired customer.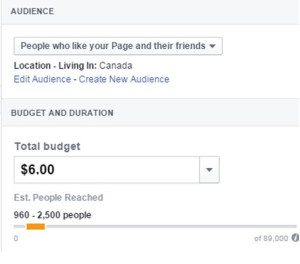 You will then be asked to select a budget. You can either use the dropdown menu, or enter your own number. Then, choose how long you'd like your campaign to run. You will be required to pay by credit card (you will be prompted to enter a card number if you don't already have one attached to your Facebook profile).
Selecting Your Budget & Ad Duration: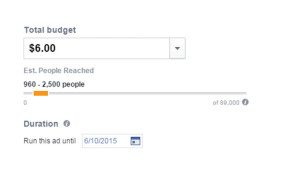 Learn more about Facebook ads here: https://www.facebook.com/business/learn/facebook-create-ad-basics/