The Benefits of Renting a Private Mailbox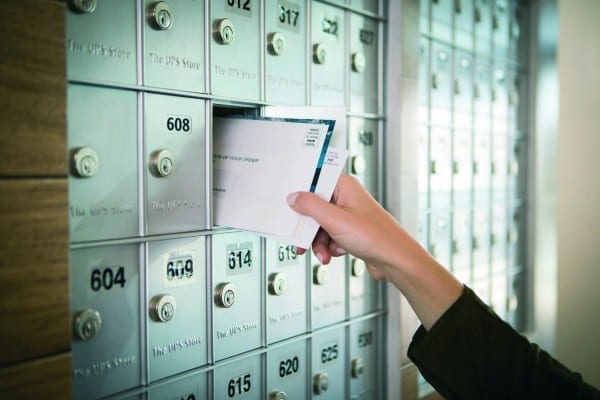 As the pandemic continues, many of us are continuing to adjust to the "new normal," which often includes working from home. But how do you keep your private home life and business life separate when you work where you live? Consider renting a mailbox. Here are just some of the reasons a mail rental can benefit you if you're working from home for the foreseeable future.
Keep your home address private
Working from home or having a home-based business shouldn't mean you have to disclose your home address to clients or customers. Not only does renting a private mailbox maintain your privacy, it also allows you to keep your personal and professional correspondence separate. If your office is currently closed, you can have your work mail forwarded to your mailbox rental. Signing up for a mail-forwarding service for 3 months is a great solution if you're unsure how long your current situation will last.
Accept deliveries from any carrier
If you're expecting shipments that you don't want to leave unattended on your front porch, or if you're uncomfortable with delivery people entering your space, you can reroute your packages to your mailbox rental. The UPS Store will accept packages from any carrier for its mailbox customers, and store them securely until you're ready to pick them up. You won't have to worry about signing for deliveries, package theft, weather damage, or having packages returned to sender.
Pick up your mail at your convenience
Are you trying to avoid crowds and lineups during the pandemic? Many mailbox providers, including The UPS Store, offer 24/7 access to your mail in a locked, gated environment*, allowing you to access your mailbox at off-peak hours. They also offer handy notification services that send you a text message or an email whenever an item arrives. There's also a telephone mail check option, allowing customers to call the store and see if there is any mail or packages waiting. Knowing when you've got mail or deliveries to collect will save you from wasting trips to an empty mailbox.
Increase security
Unattended mail can easily go missing or leave you vulnerable to identity theft. Keep your important documents, bills and cheques safe with a mailbox rental that offers secure receipt storage of your mail. A business mailbox address can also offer clear separation between your business documents and household documents, allowing an additional layer of separation between your personal and business documents.
Get more benefits than a PO box
One key difference between PO boxes and private mailbox rentals is that only mailboxes provide your business with a real, physical street address. A PO box cannot be used as the official address for your business when it comes to filing paperwork, or as a searchable location listing in Google. A mailbox, however, gives your business an actual street address. Not only is it searchable, but it can also be valuable in establishing a sense of integrity and credibility with prospective customers. Also, some carriers will not deliver to PO boxes. Mailboxes, on the other hand, can receive shipments from a wide range of different carriers, providing greater versatility and reliability.
Sign up virtually
For your health and safety, The UPS Store allows you to set up your mailbox rental virtually, without having to physically come into the store. To get started, a contract can be emailed to you directly. Verification of identification is still required, but that can happen remotely using applications such as Zoom, FaceTime or WhatsApp. Once you have completed the application process and payment, your mailbox and new mailing address will be available for use right away.
Interested in learning more about how you could benefit from having a private mailbox? Visit The UPS Store near you to learn more about available sizes, prices, and other features we offer.
*Available at most The UPS Store locations.