Should Your Small Business Offer Same-Day Delivery?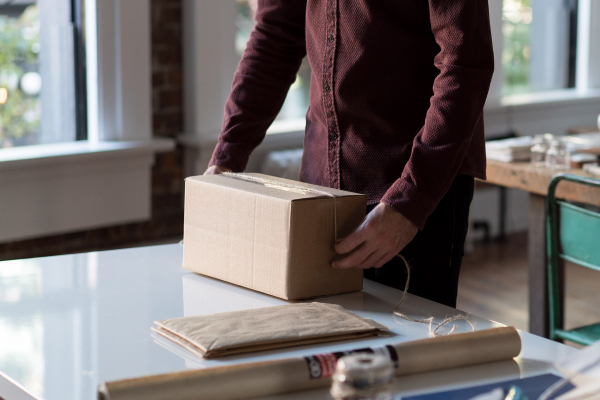 Playing the delivery waiting game is seemingly part of shopping online, right? But in a world that includes Amazon Prime, Instacart, and other services that can deliver item(s) in a snap, many consumers have become accustomed to the idea of fast delivery and may now expect it, putting long delivery times in the past.
As a small business owner, meeting the needs of your customers, finding ways to incorporate new, in-demand products/services, and standing out from the competition are important factors to stay ahead. However, there are financial and capability considerations that play a role as well. Is same-day delivery plausible for small businesses? Will it actually make a difference to the customer experience?
While the decision ultimately comes down to your business and customers, here are some reasons why same-day delivery can be a great option for small business owners to consider providing to their customers.
What is Same-Day Delivery?
The name gives it away, but same-day delivery allows customers to place an order online and they will receive it within that same day. Because of shipping times, as well as the time it takes to put an order together, many businesses require customers to put in their order before a certain time in order to have that service available to them.
Customers Want Convenience
Convenience, efficiency, and speed are some of the driving forces behind a positive customer experience. Since the pandemic began, research has found that many consumers became increasingly dependent on delivery services, largely because of lockdowns and initial health concerns when shopping in-store. As a result, 59% of consumers used quick delivery services (one- to two-day shipping) a minimum of one time during the pandemic. Meanwhile, 65% report that they would be willing to pay extra for deliveries that are faster and more reliable.
Cart abandonment is also on the rise. Research from the National Retail Federation indicates that 97% of consumers say they opted out of a purchase because it was not convenient. Eighty three percent say convenience is more important to consumers when shopping than it was five years ago. In fact, 9 in 10 consumers are more likely to choose a retailer based on the level of convenience they offer, but 36% feel like retailers do not always live up to the expectations they require.
Businesses of any size should put customer satisfaction at the forefront of their services and practices. And while there are many ways a company can offer convenience to their customers, fast delivery times often rank high on the list.
Same Day Delivery is Growing in Popularity
While same-day delivery may not be a possibility in all industries, there is a more significant push for this service. The more it increases in popularity, the more it becomes an expectation and a standard, and longer delivery times could be associated with a decrease in customer satisfaction as a result.
The global same-day delivery services market is expected to reach $6.43 billion this year, compared to $5.14 billion in 2021, which is a 25.1% compound annual growth rate. This market is estimated to reach $13.32 billion by 2026. It is evident that as more businesses acquire same-day delivery options, interest among consumers will rise to match it. Additionally, recent data tells us that 51% of retailers already offer same-day delivery, with 65% who plan to offer it in the near future.
Some Considerations
There can be many positives about same-day delivery, but there are some things to keep in mind when offering it, especially if cost is a factor in your decision. First, consider the location of your facility or store you deliver from or the courier service you use. Locations in rural  areas may take longer to deliver, which can raise costs or even make same-day delivery not possible.
High delivery costs do not always sit well with customers. In fact, 59% say high prices play a role in their dissatisfaction when it comes to delivery. However, 47% say not having the option for same-day delivery is a factor in their delivery dissatisfaction, which demonstrates that many customers seek out same-day delivery but do not want to pay additional fees as a result. And while high costs can be a deterrent for some, there is research to indicate that a significant number of consumers are willing to pay more if same-day delivery is an option.
If there is a need among your customer base for this service, it may be worth trying it out to see if this is a plausible option. If there is a means to survey your customers, it may be worth doing so.
What About Next-Day Delivery?
If same-day delivery does not seem like a viable option right now for your small business, next-day delivery can be a great alternative, as it can still meet the convenience needs that many customers have while reducing your costs. Next-day delivery means the customer will receive their order a day after it has been given to the courier to deliver. While not as quick as same-day, it can still be an appealing option to consider adding to your list of delivery options. This option will also widen your courier choices for delivery as you will be able to choose from some of the bigger brand couriers including UPS, who can offer next day delivery locally, domestically and internationally.
Small Business Solutions at The UPS Store
If you are interested in accessing shipping services for your small business, be sure to check out our domestic and international shipping options, as well as our Pack & Ship Guarantee to see how our Certified Packing Experts can help meet your small business needs.