How to use visuals to attract walk-in customers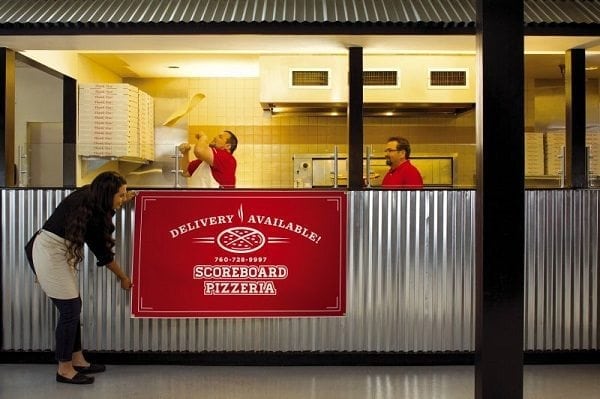 Businesses are always on the lookout for new customers, trying out all kinds of tactics to bring in buyers. However, sometimes the simplest way to attract them is by giving them something to look at.
The visual elements you choose to display in and around your brick and mortar business can make a big difference when it comes to catching the eyeballs and attention of people passing by. Use something suitably dynamic and engaging, and you can boost the number of customers wandering inside.
Interested in upping the ante when it comes to signage and other visual aspects of your small business storefront? Here are a few things you'll want to consider.
Ensure major signage fulfills the three key criteria
The most important signage at your small business should fulfill three basic demands: customers need to be able to see it, read it, and do it. 'See it' means it needs to be noticeable. Size and colour are important considerations here, but don't go overboard with either if the end result doesn't fit the tone of your business. 'Read it' means the sign needs to be simple and straightforward enough that its message is received and understood, even if the viewer is just taking a casual glance on the way by. Finally, 'Do it' means the message should be actionable and convincing, enticing the viewer to enter your business and learn more about your products or deals.
Be bright and bold
Some businesses are remarkably rigorous when it comes to maintaining consistency with their brand image in the colours and typefaces they use on signage. But don't be afraid to do things a little differently with some types of signage, such as sale notices or seasonal events – the change from your usual look will help them stand out. It doesn't mean you're adopting a new colour scheme – it's just something out of the ordinary to attract a little extra attention. Still, be judicious with your plans to turn heads: if a colour scheme or funky font really doesn't feel like it fits with your brand image and identity, don't force it.
Use digital displays
The use of digital displays is growing rapidly among small business owners as the technology becomes more affordable, and these dynamic boards can be put to use in a number of helpful ways. Unlike static signs and posters, digital displays can be programmed to show a series of visual images, text, information and video, all in rapid succession. The whole offering can be crafted to deliver a convincing testimonial about your business and its products, or to provide enticing details about a particular service or offer. Some provide the viewer with practical information, such as local weather or news headlines, while others are interactive, allowing a user to select tailored data about your business and its offerings.
Use QR codes and augmented reality features
Beef up the interactivity of static displays and poster signage by including scannable QR codes that customers can use to learn more about products. Alternatively, consider incorporating augmented reality features that bring pictures and products to life on customer's smartphones as they view the sign. Another good option is to include a code for text messages, encouraging people to text a specific word to a number in exchange for information or a discount offer.
Do something creative with your windows
Most retailers understand the importance of displaying their merchandise in a store window, with many windows updated regularly to tie in with seasonal events, holidays, and festivals. Even if your small business doesn't make or sell items that are a natural fit for a store window display, don't just leave yours blank and empty. Consider using artwork and images to tell a story about your business, or simply display an eye-catching piece, gallery-style.
Include nonverbal images and icons
Where possible, use signage that communicates without using words. While the overwhelming majority of your customers will speak your language, and will be able to read your signs with ease, it's still helpful and considerate to convey important information with images and icons.
Keep your eyes open for new ideas
Whenever you're walking or driving around, take a moment to check out the signage and visual elements on display outside other businesses, even if they're not in your industry. What jumps out at you? What works, and what doesn't? Is there an idea you can adapt and use at your own location?
Need help designing and printing your outdoor signage? The experts at The UPS Store can help! Contact the store nearest you for details.