Design Tips for Large Format Printing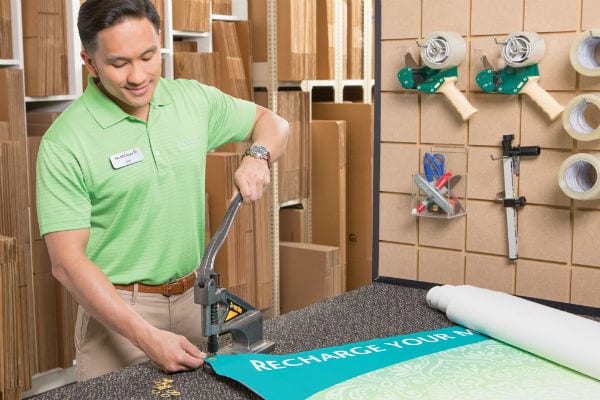 Large format printing has become a popular promotional tool for all kinds of businesses. Share your message and boost brand awareness by printing posters, banners, indoor and outdoor signage, vehicle wraps, magnetic signs, cardboard cutouts, window decals, and a whole host of other eye-catching options. Quality modern printers mean you don't have to skimp on clarity and resolution, even at larger-than-life sizes, so go ahead and be big and bold!
Of course, there are some caveats. When designing posters, banners, or any kind of promotional materials for your small business, you want the finished product to stand out for all the right reasons, not because it's a forgettable design fail.
If you're planning on doing some large format printing but your design skills could use a little improvement, don't despair – we've got the tips you need to make your next design a memorable masterpiece.
Keep it simple
With large format printing, there's nothing more important than a design people can read and understand almost instantly. Your sign or poster may be viewed by someone driving past in a car, or it may even be on a car itself, one that's driving away down the street, so ease of readability is essential. Be economical with text and graphics to help maximize the impact of your message – less is more when it comes to combining design elements. A simple line drawing might not look fancy, but it's often as good or better at communicating your idea than a more intricate image or photograph.
While simplicity is great, it's best to avoid a design that's too sparse. Ideally, you want something balanced, with empty negative space in between graphic elements and the supporting text. Split your design area into quadrants or thirds and keep one quarter or one third of the finished design empty.
Choose fonts and colours wisely
Font and colour choices play a huge role in the look and effectiveness of any design, so take care to choose wisely. With either, it's generally best to not use too many combinations – two or three of each is usually fine, but much more than that and things start to get messy.
With fonts, you want to strike a balance between thick, bold fonts that can sometimes make designs look crowded and heavy, and thin, light fonts that don't stand out well and can't be read from far away. Test out a few and view them from a distance before making a final decision. As much as possible, only use fonts that work equally well on both Mac and PC platforms, just in case your design needs to be switched from one format to the other at some point.
After you've worked on a particular design for a while, it's always helpful to get the impressions of someone who is unfamiliar with your message so you can gauge their response as a first-time reader. Do they understand it quickly? Is there a hidden meaning they may have missed?
Contrast is an important consideration when it comes to colour – yellow letters on a black background will stand out, but blue letters on a red background probably won't work so well.
It's also worth thinking about the colours that will surround your finished printing job. Will it be hung on a dark wall, or in a bright, well-lit space? What are the dominant colours of the area where your design will be displayed, or will it be used in a multitude of different environments? Do you want your finished piece to stand out from its surroundings, or blend in?
If you're handling the design yourself on software such as Photoshop or Illustrator, don't forget the set the colour mode on your program to CMYK instead of RGB. While RGB offers a broader palette of colours, it's designed for on-screen graphics and not printers, which use CMYK colours. Not switching modes can mean colours aren't depicted accurately in your finished print job.
Use vector images
Use vector images whenever possible, because they're better for large scale design jobs than JPEGs, bitmaps, and other kinds of image files. First, vector image files tend to be smaller and more manageable than their equivalents, saving time on uploads and downloads, and when sending jobs to the printer.
Second, and more importantly, vector images are designed to be scaled up without diminishing the integrity of the image or the quality of the colours. Even when dramatically increased in size, they won't come out looking blocky or chunky.
In some situations, you may not be able to use vector images. Photographs, for instance, tend to convert poorly. If you're using illustrations or computer-designed graphics, however, vectors are the way to go.
Print a test version first
Before you send a finished large format design to the printer, do a small test version first to check for mistakes or design issues. Make sure spellings, dates, and contact information are all correct, and double-check colour reproduction and image placement. Remember: a quick fix now will save you from a serious headache later!
The UPS Store has the technology to print all of the oversized materials your company needs. Whether it's premium eye-catching posters or architectural plans, bring us your large format print jobs. Find your nearest location here.