Bubble Wrap: Fun Facts and Creative Uses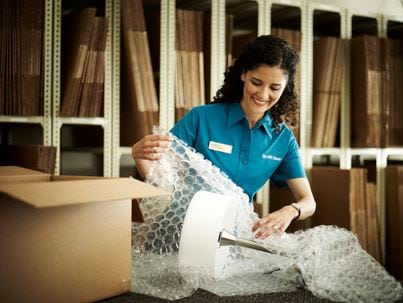 Did you know that Bubble Wrap® Appreciation Day is the last Monday of every January? That's right; there's a whole day dedicated to the cushioning material that's perfect for protecting your parcels and popping your stress away. What better time to review some fun facts about this air-filled miracle material?
History
Bubble Wrap® (originally called Air Cap) was created in 1957 by engineers Alfred Fielding and Marc Chavannes, who first marketed the material as textured wallpaper.  When that failed to "pop" with consumers, they attempted to sell it as greenhouse insulation. But it wasn't until IBM needed something to protect the shipments of their new 1401 Data Processing System in 1960 that the material really began to take off.
Health Benefits
In 2012, the makers of Bubble Wrap® brand cushioning conducted a survey and respondents said that just over one minute of popping bubbles provides the stress relief equivalent to a 33-minute massage.
Creative Uses
Bubble cushioning isn't just for protecting your fragile items during shipping; there are many more uses for this material. Here are some of our favourites:
Insulate your windows:  Is your home feeling drafty? Simply cut a sheet of bubble cushioning to the size of your window, spray the window with water, and place the flat side against the glass for instant insulation. Since it's clear, you won't lose the natural light.
Winterize your pipes: In the colder months, wrap it around pipes and outdoor spouts and tie it with string to help prevent bursting.
Protect your windshield: Tired of scraping your windshield every winter morning? Cover it with a sheet of bubble cushioning the night before to reduce frost. And if it snowed overnight, just pull it off and the snow will come with it!
Keep your pets warm: Insulate your dog's outdoor house with bubble cushioning to keep him warm when the temperature begins to drop in the fall.
Protect your plants: Before frost hits, wrap your outdoor potted plant containers to keep the soil warm and frost-free.
Prevent damage when moving: When moving furniture, wrap sharp corners of tables and desks in bubble cushioning so they don't scratch your walls.
Add comfort to camping: Lay down a sheet of bubble cushioning before staking your tent, which will protect you from the ground's moisture and act as an air mattress under your sleeping bag.
Make a fun placemat: Using rectangular cut-outs of bubble cushioning is not only fun for your guests, it also makes post-party clean up a breeze.
Add a twist to Twister: Playing the popular game with friends? Add a layer of bubble cushioning to give it some extra pop.
Add texture to paintings: Instead of using sponges for texture, dip pieces of bubble cushioning in paint and get artistic.
Games
Our Favourite Bubble-Cushioned Shipments
We've shipped a lot interesting items at The UPS Store, but these plaster of Paris ladies are among the most memorable.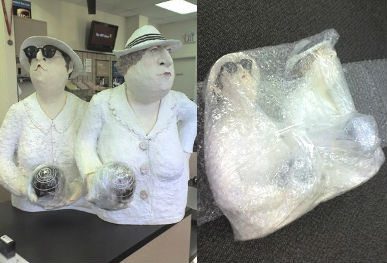 The UPS Store offers a wide range of packaging supplies and materials, including bubble cushioning. Just ask our packing experts for advice on what supplies will best suit your needs.