What Kinds of Business Documents Should be Shredded?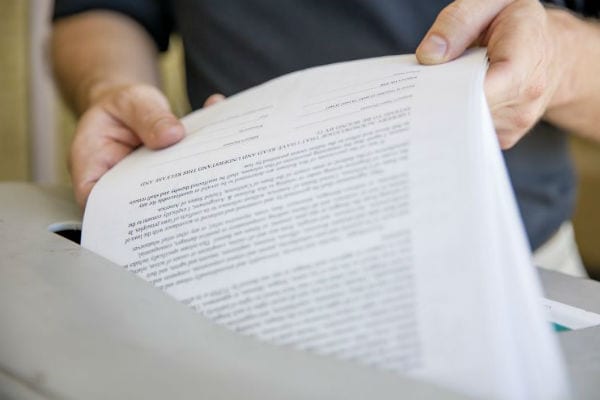 Smart small business owners know how important it is to protect sensitive information and keep it out of the wrong hands. That means having systems in place to make sure digital files and records are safe and secure. Just as important, of course, is how you handle all the paper that passes through your workplace, and where it goes when it's no longer needed.
Even in our online, connected world, there's still a lot of information being exchanged in physical formats. Simply throwing it in the recycling bin without taking measures to protect the information it reveals is an invitation for data thieves to do their dirty work.
Here's a look at some of the different types of documents you should be certain you're shredding or destroying.
Anything that could be used for identity theft
Whether they reveal personal information about an employee or a customer, documents containing information that could be used for identity theft are a no-brainer for the shredder. Think payroll records for your staff, copies of photo identifications, or credit card and home address information for your customers. If you think anything written or printed on a piece of paper is even the least bit sensitive, there's no sense in not shredding it.
Documents related to banking, finances, and taxes
Whether it's payroll records, annual budgets, old tax returns and audits, or bank account statements and void cheques, you don't want these kinds of documents sitting intact inside a dumpster or recycling bin. If you've got paper with financial details of any kind, even expired information, don't pay the price for sloppy disposal! Send it to the shredder and keep everyone safe.
Documents with confidential details about your business
Protect the hard work your small business is doing by properly disposing of all documents containing proprietary information that could benefit your competitors. This means files related to research and development of new products and ideas, or plans and proposals for future projects. Other documents in this category include anything related to internal reports and tests, exclusive formulas, even training and operation manuals.
Documents related to health and human resources
Any medical records for your staff or clients should be treated with the sensitivity they deserve. Same goes for items related to staffing, whether that's resumes and applications, disciplinary reports, or performance evaluations and employee reviews. Protect everyone's right to privacy by making sure documents of this description are dealt with before disposal.
Legal documents and contracts
Here's a highly simplistic rule of thumb that could save you a serious headache later on: if a lawyer was involved with a document, make sure it gets disposed of properly. You don't want to mess around with legal documents, contracts, or anything similar, so err on the side of caution and send them all to the shredder when you're sure they're no longer needed.
Insurance information and bills
Records related to insurance for your small business and its contents should always be destroyed, not thrown away. Same goes for old utility bills or anything else pertaining to your workplace itself, such as bills for internet and cell phone service. Such documents usually contain account numbers and address details, which should always be kept private.
Need a place to deal with your sensitive documents? The UPS Store locations across Canada offer secure shredding services powered by Iron Mountain, allowing you to dispose of personal and business documents the right way. Contact your nearest location for details.