Looking to Start a Business? Here's How The UPS Store Can Help!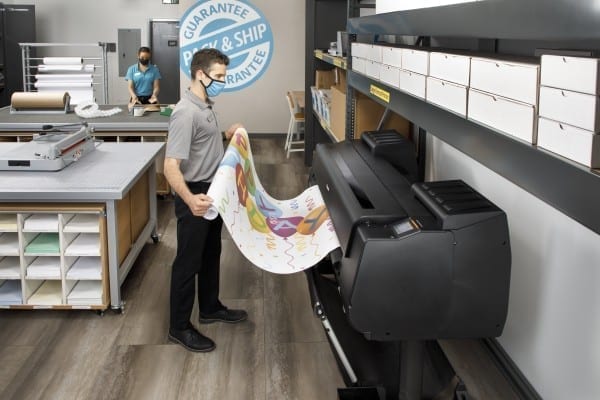 Starting a small business is no small feat, especially during these uncertain times, but The UPS Store is here to help. We've outlined the most useful business solutions The UPS Store has to offer to help get your business up and running smoothly.
Spreading the Word
Don't be shy; let your clients know that you're open and ready to serve them. While creating a digital presence is important for brand awareness, the benefits of print promotional materials should not be underestimated. With a variety of paper stocks and finishes, we are ready to provide you with the custom flyers, brochures and newsletters that will grab your clients' attention. You can also preemptively address your consumers' COVID-19 concerns with weatherproof banners and posters that display your modified services and safety measures.
Take advantage of our professional quality printing services to create stunning marketing materials that will keep your consumers informed and excited about your business.  We even have an online print portal, allowing you to upload, customize and submit your documents from wherever you are, whenever it is convenient to you.
Branding is Everything
Solidify your brand identity with customized letterhead, stationery and business cards. We offer full-colour printing, glossy or matte paper stocks and single or double-sided business cards to help you create the perfect print representation for your enterprise. If you're offering modified services such as curbside pickup during the pandemic, an easy way to extend your branding is by adding custom labels to your packaging.
Keeping it Professional
Though you may not have access to a fully equipped office if you're working from home, your business doesn't need to suffer the consequences. The UPS Store has all the office equipment you need to keep your business operating efficiently. Don't have a home printer? Visit us for all your printing needs. Just email us your files! Uncertain how to properly dispose of confidential documents? The UPS Store locations offer secure shredding services to safely destroy that vulnerable paperwork with peace of mind. Don't have room for a fax machine in your home office? The UPS Store locations offer fax services so you can keep up to speed with all your business correspondence.
When running any kind of business, it's important to put your best foot forward. The quality of even seemingly small aspects of your business, such as bound and laminated presentations or manuals, contribute to the overall professionalism of your brand. The UPS Store offers a variety of quality printing and document finishing services to aid you in this area.
Getting Ship Done
Whether your office is temporarily closed or you are running your business from home, we have shipping solutions to support you. If you're unavailable to accept shipments, have a history of packages getting poached by porch pirates, or are simply uncomfortable accepting deliveries during the pandemic, you can redirect your shipments to a temporary mailbox at The UPS Store nearest you. Our mail forwarding service grants you access to a mailbox with a real street address and 24-hour access to your deliveries. You could also sign-up to our package receiving service which allows us to accept and hold packages for you from any carrier.
No Contact? No Problem.
In addition to keeping you safe during the pandemic, we are committed to making our services as convenient as possible. Take advantage of our business solutions today and locate The UPS Store nearest you by clicking here.