What Can You Expect
Owning a franchise is a lot different than starting a business from the ground up. By joining The UPS Store franchise network you can count on the support from our experienced home office and our in-field teams to get you to your grand opening and beyond.
Training & Learning
Following our proven system is critical to our success, and the success of our franchise business owners. Our training program covers opening to closing process and everything in between. Our Home Office employs experts in every field relevant to opening and running your franchised location. From marketing to technology to operations and procurement, we're here to help. In the field, our local franchise business consultants work countless hours to provide the support needed to grow the business. Additionally, we are committed to developing new products and services to help franchisees keep pace with an ever‐changing marketplace.
Following our system is key, which is why we offer additional training resources and networking opportunities to help you develop your skills. The UPS Store hosts conventions and conferences regularly where franchisees across the country have an opportunity to gather and share best practices. Our quarterly continuing education series is more grass roots in focus, allowing franchisees to network while learning, with other franchisees in their immediate region. Both provide an opportunity to gain product knowledge, improve business acumen, learn skills from top franchisees in the business and build on the learnings and successes of an entire network.
At The UPS Store, we believe in investing in your success, providing you with support and guidance every step of the way. Though each location of The UPS Store is locally owned and operated, you're never in business alone. Our support team is never more than a phone call away. When you have questions, need troubleshooting help, or want expert advice for your business, we're here for you.
To find out more about our in-depth training program, please visit our Franchise Training webpage.
Advertising and Marketing
We've had a long time to establish a strong brand, but we're never finished. Our corporate office continues to build brand awareness across the country in ongoing national advertisements and marketing campaigns.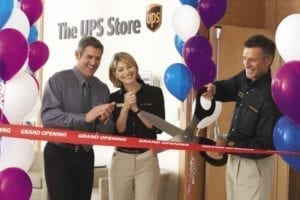 We invest significant dollars in marketing each year to build awareness of The UPS Store brand nationally. However, local store marketing is vital to the success of our individual stores. Customers must be aware of The UPS Store and that we're ready to help with anything they need. We provide turnkey marketing solutions to our franchisees to help get them out of their store and into their local community, as well as public relations support. Franchisees have access to an internal library that provides a marketing calendar and numerous marketing materials that can be used to help promote their store.  Learning opportunities are also provided to ensure our franchisees are fully prepared to market their locations. Local marketing is essential for the success of individual stores, and we're ready and willing to help in every possible way.