An Exceptional Opportunity
There are several things that make The UPS Store exceptional. It's a proven business model, capable of adapting to economic changes. Starting first as an alternative to the US Postal Service, The UPS Store is now a full‐service, one‐stop shop for the business services that small business needs including printing, mailbox services, shredding, packaging and of course, shipping. With over 40 years of franchising experience in the US, and over 30 in Canada, The UPS Store is clearly a proven business model. The over 5,300 locations across North America, including over 360 in Canada, reinforce that point.
In addition, we carry the power of the UPS brand ‐ a world recognized, world class brand – in our name. As one of the most recognizable brands in the world, the UPS brand carries a great deal of strength in the marketplace and a strong, trusted reputation. That recognition and trust carries forward to The UPS Store, offering credibility in the marketplace from the moment a new store opens its doors. Recognized as the industry leader, The UPS Store continues to define and lead the business services category with its own distinguished world class brand.
With the services and expertise they provide to small business, The UPS Store franchises are an integral and valued necessity in today's business marketplace. They provide business service solutions and impeccable customer support to small business in need of big business resources.
The UPS Store offers a comprehensive franchised business solution for the independent businessperson, with the full backing of all of over 40 years of experience and resources.
Best of all, we have numerous franchise opportunities available throughout the country. Yours may be in a neighbourhood near you.
Why Customers Choose The UPS Store

We're In The Neighbourhood
Convenience and accessibility are essential for driving business growth especially in today's market. Whether it's in a shopping plaza, on a main street or commercial complex or in non‐traditional locations such as big box retailers or universities, customers have learned to rely on The UPS Store because of their easily accessible, prime locations within their neighbourhoods. Located in over 360 neighbourhoods across Canada, we are the largest network of business service centres in the country.
World‐Class Personalized Service
We are committed to providing the most effective solutions to solve our customers' needs. With the variety of convenient products and services we have in store, we're committed to providing only the best solutions to our customers when and where they need them. As an example, our Pack and Ship Guarantee offers customers peace of mind that their items will arrive safely while reinforcing our dedication to reliability and dependability. Blend our in‐store printing and shipping services, and our customers can be reassured that those last‐minute documents will look great and arrive when they need to be there. We've built our reputation on convenience and world‐class service, and our customers continue to count on us for both.
We're Part of The Business Community
We are in the business of supporting other small business owners within the communities we serve. A great number of our customers are small business owners who lack the resources, equipment and support they may otherwise find in a larger business. The UPS Store concept is uniquely positioned to service the needs of the small office and home office business with our mix of business services. The UPS Store franchisees are also uniquely positioned to understand the needs of the small business customer within their community. After all, they are small business owners too.
As a network of small business owners, with the variety of convenient products and services we have in store, our focus on small business shows our commitment to the communities we serve. We are looking for potential business service franchise owners who are dedicated to serving customers and making their lives a little bit easier.
Experience In Franchising, Our History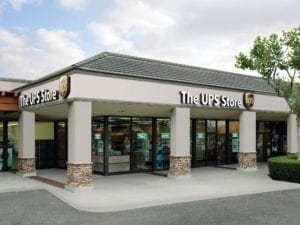 Founded in 1980 as Mail Boxes Etc., this business concept was designed as an alternative to the U.S. Postal Service. In 2001, Mail Boxes Etc. became a subsidiary of UPS, and rebranded to become The UPS Store in 2003 in the US.
Here in Canada, The UPS Store brand is currently licensed to MBEC Communications Inc. In 1988, the master license for Canada was granted, paving the way to bring what was then Mail Boxes Etc. into the Canadian market. In 2005, the Canadian franchisees overwhelmingly chose to rebrand, and The UPS Store was launched in Canada on October 5th of that year. It is now Canada's largest network of print and business centres.