The UPS Store 73 is fully ready

to support

The Ukrainian People in GTA.
During this sad and unfortunate time, we wanted to do something to support our Ukrainian families.  We are here to help you with your shipments of food, blankets, first aid kits, and any other first response items for the Ukrainian People. When you
ship

with us or use our

freight services

, you will receive

$100 OFF

, plus

an extra 10% discount

on your shipment to Ukraine neighbours such as Romania, Poland, Hungry, and Slovakia. We will also proudly offer a *

70% discount

on all packaging materials. We will also gladly cover any labour fees and drop signature charges during this time.  Our job is to support Ukrainian Civilian People.

* Only if you ship at the UPS Store 73.

** Please note, if you are unable to make it to the Aurora store #73, we will gladly send you the paper work and arrange for pick up at your location.

*** Conditions may apply.
Take your PASSPORT PHOTO with us,                           

Get $3 OFF on your shipping with us.

We are open 24/7 for you to                            PRINTING, PACKAGING, AND SHIPPING
The UPS Store #73 in Aurora is committed to remaining open in this hard time, by your side, but with reduced hours. The UPS Store #73 in Aurora remains open 24/7 online to provide primary services to customers from Richmond Hill, Aurora & Newmarket.
The services are Mailbox Service, Package Receiving & Shipping worldwide, as well as online and regular printing services.
Recently The UPS store #73 in Aurora added Online Printing as its number 1 priority. This service helps our home office worker a better printing service. Online Printing allows our customers to not only print their job from home but also print them in different sizes, colors, and styles. For 3 months, The UPS Store #73 will deliver your online printing jobs for FREE to anyplace in Richmond Hill, Aurora & Newmarket.
We are following the current situation with the Coronavirus (AKA COVID-19). In addition to that, we have initiated multiple daily sanitizing of frequently touched surfaces like door handles, front desk, copy machines, credit card terminal, etc.
In the end, we are at The UPS Store#73 are watching closely the recommendations and standards of  CPHA and WHO  to provide our customers with safe, as well as fast & reliable services, at this time.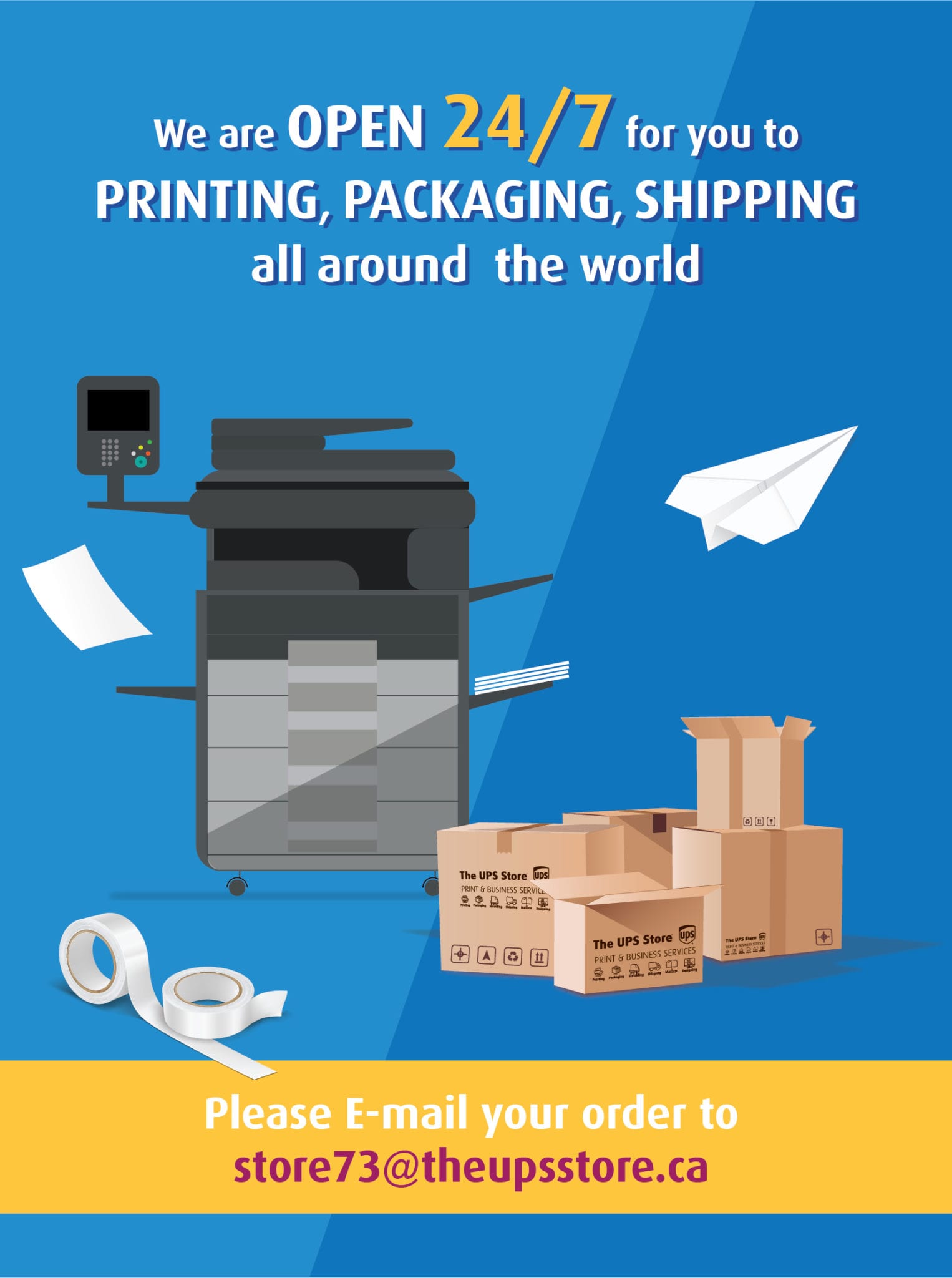 Working From Home? We Have Solutions!                      Print From Home With Our Online Printing Tool
Due to the recent outbreak of COVID -19 (Corona Virus) and related warnings from Health Canada, The UPS Store #73 in Aurora recognizes that you may be looking for a different solution when it comes to solving for your PRINT needs while you work remotely or from your home office.
Great news! We have the solutions you are looking for.
Use our ONLINE PRINTING tool for all your printing needs. It's robust and easy to use, but best of all, you don't need to leave home. Use it to order your print from where ever you are, whenever you need to. And, right now, we are offering our Online Print customers FREE DELIVERY to any location at RICHMOND HILL, AURORA, and NEWMARKET until August 31, 2020.
Get started with ONLINE PRINTING by clicking here.
Like other organizations in Canada, the health and safety of our customers is our first priority. Be reassured that we are taking extra steps in the sanitation of our location and are ensuring our staff is maintaining good hygiene routines. Know that we are here to help our customers in any way we can and hope that you consider us not just as your business partner but rather as a helpful, supportive friend in these challenging times.
Be safe,
Your friends at The UPS Store #73 in Aurora


During the time that you have to be away from home to do your shipping & packing with The UPS Store 73, We offer you our shipping form. At home, you can enjoy your home comfort as well as shipping your parcel. During CODVID-19, download our shipping form designed for both Domestic & Worldwide shipping. Take your time and prepare all the information that we need to send your package and bring or email the form to us after you finish and in the end just simply give it to us when you are bringing your parcel to The UPS Store 73 in Aurora.
But why fill out the form at home?
Save your time and make the process faster & safer for yourself

You can fill the form with no rush and in advance prepare required pieces of information 

Make less

contact with objects that you need to fill the form in store such as pencil, desk, etc

Spend less time outside during CODVID-19

No limit on the number of parcels that you want to send 

Online form cover both domestic and international shipping
*For any inquiry or question with your form please contact 905-713-1632 or [email protected] to us.
---
We want to know how did we do your needs?
We've gone social! To improve our customer service and the quality of our work, we need to know your great experience at The UPS Store #73, which also helps us to grow our small business with the great company in your social reviews.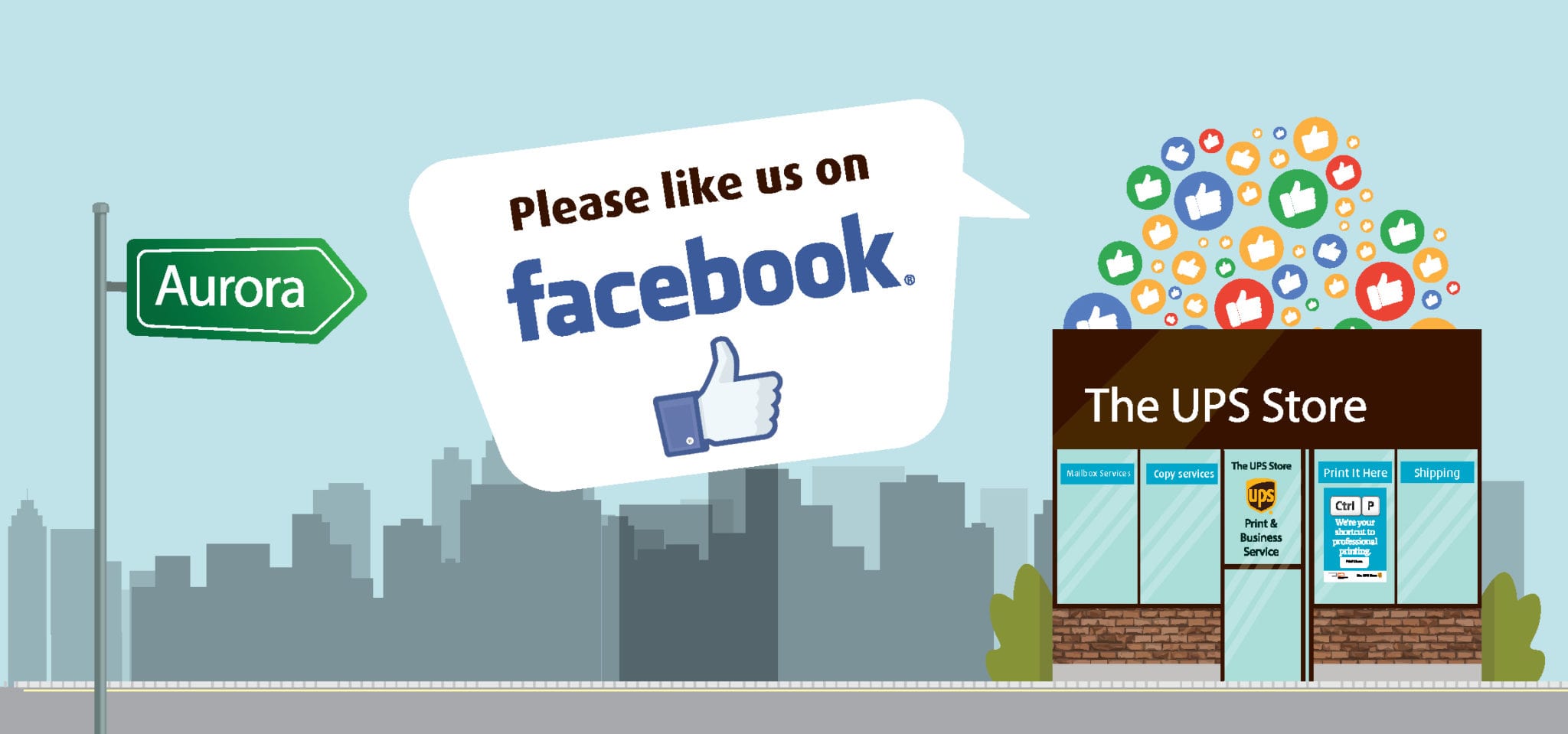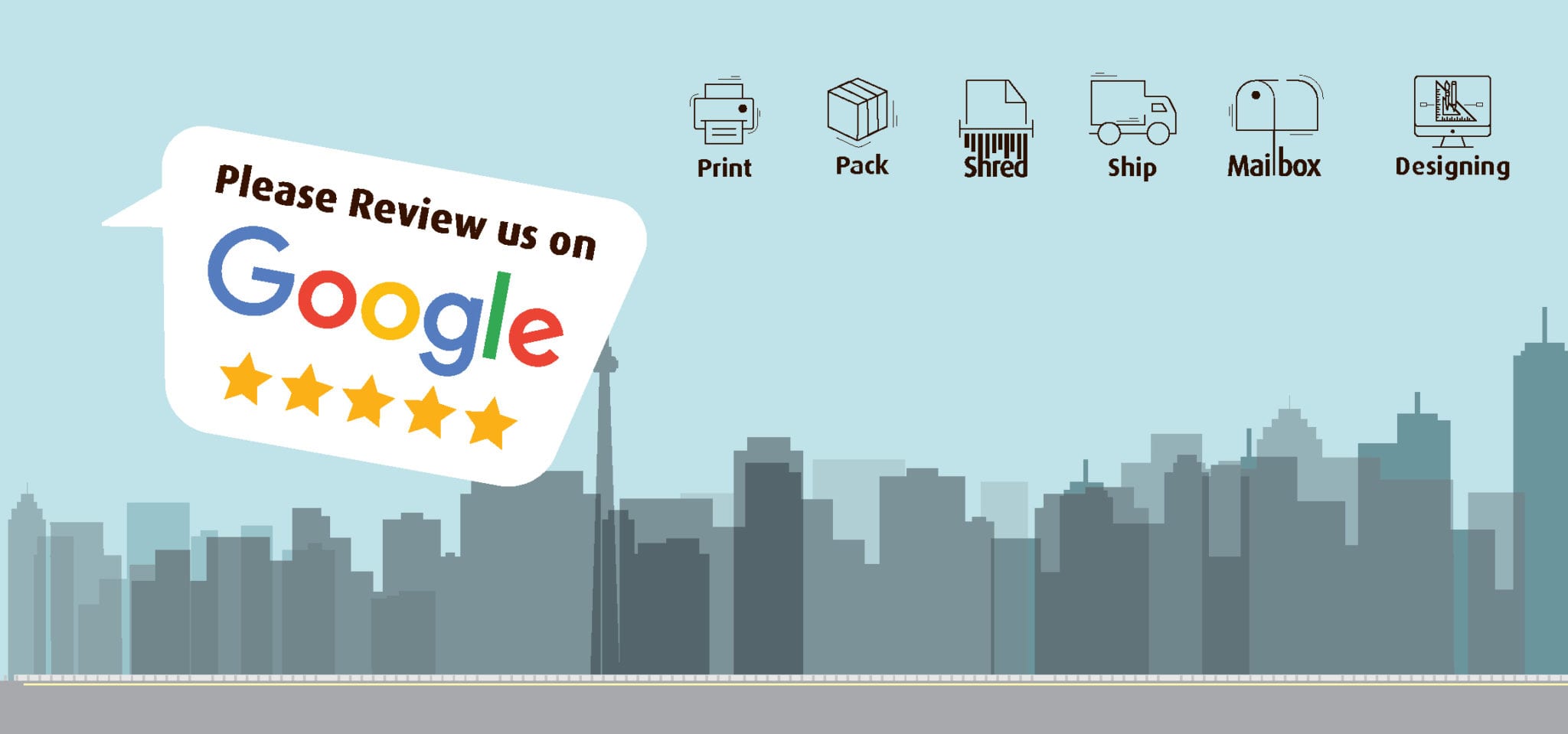 Track a UPS Package
Need to ship more packages? Most locations offer extended holiday and weekend hours, Visit one of our locations today.
Book an Appointment
We know your time is valuable. Reserve the time most convenient to you using our Appointment Scheduler below. We look forward to working with you.
Online Printing
Need to print now? Check out our selection of print products, promotional products or upload a file to print quick.
Small Business Blog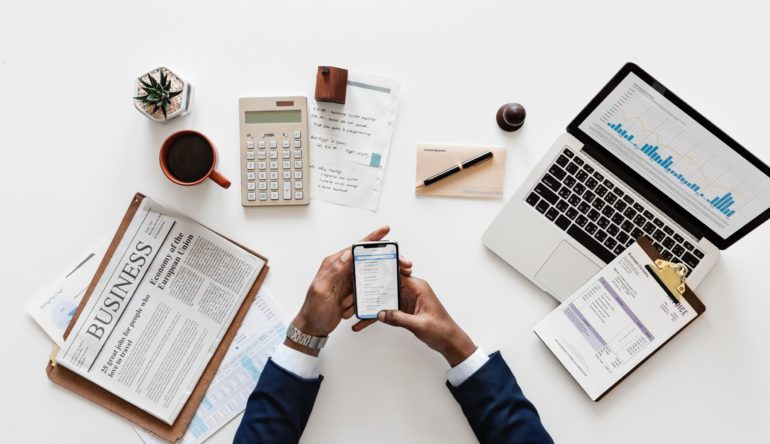 Small business
Finding apps that help your small business prosper is not an easy task. Most small business owners have faced that dreadful "download and delete" experience, which happens when you think you found a worthwhile app, only to realize it doesn't offer what you need. With so many options out there, it can be difficult to determine which apps are going to offer both convenience and efficiency, while not breaking the bank with hefty subscriptions. At the end of 2017, we published Five Must-Have Apps for…
Read Article