About Our Store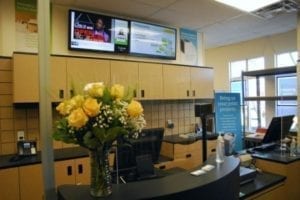 As a franchisee of The UPS Store network in Canada, The UPS Store at 31 Baldwin Street in Brooklin is proud to be locally owned and operated.
Because we are small business owners, we can help with the challenges entrepreneurs face every day.
Our team features the knowledge and equipment to provide cost-effective solutions such as business printing, mail services, packing, shipping and more.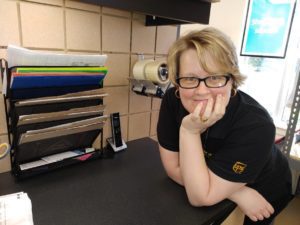 Vicky is the owner-operator of The UPS Store in Brooklin and makes it her mission to work closely with each of our clients. From tracking your package around the world, to finding cost-effective printing solutions, Vicky is here to help.
She also enjoys taking passport photos for entire families, even babies, and ensures that your little ones have a fun and memorable visit to her store.
Vicky does not do all of this alone. The UPS Store team includes her husband Ken, along with staff members who keep everything running smoothly.
Together the entire team offers their expertise to find solutions for your printing and shipping needs that will help your small business thrive.
Business Sales & Support
Marvin offers personalized sales and support to small business clients and customers.
With an extensive background in broadcast media, Marvin knows the importance of being clear and accurate. He strives to understand the needs of our clients, and then offers solutions designed to help their businesses thrive.
Speak with Marvin to develop personalized quotes for your next printing project, or ask how our mailboxes, packing and shipping services can make business easier. He can even show you how to save 10% every day.
Graphic Design
Mark is a graphic designer with a wealth of experience.
During his career, Mark has worked with local businesses and major corporations to create everything from company logos to motion graphics for television broadcasts.
To give your business a fresh new look, visit our store to meet with Mark and discuss design ideas for your next brochure, report, sign, logo and more.
Customer Testimonials
We wouldn't be here without you, our customers. Have an experience you'd like us to know about? Visit the Contact Us section and select 'Submit a Testimonial' in the subject area. Tell us your story. With your permission, we may highlight it on our website.
"Always a fantastic experience visiting The UPS Store!"
"One of the best UPS stores I have used. "
"Amazing service and assistance. The turn around time was lightning fast! I will be back for sure. "
"This store is fabulous!! Always friendly with amazing staff. "
"It has been a treat to be greeted by Mitchell with enthusiasm."
"Love this store! Wonderful service."
"Wonderful staff. Super efficient and quick."
"Vicky is very helpful. My work was done very quickly."
"It's always a pleasure going to this UPS Store!"
"Thank you for taking such good care with the packaging and shipping! "
"Friendly, fast service."
"I have used the Brooklin UPS and they were great."
"Vicky was very helpful. We'll be glad to continue using their services."
"Great people, great service."
Community
As franchisees of The UPS Store in Brooklin, we are proud to live nearby, giving us the opportunity to work with our neighbours and the small business community.