Array
(
    [0] => Array
        (
            [image_id] => 
            [image] => 
            [title] => Document Shredding Services
            [description] => When it comes time to destroy confidential information, you need to turn to someone you can trust. Get rid of your unwanted personal and business documents with shredding services available at The UPS Store.

Benefits of shredding at The UPS Store:


It's easy! Simply bring us your documents




It's safe! More secure than shredding at home.




It's recycled! Secure recycling of shredded materials.




It's convenient! We are right in your neighbourhood, no appointment necessary!


            [heading_link] => 
        )

    [1] => Array
        (
            [image_id] => 
            [image] => 
            [title] => How do Shredding Services work?
            [description] => When you visit, we'll weigh your documents and then they will be placed into the secured, locked shredding bin. It's that easy!

Behind the scenes, our shredding partner, Iron Mountain, and The UPS Store work together to complete the destruction of your documents. Iron Mountain is NAID certified and their operating procedures are based on many years of experience, enabling them to provide you with the most reliable and consistent document destruction service. After Iron Mountain destroys your materials, they recycle all shredding output according to the mandated regulations. You can feel good knowing that you're protecting your business and the environment at the same time.
            [heading_link] => 
        )

    [2] => Array
        (
            [image_id] => 200
            [image] => https://www.theupsstore.ca/416/wp-content/uploads/sites/446/2020/10/shredding_2.jpg
            [title] => What can I shred?
            [description] => All types of paper, including office paper, receipts, notes, printouts, and more. And you don't need to worry about removing staples, paper clips or folders. We can take the documents just as they are.
            [heading_link] => 
        )

    [3] => Array
        (
            [title] => What can't I shred?
            [description] => 
Cardboard
Telephone books
Hardcover books
CDs & DVDs
Three-ring binders
Lever-arch binders
Hanging folders
Transparencies
Large bulldog clips
When you're ready to shred, we are here to help destroy your paper-based records in a compliant, safe and cost-effective way, at The UPS Store. Drop by today! ) )
Shredding Services
Convenient locations that offer shredding solutions for all your small business and personal needs. Visit The UPS Store today.
Document Shredding Services
When it comes time to destroy confidential information, you need to turn to someone you can trust. Get rid of your unwanted personal and business documents with shredding services available at The UPS Store.
Benefits of shredding at The UPS Store:
It's easy! Simply bring us your documents
It's safe! More secure than shredding at home.
It's recycled! Secure recycling of shredded materials.
It's convenient! We are right in your neighbourhood, no appointment necessary!
How do Shredding Services work?
When you visit, we'll weigh your documents and then they will be placed into the secured, locked shredding bin. It's that easy!
Behind the scenes, our shredding partner, Iron Mountain, and The UPS Store work together to complete the destruction of your documents. Iron Mountain is NAID certified and their operating procedures are based on many years of experience, enabling them to provide you with the most reliable and consistent document destruction service. After Iron Mountain destroys your materials, they recycle all shredding output according to the mandated regulations. You can feel good knowing that you're protecting your business and the environment at the same time.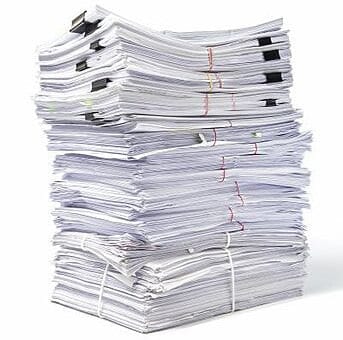 What can I shred?
All types of paper, including office paper, receipts, notes, printouts, and more. And you don't need to worry about removing staples, paper clips or folders. We can take the documents just as they are.
What can't I shred?
Cardboard
Telephone books
Hardcover books
CDs & DVDs
Three-ring binders
Lever-arch binders
Hanging folders
Transparencies
Large bulldog clips
When you're ready to shred, we are here to help destroy your paper-based records in a compliant, safe and cost-effective way, at The UPS Store. Drop by today!