Your Local One-Stop Shop for Printing, Mailboxes, and more!
COVID-19
UPDATE
Last Updated September 2nd, 2020
As of July 13th, Waterloo Region passed a bylaw (#20-035) making face-coverings mandatory inside most indoor spaces, including retail spaces like ours. We would like to encourage those coming to our store to follow the bylaw in order to make our store safe for everyone. Exemptions include those with health conditions preventing mask use, and children under 5. Face coverings can include face masks, face shields, or scarves. We will do our best to accommodate everyone in our store.
As an essential business, you can always rely on us to remain open. A lot of things have changed since March, but we continue to manage under the 'new normal'. Our specific focus is on customer safety – we care about our visitors here, and we are taking precautions to protect YOU.
We are wearing masks and are cleaning often through the work day. Customers who have questions about our safety procedures are encouraged to call us at 519-569-7336, or email us at store398@theupsstore.ca – we will be happy to assist you remotely if possible!
We are Here to Help!
The UPS Store #398 is here to help – from printing to shipping to mailboxes, we offer a wide selection of services for all your small business needs! Our location on Victoria Street in Kitchener is especially equipped for printing your business materials in-house. We can help you with anything from business cards to wide-format banners and posters! We pride ourselves on our quality printing with a quick turnaround.
The UPS Store #398 is located in the Staebler Plaza at 871 Victoria Street North, in Kitchener Ontario. The closest intersection to our store is Victoria Street North and River Road. We are located next to Arabesque Cafe and Cafe O. If you are coming to our store via public transit, we are a short walk from the 204 and 20 stops.
Shipping Solutions
Are you looking to ship a package, but aren't sure where to start? Download our shipping form to fill out at home. You can email it to our store, or bring it with you when you come in! We can provide shipping quotes over the phone, as well as answer any questions you may have regarding your package.
Our specially trained staff can help you pack your items for shipping domestically and worldwide. We also offer packing materials for those who wish to pack their items at home.
COVID-19 Signage For Your Business Available Here!

If your business is open right nowwe have 6 premade "safety posters" available for you! Floor decals for your retail space are also available. Customization is available. To order, please call us at 519-569-7336, or email us at store398@theupsstore.ca
Track a UPS Package
Need to ship more packages? Most locations offer extended holiday and weekend hours, Visit one of our locations today.
Book an Appointment
We know your time is valuable. Reserve the time most convenient to you using our Appointment Scheduler below. We look forward to working with you.
Online Printing
Need to print now? Check out our selection of print products, promotional products or upload a file to print quick.
Small Business Blog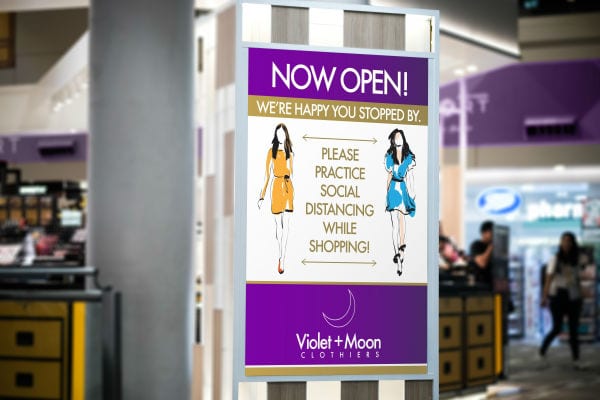 Printing
Posters, if designed correctly, can be a great source for publicity and attracting new clients to your business. Posters are one of the oldest and most tried types of marketing and are an effective way to draw attention to your location, events, sales, and more. Although there is not one correct way to make a poster, there are some design best practices you should follow. Learn how to create the best poster template to attract attention and new customers: A well-designed poster should be: eye…
Read Article