Notary Services (By appointment only)
The UPS Store locations offer notary services to help make life easier. Once your documents are notarized, the centre will help you make any necessary copies and ship them where they need to go.
NOTARY PUBLIC & COMMISSIONER – A Notary Public is an individual who swears your signature. A notary can also witness and authenticate documents (notarization), can provide you with certified true copies of any original documents and can commission your signature. Common documents for notary and commissioning include: Travel Consent, Passport Applications, Certified true copy of your birth certificate, driver's license, Passport Processing & Visa Processing.
Why do documents need to be notarized?
Certain documents must be notarized in order to have legal effect. Given the inherent formal and corresponding significance of this subject of legal documents that must be notarized, state governments have deemed it necessary to enlist a trained individual to assist with their execution. A "notary public," following his or her official appointment, a notary public performs as a quasi-public officer to attest to the proper execution of these important documents.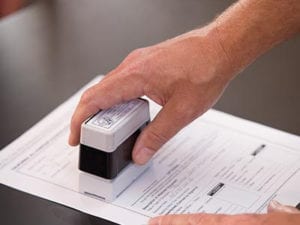 Types of documents that may require notarization*:
Wills
Trusts
Deeds
Contracts
Affidavits
Be Prepared for Your Notary Visit
Bring a valid, government-issued photo ID with you when you visit your local The UPS Store centre for notary services.
Laws vary by state and some documents may require witnesses in addition to the notarization. In some cases, a notary public might not be legally allowed to also, simultaneously, act as a signature witness. Accordingly, not all locations are staffed to provide additional signature witnessing services. Check with your local store if you wish to inquire as to the availability of signature witnesses if such a requirement is mandated by the laws of your state.
This service is offered by a third party notary, The UPS Store 192 management and staff are not authorized to offer notary services, we do not claim any responsibility for these services. The third-party service provider has claimed to be a certified and licensed commissioner or oath and a notary public by the law society of Canada, however, we are not liable for any services performed by a notary public. the client is responsible to confirm with the notary service provider for any concerns.