About Our Store
November 14th, 2022 marked 28 years since I opened my store and it is still enjoyable coming in every morning. Many thanks for the devoted patronage of our local business and personal clients. My staff and I pride ourselves on making each customer's visit a pleasant and friendly experience and providing unparalled service. We will continue this legacy in 2023 and beyond and I look forward to seeing you soon.
Norm
Our Staff
Nicole has been on staff for 17 years and is very creative
in design and production of your printing and packaging requirements.
She also is very committed to providing service excellence and making each transaction a  pleasurable experience for you the customer.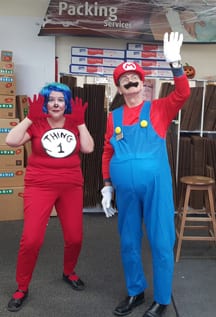 Customer Testimonials
We wouldn't be here if it weren't for you, our customers. Have an experience you'd like us to know about? Submit our website Contact Us form and select 'Submit a Testimonial' in the subject area. Tell us your story. With your permission, we may highlight it on our website.
" I love this store. They can always be relied upon for quick service." "
"Best place to get your printing done! The staff is wonderful and super helpful!"
"The lady working there is absolutely wonderful! We had a rather large parcel to ship and it needed a box, she wrapped it and made her own alterations to the box to make it fit. She definitely went above and beyond. She talked to everyone who came in as if they were her best friend. Outstanding job, thank you!"