Choice Hotels®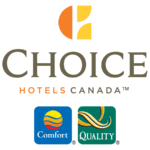 Get More Members can save up to 15% at participating Choice Hotels® locations in Canada and around the world.  With over 300 Canadian hotels and over 6,200 worldwide, we're ready to welcome you wherever business takes you.
If you already have your coupon code, Click Here to Book Now. If not, scroll to the bottom of the page. If you see the 'Redeem' button, click to download your coupon code. If you see "Sign In", you will need to log in to the Get More website before you can download your coupon code.
About Choice Hotels:
Choice Hotels is the largest hotel network in Canada, with over 300 locations spanning all ten provinces. Familiar brands include Comfort™, Quality®, Clarion®, Econo Lodge® and Ascend Hotel Collection™.  Our worldwide options include ten brands and an affiliation program that meet every travellers needs and budgets. For a full list of Canadian locations, visit ChoiceHotels.ca
You can find us in Canada's largest cities, small towns and out-of-the-way places – everywhere business takes you. There are 6,200 locations worldwide, including over 5,000 in the U.S.
We surround Canada's major airports and key highway access points, and we're near many popular tourist attractions, business districts and shopping centres.
The majority of our hotels offer free breakfast and free Internet access, all at great rates.
Our free Choice Privileges® rewards program allows you to earn points towards free nights at Choice hotels worldwide, free nights at over 500 Preferred Hotel Group™ resorts, airline rewards (including Aeroplan®), gift cards and much more. Not a Choice Privileges member? Sign-up now and start earning points towards free hotel stays.
That's just one more way The UPS Store delivers more for Small Business.